Jo's Aunt Sue thought Jo's daughters needed some new beach bags for this summer's Sanibel trip, and wanted to make them extra special by personalizing them with their names. Being the cross stitch aficionado that she is, Sue quickly whipped up the girls' names in adorable beach-themed letters.
Then she handed the names and some canvas tote bags over to Jo to finish up. Jo knew she wanted to finish the edges with some pretty blue-green ribbon she'd found, but wasn't sure how she would attach it. When I told her that I had an idea for how to finish the bags without any sewing, Jo quickly handed them off to me.
Hey, how did this become my project? That's okay. It was easy, and I was happy to do it for the girls.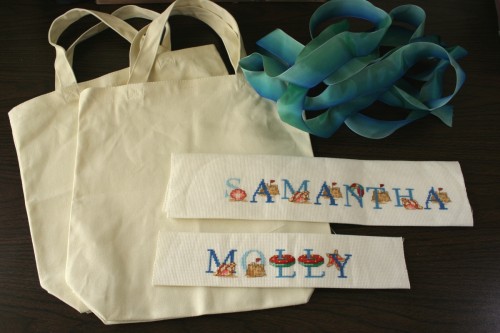 After trimming the name pieces down to size, I reached for my secret weapon — double-stick fusible web. I used Steam-a-Seam 2, which comes in letter-sized sheets and is really easy to cut. It is sticky on both sides, so it holds your project pieces in place while you iron them, which makes it that much easier.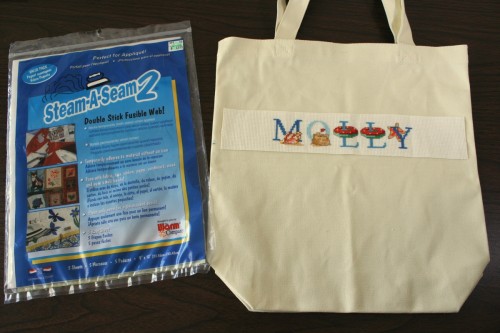 I just cut a piece of webbing to the size of the Aida cloth (that's cross stitch fabric, if you're wondering), peeled one side of the liner off, and attached it to the back of the cloth. Then I peeled the other liner and centered the piece on the tote bag.
To be sure I didn't mess up the gorgeous cross stitch design, I covered it with a pillowcase first, then I ironed it with the steam setting, per package directions. In about 20 seconds, it was stuck for good. Yay, that was easy!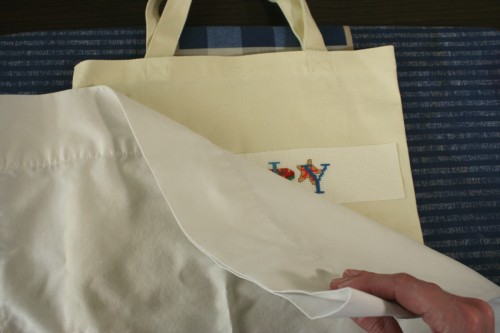 To cover the side edges of the Aida, I folded the tote bag sideways and used the Steam-a-Seam again to attach a little piece of ribbon on each side.
Then I cut a long piece of ribbon and used more Steam-a-Seam 2 to attach it along the top edge of the name design. I let it wrap all the way around the back.
I added one more piece of ribbon to the bottom edge, wrapping around the back again, and it was done.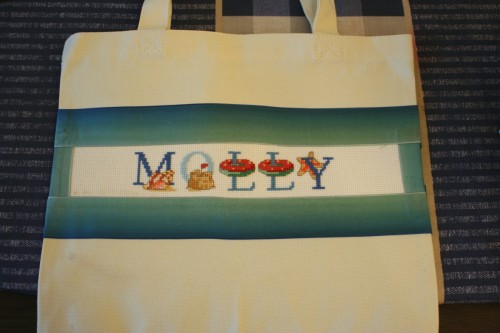 The fusible webbing made this such an easy no-sew project, and we all love how the bags came out!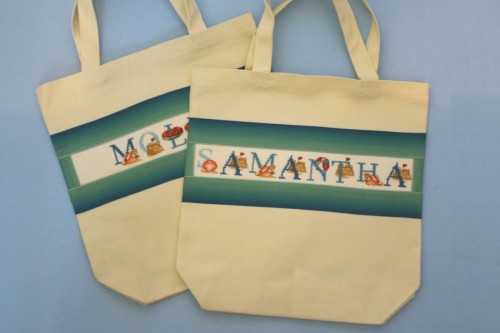 If you liked this, check out these similar projects: