Chica and I wanted to come up with some alternatives for decorating eggs besides using traditional dyes. Don't get me wrong — we love regular dyed eggs, and we've given you some tips on dyeing eggs in the past, but we like a little variety around here. We started thinking of different techniques and realized we already had three really great ideas that could easily be applied to eggs shapes. Let me show you what we came up with!
First up, we used the same ribbon folding and pinning technique that we used to create pine cone ornaments at Christmas, using small Styrofoam eggs for the centers and Easter-themed ribbon. These would be so cute hanging on an Easter tree or perhaps, like I did here, on a drawer knob on a side table!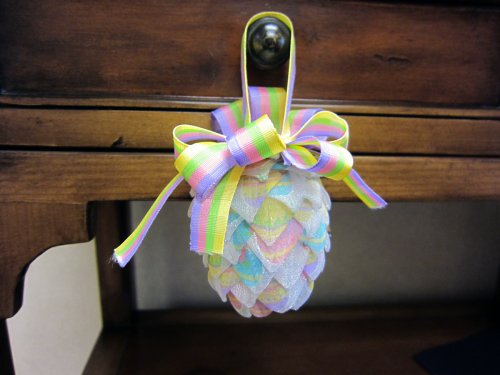 And remember Chica's sequin ball? I like this technique even better on eggs! I mean, seriously, I am addicted to making these things. I have a little divot in my finger from poking all of those pins into the Styrofoam. But look at how beautiful they are! I have these three sitting on my desk at work and everyone who stops by is immediately fascinated by them. We even had a craft day during lunch last week, and I showed my co-workers how to make them.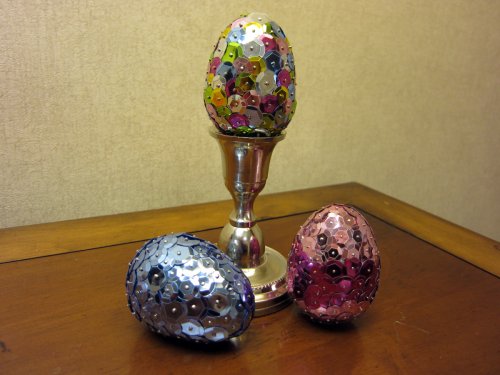 And last but certainly not least, we used one of our new favorite crafting techniques, Zentangle, to decorate a white painted wooden egg. You could even do this on the shells of real hard-boiled eggs, if you pick up some food-safe markers. How neat would that be to serve on your Easter brunch table? You could let the kids Zentangle them the day before. I think this is an Easter egg decorating technique that even teenagers could get behind.
This just goes to show that sometimes your existing techniques and skills can be put to use in ways you never thought of originally!
To complete your Easter celebration, how about an adorable baby bunny costume, a polka dot garden party pack, or even Easter egg whirls?
If you liked this, check out these similar projects: