Sometimes, I come up with an idea I fall so completely in love with and it works so well that I have to call Chica and tell her about it no matter what time it is. That's what happened a few nights ago when I made custom ribbon using iron-on transfers and white grosgrain ribbon. Maybe you all are now thinking, "Jo, people have been doing this for years. What rock have you been under?" but using iron-ons on ribbon is a completely new concept to me and I am loving all the possibilities.
It started one day when I did a Google Image search for "vintage St. Patrick's Day". I wasn't sure what I was going to do with any of the images I found, but I just wanted some inspiration. As I stared at my screen, I noticed that the mosaic of thumbnails looked really good. I took a screenshot of them and saved it to my computer.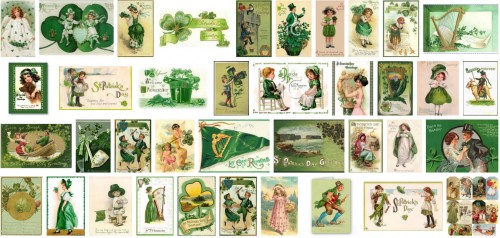 After that, the saved image languished on my hard drive for about a week while I thought. I remembered the mosaic postage stamp heart T-shirt I had made for Little Jo for Valentine's Day, and I knew I wanted to do make her a similarly cute thing to wear on St. Patrick's Day. This is where the mosaic of images would be perfect, and I finally settled on using it with some white grosgrain ribbon.
I printed the picture mosaic out on iron-on transfer sheets, using the "reverse image" feature on my printer so that the wording would appear correct after I ironed the image onto the ribbon. Then I used my iron the only way I know how — for crafts. Since my images were slightly larger than the ribbon, I put some parchment paper underneath so that when I ironed, the extra transfer wouldn't stick to my cloth towel beneath. (I had already learned that lesson the hard way!)
After I finished ironing, I just flipped the ribbon over trimmed off the excess iron-on. I was so happy when I peeled it back and saw what a great custom ribbon I had! And in case you're wondering, the texture of the ribbon still feels great. It is really smooth and flexible. Chica and I were both amazed.
I can think of so many reasons to make custom ribbon now, such as:
Adding "Merry Christmas from the Smiths" and using it to tie up packages or gifts
Using pictures of a bride and groom to decorate a gift or for wedding decorations
Putting "To:" and "From:" right on the ribbon and then filling the rest in with pen
Customizing with a team mascot and team colors to make hair bows for cheerleaders
My mental list is going on and on and on!
I'll show you how I used this particular ribbon in a minute, but first let me show you the shirt I made to go along with it. I started with a plain, white, cotton T-shirt and felted a shamrock onto the shoulder. The first step to basic needle felting was to put a Clover felting needle mat under where I wanted my design.
Then I used a shamrock cookie cutter to act as my pattern form. I put some wool roving into the form and then jabbed it a few hundred times with my Clover felting needle tool to lock the fibers into the cotton shirt beneath. I LOVE this part!
Here it is with the middle part all felted. I just kept adding more roving and felting it until the design was all filled in.
Doesn't Little Jo look cute in all of her St. Patrick's Day apparel? I used the custom ribbon to make her an easy belt. I simply stitched a small snap to the end of the ribbon and that was it. She looks so cute, and with all that green, no one will get to pinch her at school!
If you liked this, check out these similar projects: