Since I have started teaching scrapbooking classes at my local Michael's, I have found that there is one very common question/concern among most of my students and that is, "How do I organize all of my photos?"  I figure many of you have the same questions, so I am going to try to give you a few options for how to do that and talk about how to turn those shoe boxes full of old photos into scrapbooks.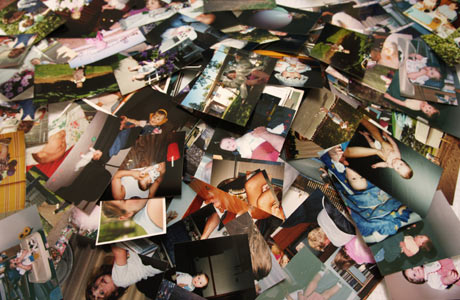 Digital photographs are easy to organize.  You just create folders on your computer and file them away.  Print what you need when you need it. No big deal.  (Oh, and as McGeeky keeps lecturing me and anyone else who will stop to listen, be sure to back up your files!)  However, most of my students are old school and have boxes and boxes of printed photographs with negatives.  I know I have some of those boxes and my mom certainly has them.  When they are scattered around your drawers and closets it can be overwhelming.  Let's make it a little less of a chore.
First, invest in some photo-safe boxes.  There are lots of options out there including Rubbermaid® photo storage boxes and Pioneer patterned storage boxes.
Once you have your boxes ready, now you need to sort and edit.  Did you hear me? I said EDIT.  I needed to bold that word and capitalize it to make sure you read it.  This is extremely important.  As you go through your photos, toss the ones where your thumb takes up most of the frame, where people are blurry, or where you don't even know why you took the picture.  If you can't handle actually tossing these pics, at least place them aside in their own "special" pile.
Speaking of piles, let's start making them. You need to separate them into categories that mean something to you. Some popular ones would be: Christmas, Easter, Halloween, birthday parties, vacation spots, weddings, baby showers… you get the picture (pun intended). Family members should each get a pile of their own for miscellaneous shots.  Don't worry about separating by year yet, unless, of course, you already have them collected that way.
So far, so good, right?  Now what? Let me give you an example to help you visualize your many piles into nice scrapbooks. My daughters Little Jo and Mini Me are both less than 6 and I already have a backlog of scrapbooking to do for them.  It's really hard to keep up with all of my other responsibilities and document all of those precious moments at the same time.  So, I EDIT. There's that word again. For example, for the girls, I documented each girl's first year of life by doing a single two-page spread per month, and added a few additional spreads for special events like her first Christmas.  I used the best pictures from each month of life and made the layout.  Then, I added journaling to document any major milestones that happened during that month.
Here's an example of one of the monthly spreads I did for Mini Me.  I had professional portraits taken of her that month so I just happened to use just those.  The other months are a collection of snapshots taken by the family.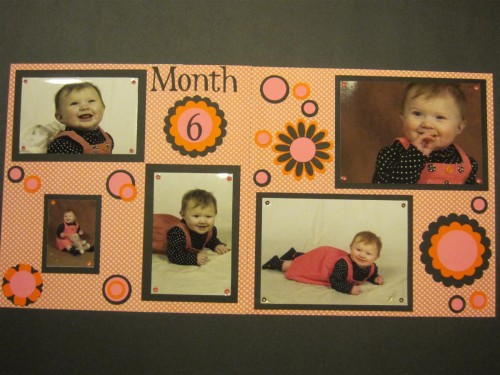 Here's an example of one of the special spreads. I took my favorite pictures of Little Jo and Mini Me from Mini Me's first year and created a layout with them. I said I used my favorites – I edited. If I had tried to use all of the pictures of the two of them together that first year, well, let's just say I would still be cropping away and my family would be starving.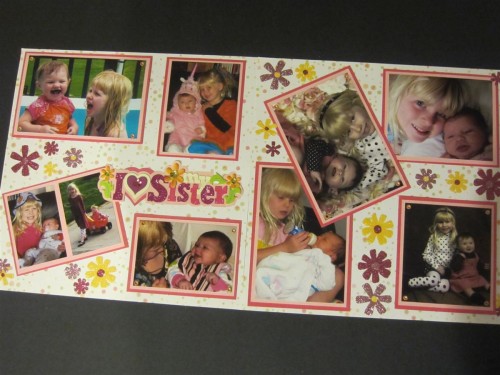 If Mini Me were, say, 25 years old already and I had a childhood full of photo memories for her and I wanted to make an album, what would I do?  Remember when I told you to organize your photos into piles?  Well, I would go back to those piles and choose one. Say she had been an avid ballerina for 20 years. Where would I start? I would go through the stack of ballet shots and pick out the very best ones. I would want to make sure to include important milestones such as one picture from her very first recital and a picture from when she got the lead in the Nutcracker. I would make sure my scrapbook page included a small bit of journaling next to the pictures to indicate why they were important. In the end, my goal would be to edit all those photos down to two layouts at the most. That's a reasonable goal that anyone can reach, and now that huge pile is completely doable.
Now what if I wanted to scrapbook all of our family beach vacations to Sanibel? That would be over 20 vacations by then. How would I even start? I would start with a picture from her first time in Sanibel. Then I would add a milestone photo, perhaps one of her jumping into the pool on her own. Maybe another photo of us celebrating her 16th birthday at our favorite burger joint there, and one of the biggest shell she ever found, which ended up being the highlight of that trip for her. I would NOT pick every picture I had of her on the beach. I would try to select the pictures that looked the best and also told the story of her experience in Sanibel over the years. Again, I would try to keep the total number of layouts to between one and two.
When it comes to making the scrapbook pages, if you don't want to use your actual photographs, here's a perfect time to use your Flip-Pal mobile scanner. Scan the photos in that you would like to use in your scrapbooks or photo albums and print out copies. This extra scanning step is also a great way to make sure those irreplaceable pictures are preserved on your computer.
I hope this starts you on your way to organizing your family photos into something better than a pile in a drawer somewhere. Please let me know in the comments below if you have any suggestions for taming a lifetime of memories! I would love to hear them, and I know your fellow readers would, too.
If you liked this, check out these similar projects: