Jar of hearts for Valentine's Day
by: Jo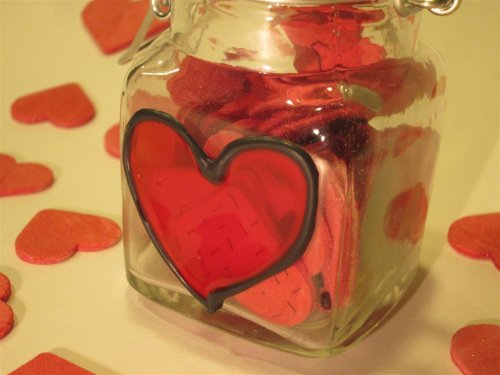 There's a song out by Christina Perri called "Jar Of Hearts". It's not an upbeat song. It's about a guy who goes around collecting women's hearts because I guess he is just a heart breaker.  Anyway… that song inspired this project, but don't worry, my jar of hearts isn't sad.  I liked the idea of making a Valentine that was a cute jar filled with customized heart messages.  Easy enough! 
I started with a bag of small wooden hearts that came in a couple of different sizes.  Then, I used Smooch Spritz in red to color the hearts.  I have to take a moment to say that I wasn't overly thrilled with this product.  It looked like it would be fun to use, but the nozzle clogged up quickly so I ended up with the paint pooling down the side of the spritzer.  Not cool.  I also didn't think the results were much different than regular spray paint.  Have any of you used this product with success?  Am I missing something?
Once the hearts were all painted and dry, I started writing my messages on them. I embellished them with loving words, special dates, and a few inside jokes for my recipient.  I really enjoyed adding these touches to the little hearts.
With that done, I turned my attention to the jar.  I started with a small glass jar that I had on hand. Any type of small glass spice jar would work well.  I am certain you have something around your house you could recycle!  To decorate it, I turned to my Gallery Glass Liquid Lead by Plaid and Gallery Glass window color. I have been using this stuff for years to decorate simple glass objects.  For this, I just free-handed my heart on with the leading and filled it in with red.  If you want to do a more intricate design, you can print something out on paper, tape it to the inside of the glass and then outline with the lead.  I'll have to do a project like that soon to show you guys how super easy it is.
My jar of hearts is all ready to give as a special Valentine.  This would be a great project for kids to do.  Let them at the bag of hearts with paints and markers.  I know Little Jo would love it.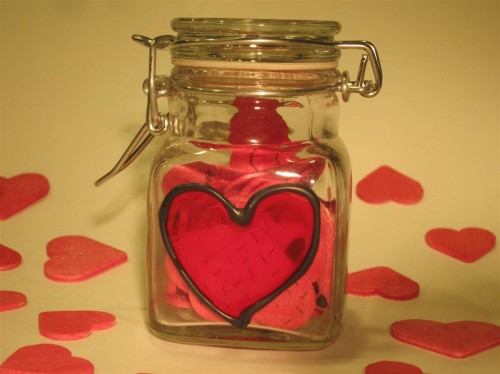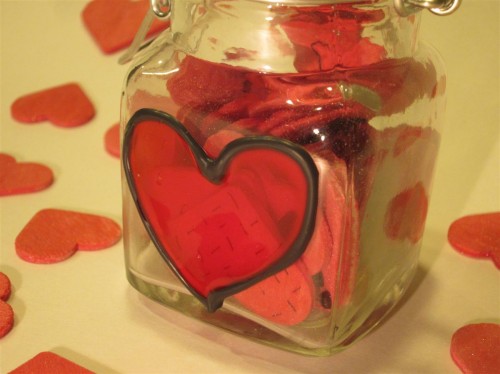 If you need some more heart-filled inspiration for Valentine's Day, here are a few fun decorations for your Valentine party!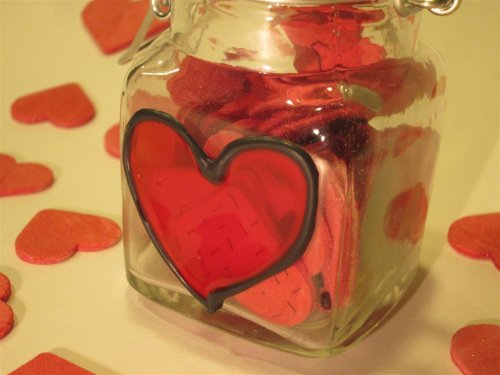 similar projects

leave a comment: