I am not a fan of boring white cases for anything in my life.  So when I was cleaning up my craft room after Christmas and I found my sewing machine case in all of its boring, white glory, I decided to do something about it!
I searched through my fabric stash and found something nice and bright.  I cut the fabric into long pieces slightly narrower than a sheet of wax paper.  Since I was going to use Mod Podge on it (did you know they make Mod Podge for fabric now?), I needed to put it on wax paper so it wouldn't stick to my table while it dried.  Once I had the fabric cut and on my wax paper, I brushed a good coat of fabric Mod Podge over the top of all of it.
Once it dries, some very interesting things happen to the fabric.  First, it gets this really nice sheen to it.  More importantly, though, you can now cut it and it won't fray.  This is a perfect technique to use to make appliques!  I cut my fabric into narrow strips.
At this point, you can cut the strips as wide as you need them as you are going along.  Sometimes my strips were long and sometimes they were only about an inch wide, depending on what part of the case I was covering.  To adhere the fabric to the case, I used Hard Coat Mod Podge because it provides a really durable finish. If I am going to be toting this thing around, I need durability!
I kept layering the fabric strips and the Mod Podge over and over, covering the case.
I love how it turned out! I decided to add a bit of embellishment at the end with a large butterfly that I cut out of felt. I also used some puffy paint to add a few little butterflies along the edge, which helped to break up that pattern just a bit.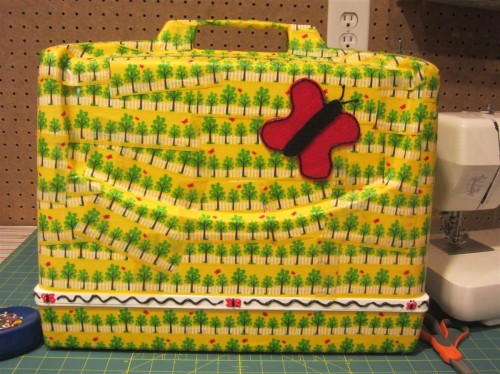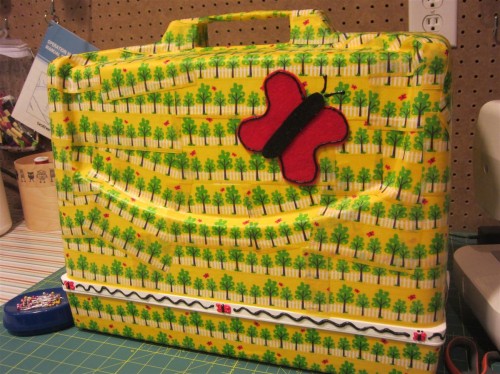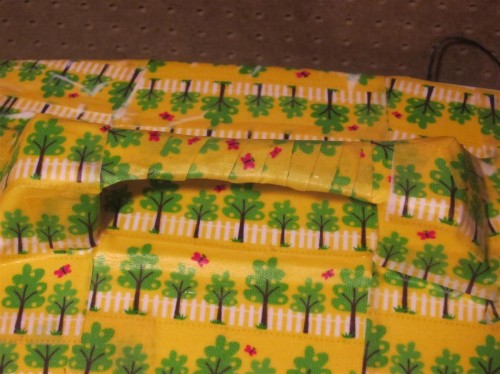 If you liked this, check out these similar projects: