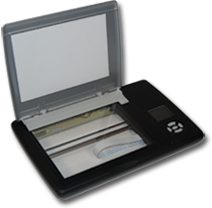 Ever since McGeeky bought our all-in-one printer, scanner, fax (blender, bread maker, etc…) machine for the office a couple of years ago, it has hated me.  I am not sure what the problem is with me and that contraption.  My laptop doesn't hate me and my iPhone simply adores me.  I don't know what it is about that thing.  When I was presented with the new Flip Pal mobile scanner, I was EXTREMELY skeptical.  "Maybe Chica should handle this," I thought.  She doesn't seem to be on the hit list of any electronic devices in her house.
Well, let me state for the record, I was wrong about this scanner.  The Flip-Pal mobile scanner
doesn't hate me. It is actually really easy to use to the point of being fun. A little later, I will show you some of the scans I did, but for now, let's talk about the three major PROS with this scanner over other ones I have used:
It's so easy to use that Little Jo (age 5) snatched it away from me and went wild throughout the house with it.  Some of the scans below are hers.
You don't need a computer around to scan.  The images are saved to an SD card for you to upload onto your computer later.  Very nice.
The lid comes off so you can scan things unwieldy things like art hanging on a wall or the middle of a really thick, old book.  Hence, the name, Flip-Pal!
Now, the CONS:
You can't erase images from the scanner directly.  When you review the images on the screen attached to the scanner, you can't choose to delete them like you are able to on a digital camera.  This would be the biggest flaw, in my opinion.
I still haven't quite mastered the "stitched" image.  It is super easy to scan something smaller than 4×6, but slightly more difficult to do the larger images by piecing together multiple scans.  However, I think this is mostly user error and not a defect of the machine or software.
When I first opened the scanner, I didn't bother reading any directions. I just turned it on and started scanning things by pressing the giant green button on the side.  So far, so good.  I did pick up the instructions later to learn how to properly remove the lid so I could scan my rug or tinsel or something.  I really didn't want to break it within 5 minutes of opening it.  The lid was simple to remove, though. It just pops off and back on very easily.
After I had scanned a few images, I popped the SD card into my laptop.  The Flip-Pal Toolbox menu can be accessed directly from the card.  I love this feature.  There's nothing to install on my computer and everything is right there!  Hmm… that should probably be another PRO in my list. 
From this software, you can save the scans off of the card and onto your computer and you can also stitch them together.  Here's a screenshot of the window.
This tiny little scanner can create huge scanned images, at 300 DPI or 600 DPI. Amazing! Now I'd like to share with you a few of the scans that Little Jo and I made.
This is a table runner at my aunt's house and some garland. Wouldn't the garland be a neat backdrop for a Christmas scrapbook page?
Next we have some pine branches used as a centerpiece and Mini Me's pillowcase.
And here is the rug in our hallway and a vinyl wall cling from the wall in Little Jo's room.
This is actually my favorite scan. It's my glass of Diet Coke that I had at lunch with Chica today.  It's so funny and artsy looking!  The waitress came over to ask what device I was using and was quite impressed with my little scanner.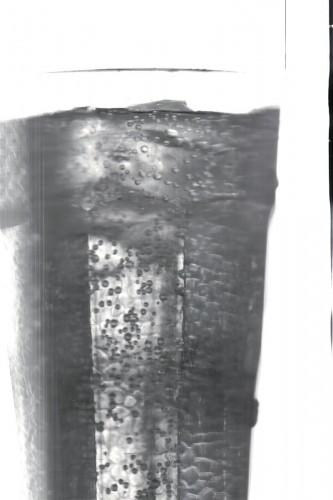 Can you see now why we had such a great time with this tool? The possibilities for scanning are endless!
My favorite thing that I discovered I could do was to scan in my wedding album.  McGeeky and I got married 13 years ago, back when digital pictures weren't all that great.  So we have a very traditional photo album and you can't remove the pictures without damaging the album.  I've always wanted to have digital copies but I never got around to trying to do anything about it. (I hate scanners, remember?)  However, this new scanner will make it super easy.  Look, I just popped the lid off and placed it right on my photograph.  A couple of seconds later, I had a scan of one of my wedding pictures.  I know what I will be doing after Christmas!
The Flip-Pal mobile scanner
is a great fit for me.  It's lightweight, easy to use and seems to work for me.  This would be a great tool for scrapbookers to use or those that do a lot of family history projects.  Make sure you check out the Flip-Pal mobile scanner Web site for videos and other great ideas on how to use this unique scanner.
If you liked this, check out these similar projects: