Christmas crafts with colored duct tape
by: Chica
You guys know that Jo loves to decorate for Christmas much more than the average person does, and she likes to hang decorations everywhere. A tour of her house will show you stockings and wreaths on every door, jingle bells on the tables, and festive touches wherever possible. This year I thought I would make her a really unique decoration to add to her collection, and I thought duct tape would be the perfect medium!
First I made my duct tape version of a classic symbol of the Christmas season — a green wreath with a big red bow.
I started with a simple Styrofoam wreath form and some green duct tape.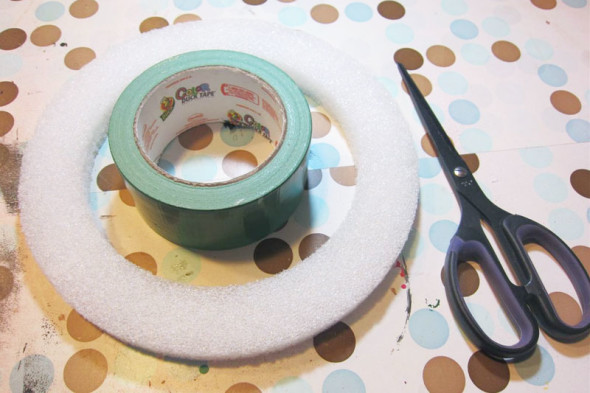 Then I cut a bazillion little squares of green duct tape, laying them all sticky-side-up on the table.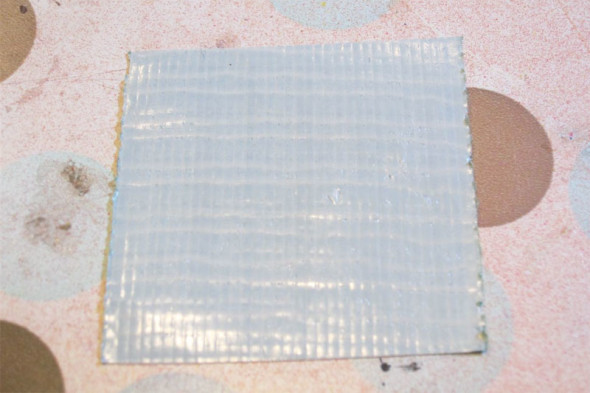 Next, I folded two corners of the tape down on itself, forming a point.
I stuck the first point on the wreath, centering it.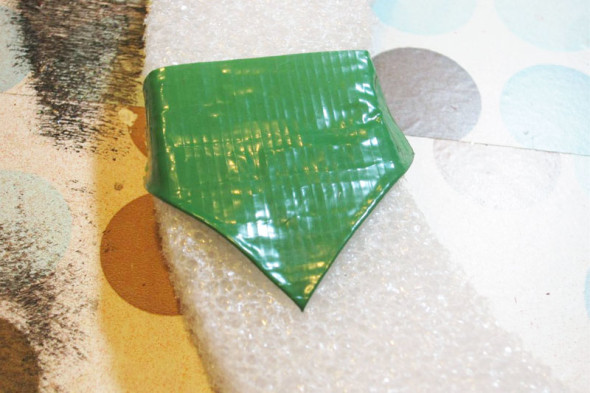 Then I added more points, overlapping each row of a little bit and staggering them to the left and right.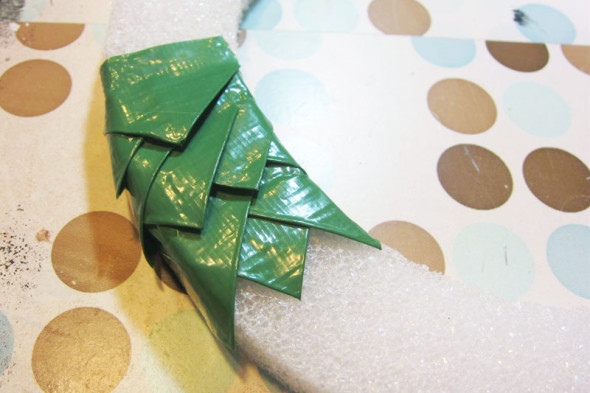 Before long, the wreath was totally covered and looked awesome!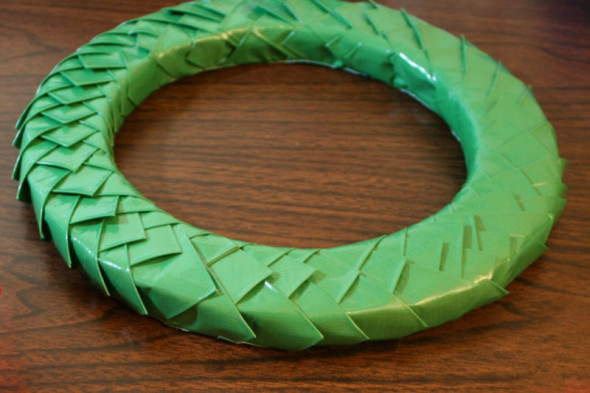 Now the wreath needed a bow, so I grabbed a roll of red duct tape. To make the bow, I first made some non-sticky "ribbon". I cut long pieces of tape and folding them in half — sticky side to sticky side — to create a ribbon that wasn't sticky at all. I made two pieces, one about twice as wide as the wreath and one as wide as the wreath.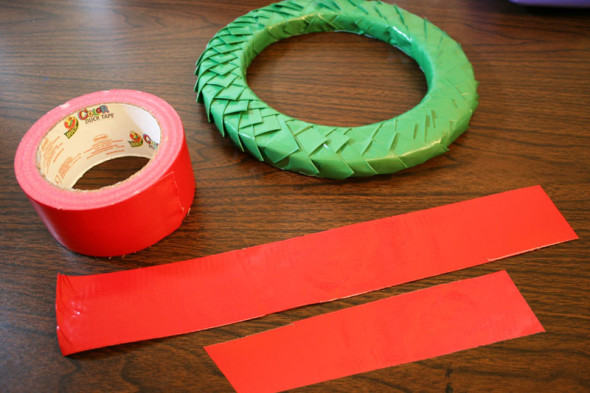 The shorter ribbon was for the tail of the bow, so I cut a decorative notch in each end.

Then I looped the longer piece into a bow shape and secured with a little piece of tape.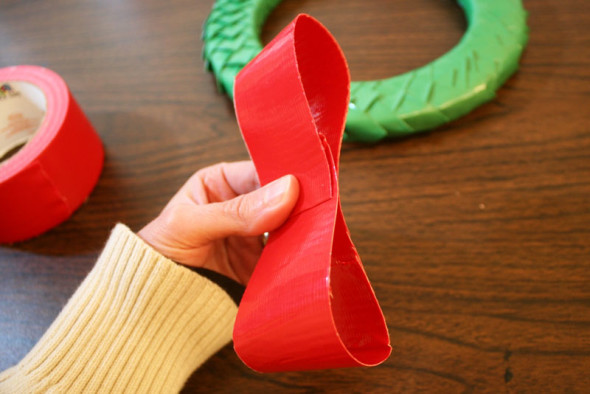 Then I pinched the bow in the middle to make it poof out like a nice bow should.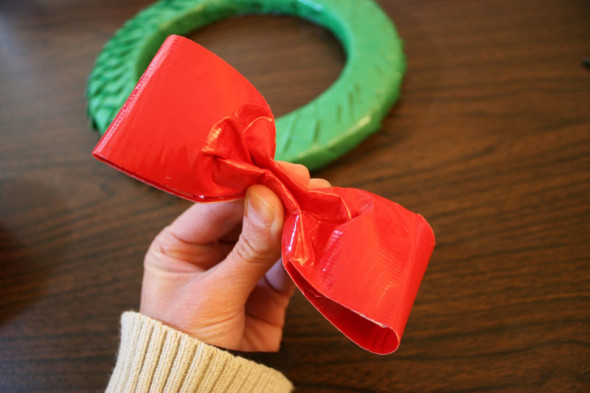 I pinched the tail together in the center as well.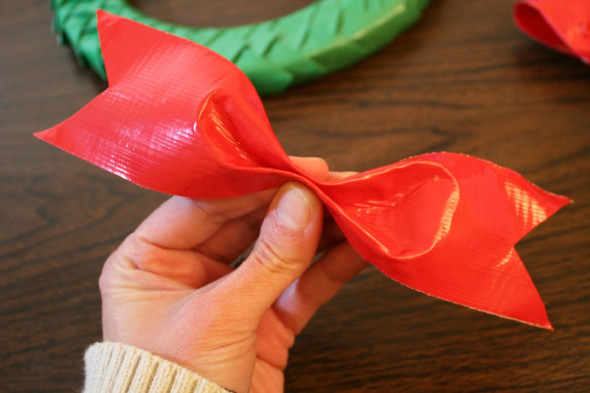 Then, I held the two pinched pieces together and secured them with a piece of red duct tape wrapped around the middle.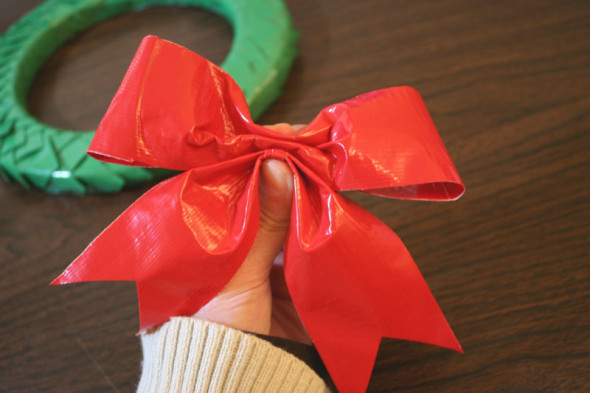 I attached it to the wreath with a couple of Zots adhesive dots and it was good to go!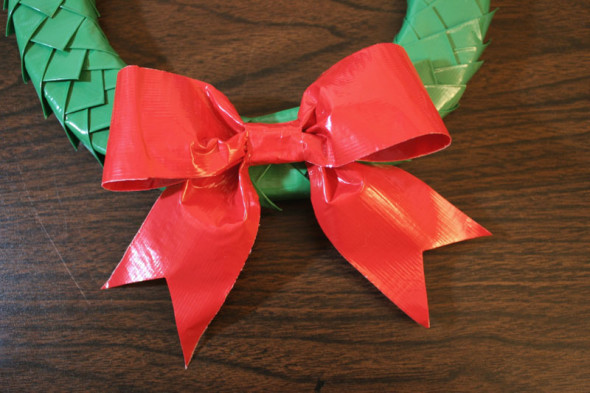 I just love how this wreath came out! It's small size makes it look pretty cute hanging on the Christmas tree.
And it also looks cute hanging next to the stockings on the fireplace. This fun duct tape wreath would look good just about anywhere!
I had so much fun with this wreath that I was inspired to do more duct tape Christmas crafts. I wanted to see what else I could apply this folded-point duct tape technique to, so I grabbed a couple of Styrofoam cones to make into trees. You might think green tape would be the way to go here, but I wanted something more modern and fun, so I grabbed some red and white duct tape.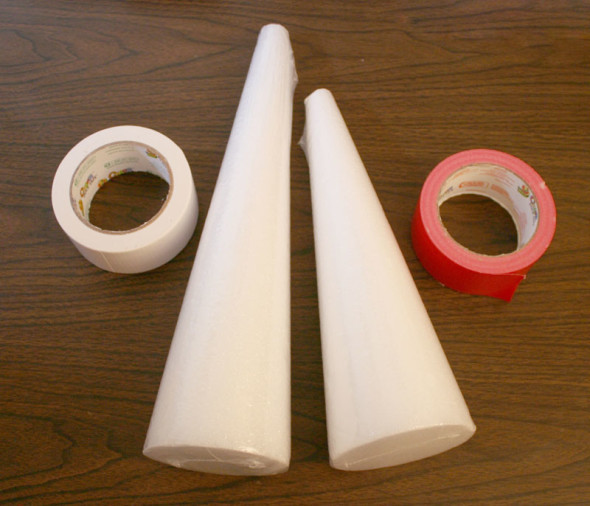 The first thing I did was cover the bottom of the cones with white tape so that they wouldn't scratch whatever surface I set them on later.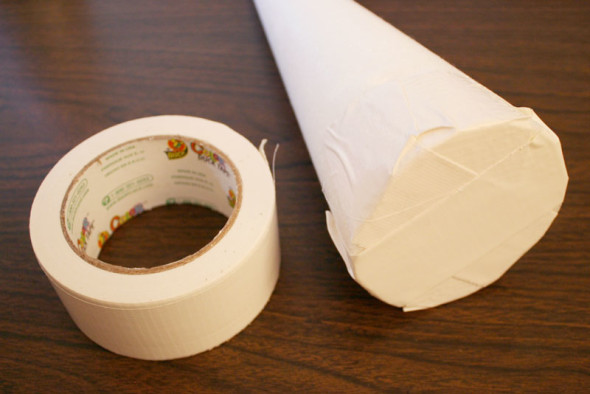 Then I used the same technique as I did with the wreath, creating little squares of red and white tape and folding the corners in to make a point. I had little tape pieces everywhere!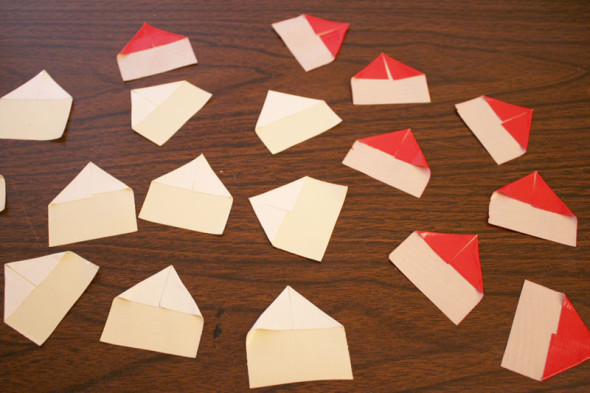 I started with a red point that I lined up so that it just came to the bottom of the cone.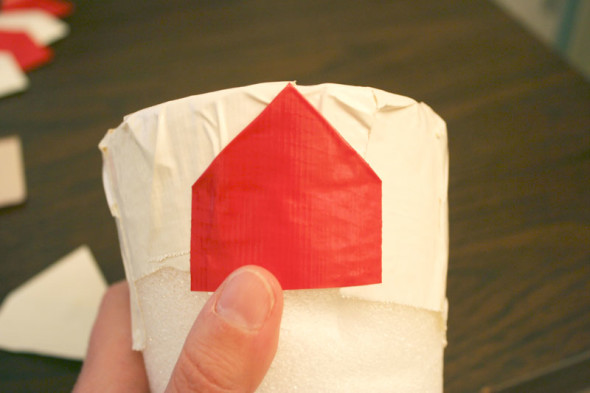 Then I put another one next to it, then another, until I had a row of red going all around the base of the tree.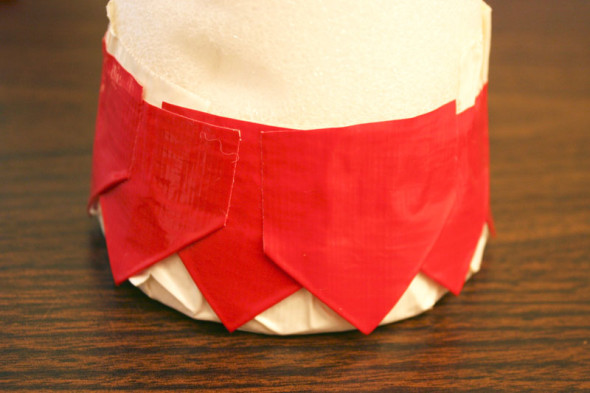 I repeated the same steps but with white tape, making sure to center each white piece over a red one, to create a chevron pattern.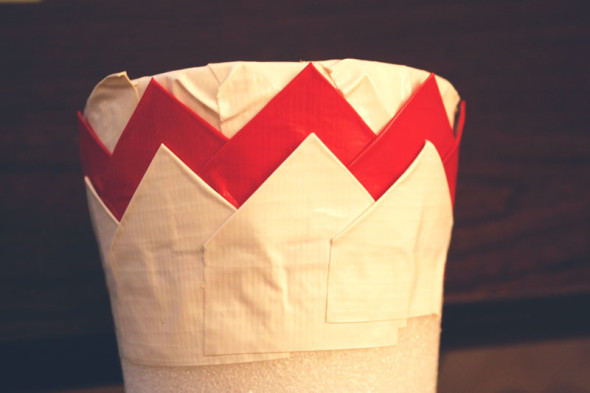 I continued, row after row, alternating the colors between red and white, until the tree was covered. Duct tape is so easy to work with on this project because it sticks so well but is also totally removable if you need to adjust it.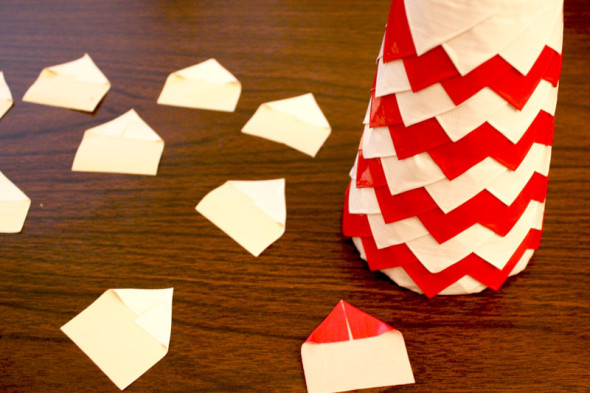 I absolutely love how they came out! They would've looked cute in all green, too, but I really dig the candy cane look.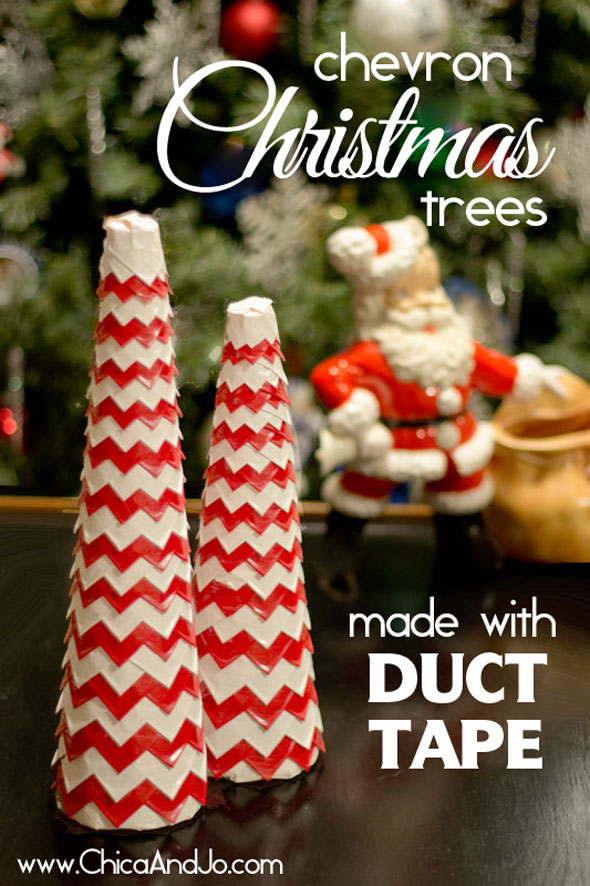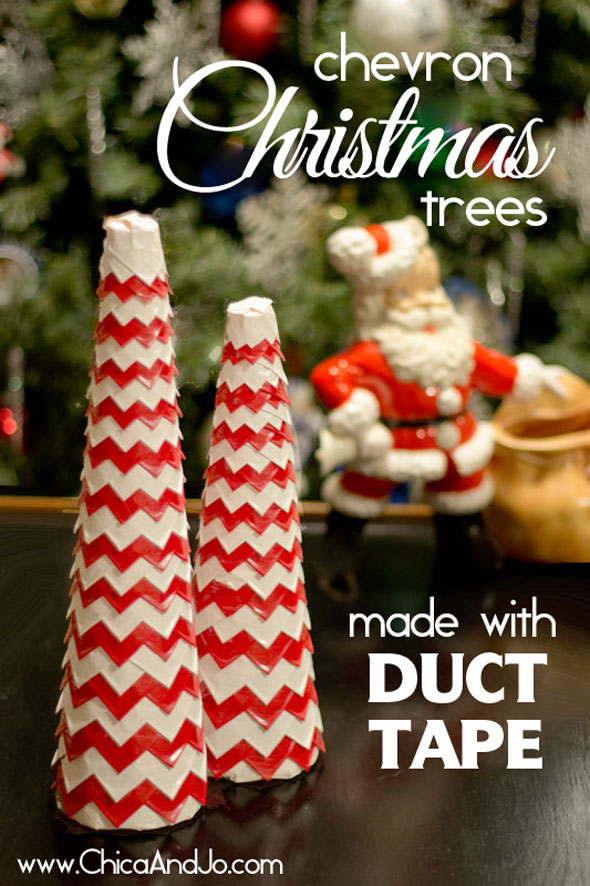 similar projects

leave a comment: