Every December, I get together with a group of women for a cookie swap party, where we exchange sugar- and butter-laden confectionery creations.  We spend a lovely afternoon sampling the goodies and exchanging stories about jobs, kids and husbands.  It's always a great time!  We also end up swapping the recipes for the cookies we bring.  I go home armed with all of these delicious recipes and swear that I am going to make a more soon.  Fast forward a couple of months and you have me scratching my head because I can't find the recipes any more.  There's some kind of paper black hole that continually swirls around me.  I can't keep paper to save my life!  Just ask Chica, who is always fussing at me for losing receipts.  (Something about business taxes or some other such nonsense.  Geez!) 
This year, I didn't want to lose the yummy recipes from the party, so I brought a little craft project for us to do while we were sampling cookies. I decided it would be fun to make cookie swap albums for everyone to take home! 
This project does require a little bit of planning ahead, though.  I asked each guest to send me her recipe ahead of time so that I could print out enough copies for everyone in the group to have one.  I typed them in and printed them onto matching recipe cards we created that are specially sized to fit a Unibind 4×6 book.   You might notice that the cards match our cookie swap invitations from last year.  Clever, huh? 
I put the recipe cards into a nice downloadable Word template for you, so you can type and print out all the recipes you need.
If your group is small and your guests are particularly crafty, you could also ask them to make custom recipe cards to share with everyone. This would give you a variety of looks for the cards. It's up to you! Just make sure to tell them all the size of the book you will be using so the cards fit.
As my guests arrived, I took pictures of their cookies and started printing them right away (since it would take a while to print them all). I printed one cookie picture for each guest to go with each recipe.  Now we are starting to get the insides of a great recipe book together!  When everything was printed, I spread all of the supplies out on a table and we got to work decorating and assembling the albums. 
I want to share a few of the decorating ideas that my friends came up with for their albums.
First up, Kris decided gingerbread men were going to be her thing so she used one of my cookie cutters to trace the shape onto some brown scrapbook paper.
She then used some white puffy paint to outline the gingerbread man like you would do with icing.  Isn't he cute?  Just wait and see how she did the other gingerbread man she made for her cover!
To coordinate her interior pages with the gingerbread theme, Kris used the white puffy paint to "ice" her picture pages.  I love that detail!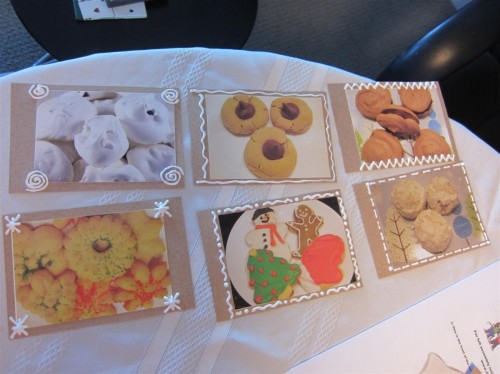 Pauline decided to stick with the color scheme of the invitations and recipe cards.  I purchased lots of stickers for everyone to use.  Aren't they going to be cute on that blue paper? Her interior pages are a mix of fun blue patterns. Same pictures, totally different look.
As my guests finished their album covers and pages, I used the Unibind Photobook Creator
to assemble each book. This tool creates custom-bound books on the fly. It's perfect for this sort of activity.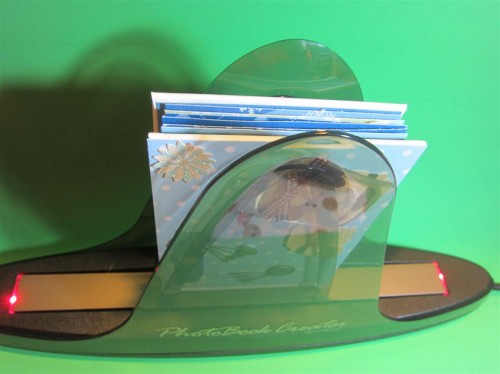 Here are a few of the finished covers.  I love how each person went such a different direction.  I told you Kris came up with a fun idea for her cover gingerbread man.  Poor guy!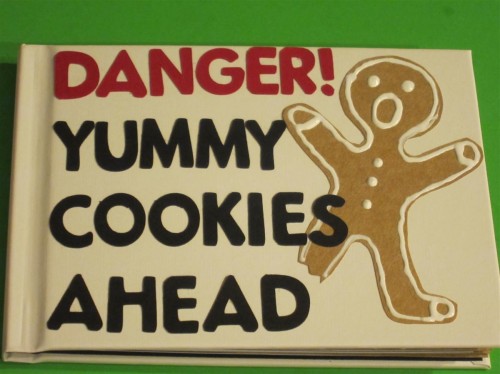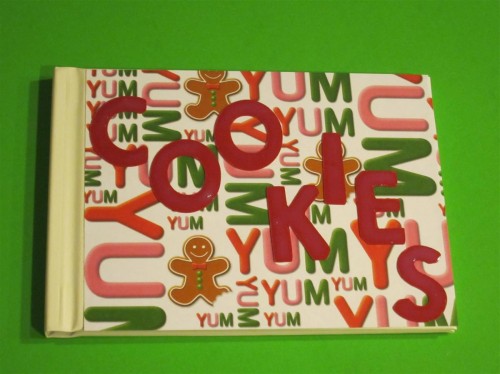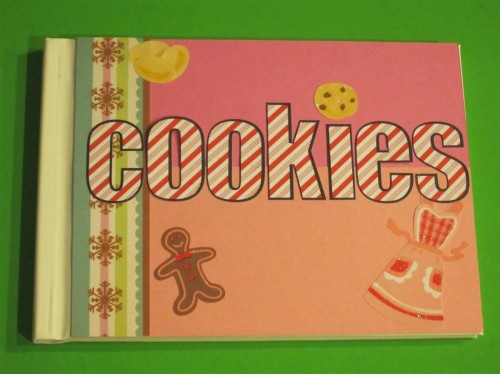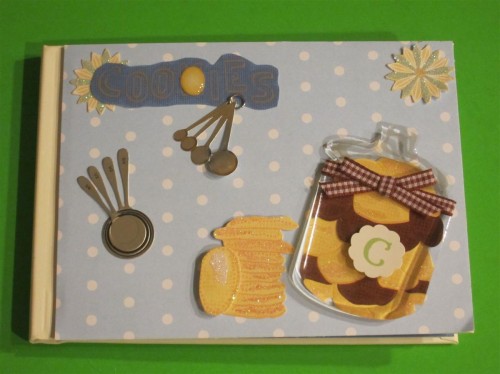 Look at how great the insides turned out as well!  We all had fun decorating the interior pages to coordinate with our exteriors.  And if you want to add a recipe card later, you can just stick the book back into the Unibind Photobook Creator to heat it up again and you can add additional pages.
If you liked this, check out these similar projects: