When we were wandering the hardware store looking for inspiration for a round of So You Think You're Crafty, I happened to notice those little plastic things that used to be found in every home decorated in the early 80′s, that were used to hold a huge mirror over the sink.  You know what I am talking about — those flower- or star-looking plastic pieces that hid the screw heads.  I learned that their official name is "rosette mirror holders
" and I just knew I had to do something crafty with them. Each one has a large flower-shaped piece with a hole in it and a smaller cap that goes in the hole.
I sat down the other morning and stared at those little rosettes for a while, trying to be inspired.  Then I started rummaging through all of my crafting supplies for more inspiration, and that is when I found my bag of 1 inch pin backs.  These little rosettes would make really cute pins!  Following are the unbelievably easy steps I took to make my pin.
To get a stained glass effect on my pin, I used some Plaid's Gallery Glass paint to paint the back of the main part of the rosette, and let it dry thoroughly.  I happened to choose blue, but they make the paint in so many different colors, you can choose whatever you want!  Really, I won't force you to use blue.
Next, I painted the little center cap on the inside and outside with some Gallery Glass sparkle paint.  While it was still wet, I sprinkled some glitter on the outside.  I have no idea why I didn't take a picture of this oh-so-complicated glittering step for you, but I didn't.  I do apologize, but just pretend like there is a photo here showing me sprinkling glitter very precisely over my center cap and not getting it everywhere.  Really, that's just how it happened. No mess at all!
Once everything was dry, I put a dab of glue in the hole on the rosette and added the cap.
All that was left was to attach a 1 inch pin back (mine happened to be self-stick) to the back.
There, that's it!  You can make a lot of these in coordinating colors and wear them all together on your coat lapel.  I also think these would make cute ornaments or a fun mobile if you just painted them and didn't add the pin back.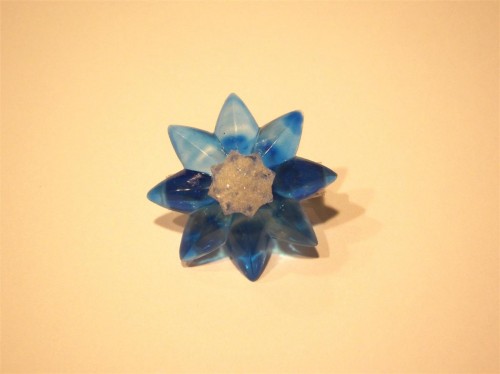 If you liked this, check out these similar projects: