I hope everyone is recovering nicely from all that turkey eating on Thanksgiving!  I had a wonderful weekend with friends and family and I have even finished most of my Christmas decorating already.  Every year, we put up our fake tree in our living room.  Some years, we also get a small, live tree and decorate it. We like to call this our "Charlie Brown tree".  This year, we dug up a small pine from my father-in-law's farm to decorate for Christmas and then later plant on our own farm.  Little Jo and I decided to make the decorations for this little tree.
First, we used the Cricut and the Christmas Cheer cartridge
to cut the pieces for our garland.  I used green and red card stock for the frames and white card stock for the center area (where Little Jo will stamp the images later).  I could have used the Cricut to cut out the white squares, too, but I found it just as easy to cut them out with my paper trimmer. I made the white squares just slightly larger than my circular opening.
Now comes the fun part.  We selected one of the stamp images from the Peanuts Christmas Wishes stamp pack by PSA Essentials.  Their Peel and Stick stamp system is really neat and lets you choose a center image stamp as well as outer ring stamp, and you line them up with their alignment tool.
I am going to let you in on a little secret — we will be talking about these stamps, and how to use them a LOT more later this week when we announce our next giveaway. You are not going to want to miss this one. It is fantastic!
Once you have your stamp image selected and loaded into your stamper, you can stamp your image onto the middle of your white card stock pieces.  Isn't it cute?  The ink pad I used had a green exterior circle and a red interior circle.  They have lots of different ink colors to suit everyone's tastes.
I put a little double-sided tape on the back of my cut-out garland piece, then I centered it over my stamped image and pressed down, creating a frame around the image.  So easy and again, so cute!  I'll admit that sometime my white pieces were a bit large and I had to trim a bit it that showed around the edges.
For this project, I alternated between red and green for the paper and ink.  For the green garland pieces, I used the ink pad that had a red exterior circle and a green interior image.  For the red, I did the opposite color combination.  Changing the ink pad on this tool is really simple — you simply slide one pad out and slide a new pad in. 
To hold my garland pieces together, I simply strung some ribbon through the side holes. I used a small piece of tape on the back of each piece so it wouldn't slide along the ribbon once I hung it up.  I alternated the colors and the images as I went along.
Little Jo insisted that we use some glitter, too, so we cut some basic ornaments out with the Joys of the Season Cricut cartridge.  We decorated them with glitter glue and affixed contrasting paper on the backs of the stars.  We stuck with the red and green color scheme so everything would match.  We used more of the same style ribbon to tie a loop to hang on our tree.
We had a fantastic time making the decorations for this Charlie Brown tree and can't wait to come up with some more ways to use our new stamp collections.  Stay tuned for more stamping projects and that giveaway I mentioned!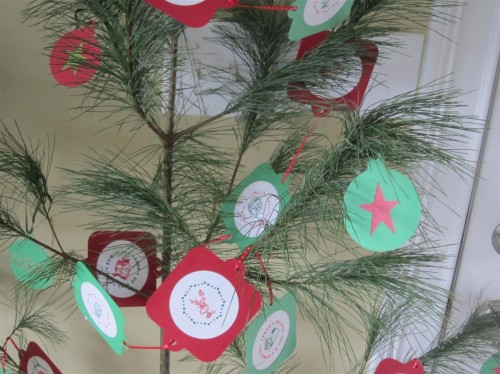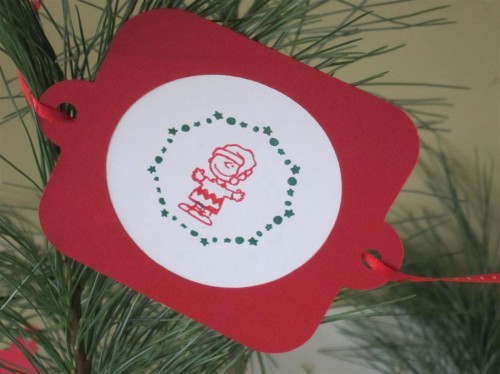 If you liked this, check out these similar projects: