Grinch Advent calendar
by: Jo
Did you realize that most over-the-door shoe organizers have 24 pockets?  We didn't either until we were looking for inspiration for Christmas ideas recently and noticed that a 24-pocket shoe organizer means a perfect Christmas Advent calendar. Adding the Grinch to it makes it extra fun!
To create a calendar like ours, you will need to make sure the organizer you select has clear pockets, and those pockets are large enough to fit 4″ x 9-1/2″ cards. Our organizer was clear on the back, too, so we covered the back with a piece of fleece in Grinch green.  We placed the organizer on top of the fleece and cut around it to size.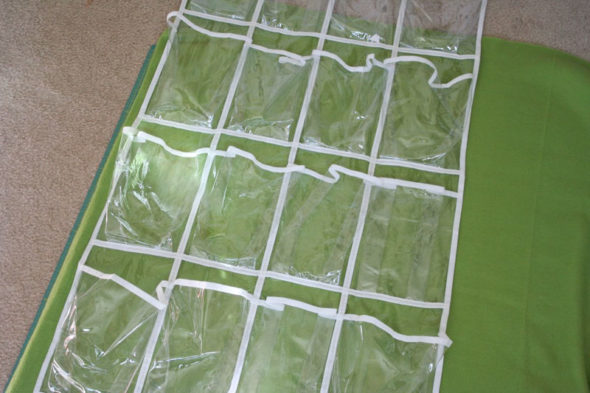 Then, we used a glue gun to adhere the fleece to the back.  Since the organizer was so long, we had to use two pieces of fabric.  Hiding the seam was easy though — we just put it behind one of the horizontal white lines.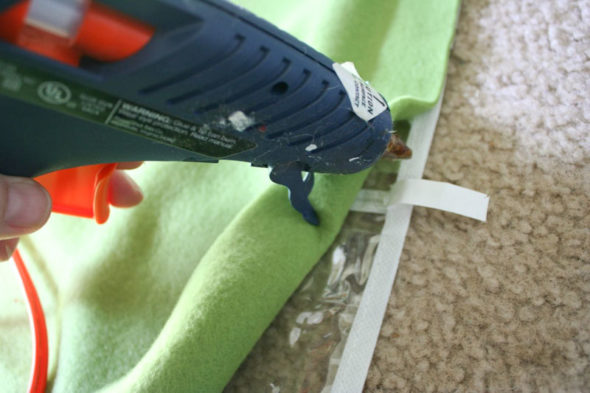 Then we used thin, red ribbon to cover the white lines that criss-crossed the shoe organizer.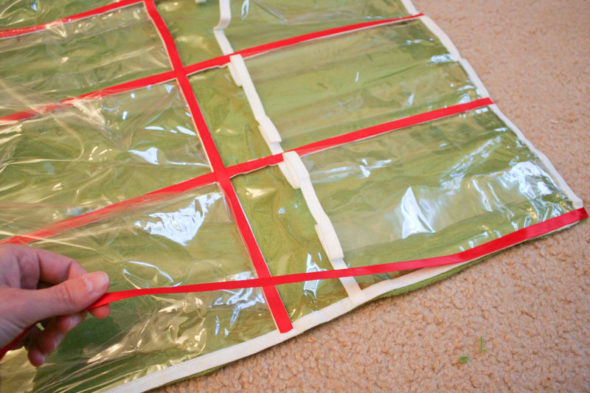 The final touch was adding a faux fur trim across the top of the pockets to mimic the fur trim on the Grinch's Santa outfit.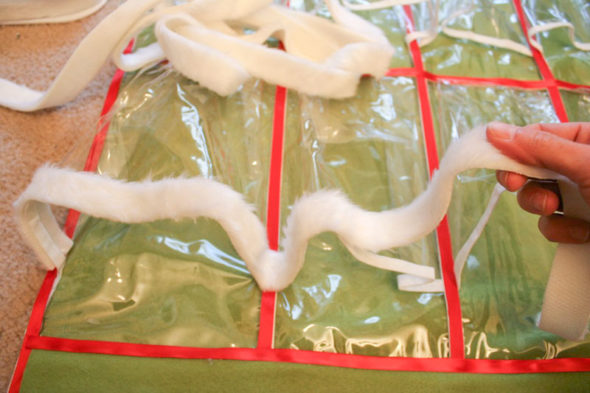 Now that the organizer is all decorated, it's time to add the cards! We've made this easy with our printable How the Grinch Stole Christmas story cards.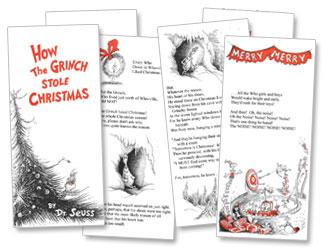 INSTANT DOWNLOAD –
PURCHASE NOW!
Grinch Advent Calendar Printable — $9.99
Contains 24 full-color, printable storybook PDF pages. Each printed card will measure 4″ x 9-1/2″.

Instant Download! You can download your files
from here immediately after your purchase is complete*.
Have questions? Email us at chicaandjo@chicaandjo.com
* Files must be downloaded within one month, and can be downloaded a maximum of 3 times
Once you get your story all printed out on white cardstock, you need to attach the day numbers (1 through 24) to the back of the cards.  For my numbers, I used card stock in Grinch green and red and cut it with my Cricut machine.  I alternated the colors to make it a bit more fun.  If you don't have a Cricut, you could buy stickers to do this or paint them or draw them on with markers.  Whatever you want!  I just made sure to center the numbers and attached them with a tiny bit of glue.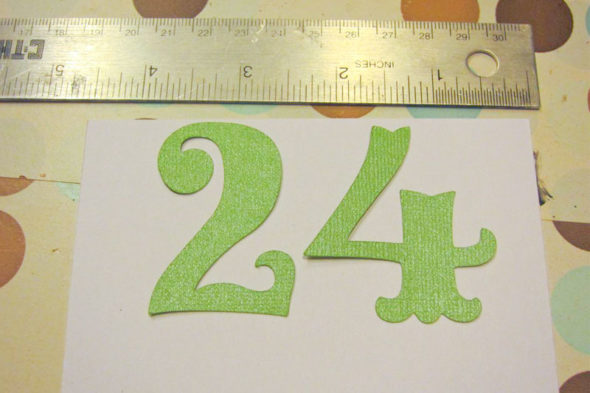 I want these cards to last a long time, so I laminated them to protect them, then I trimmed off the excess plastic.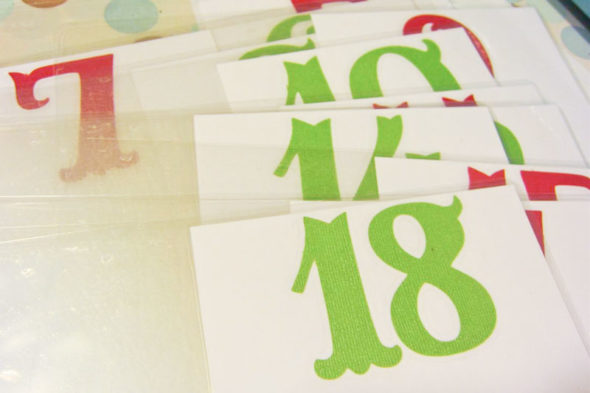 The front (story side) of the cards were so neat to look at just on their own.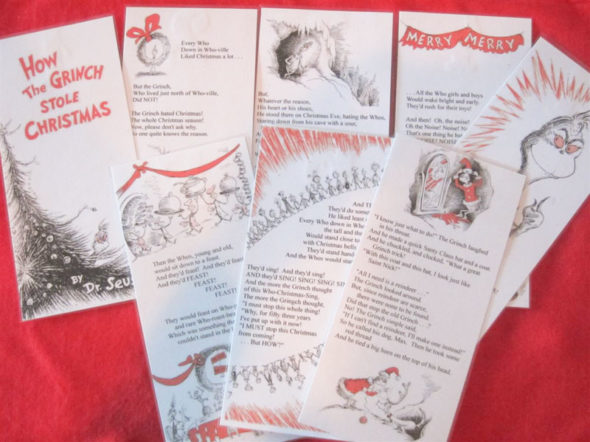 Then I put them in the holder, with the number side showing and the story hidden. The story will be revealed a little each day, but for now you should just see the numbers. We're all set for the start of the big Christmas countdown!
To get started with the calendar, wrap up a little gift for each day and stick it in a pocket. Then each day of December, the kids will open the presents in the pocket and then flip over that day's story card. To help keep track of which day you're on, you can add a Grinch doll and keep him in the current day's pouch. It's not necessary, but I think it adds just that bit of extra oomph! He looks all Grinchy hanging out, don't you think?  As Christmas draws closer, you get to read and see more of the story, the kids get to open their little presents, and the Grinch gets a little closer to having his heart swell to three times its size.
I think it looks super cute even without the presents but look at how much cuter it is with the presents and your Grinch doll marker!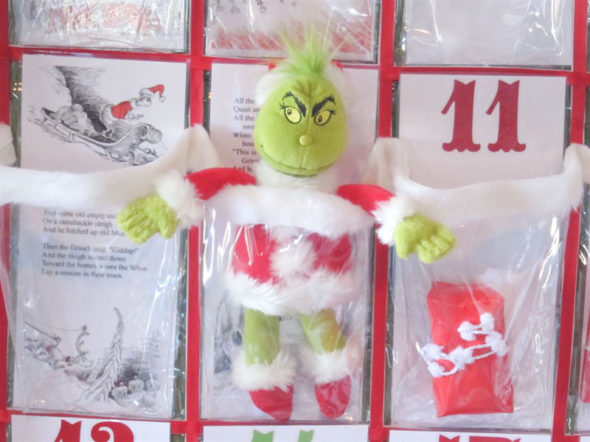 This idea can be adapted to any theme you want. We think A Charlie Brown Christmas would be super cute as well. Or, if you start with a more natural-looking canvas shoe organizer, you could paint pine cones and cardinals all over it for a rustic look and put the numbers on the front of the pockets.
You may also want to check out our Grinch party printables to help complete your Grinch-style Christmas celebration.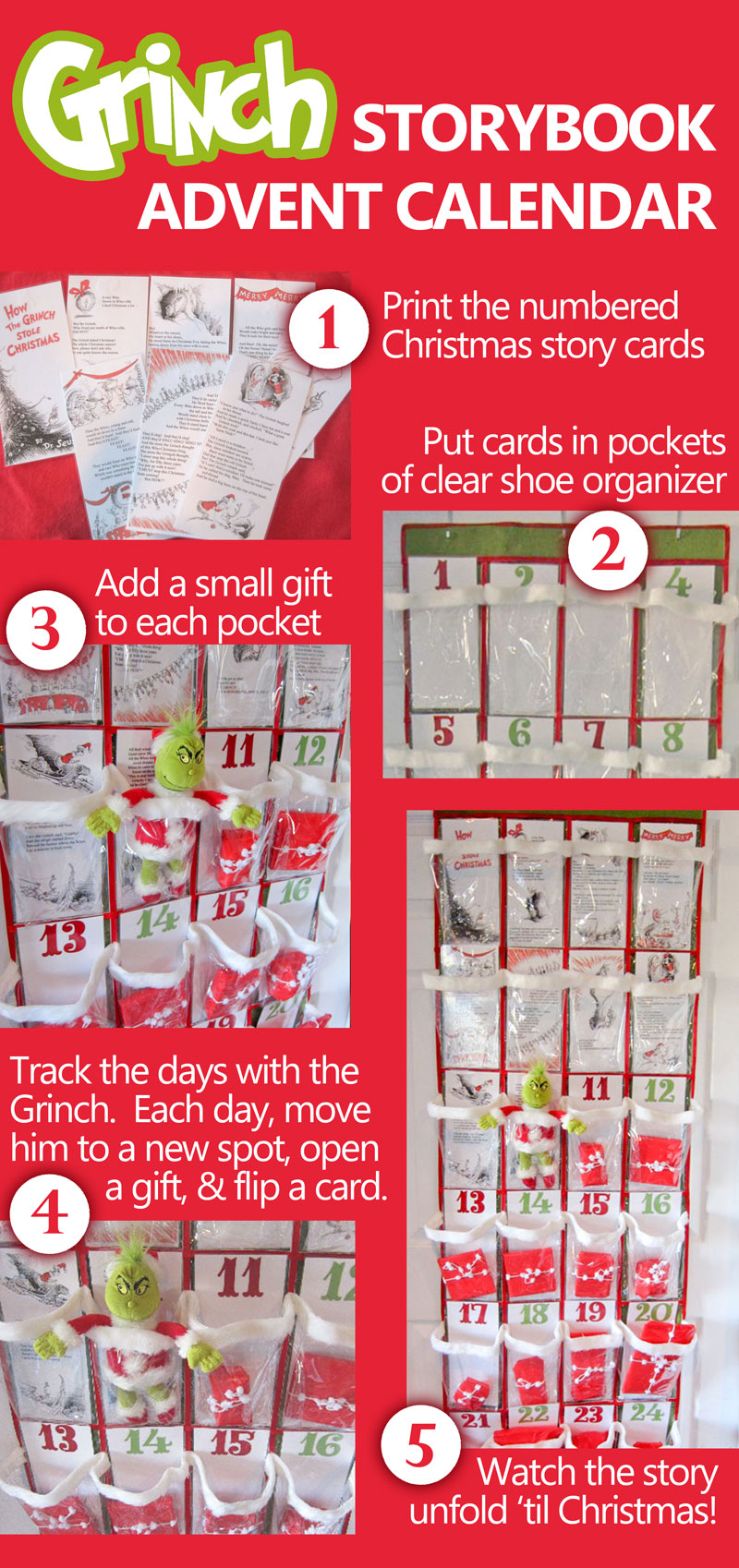 similar projects