I love my laptop.  It's functional and works great, but unfortunately, it isn't that exciting to look at.  See how boring and black it is?  Even with all the colorful laptop options these days, I chose this boring black one because I am a steadfast TrackPoint user and Lenovo
is one of the few brands that make laptops with TrackPoints, and they only come in black.  How on Earth do you people use those touch pads?  I am all over the place when I try to use it!  Anyway, I decided to jazz up my boring laptop.  Being the crafty geek I am, I made my own vinyl decals.
I wanted to start out with my name so I selected the Storybook Cricut cartridge and some teal 12″ x 24″ adhesive backed vinyl
to make my name with my Cricut Expression. To cut vinyl, set your blade to 6 and your pressure to low. This will give you a "kiss cut", which means that your blade just cuts through the vinyl and not through the backing paper.
Once the images were cut out, it was easy to apply them to the back of the laptop. I love how my name turned out!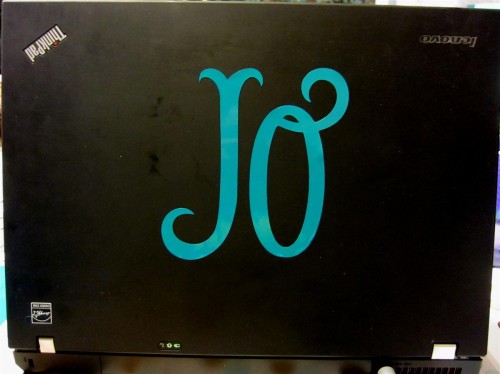 Since McGeeky won't let me put up any Christmas decorations until after Thanksgiving, I decided to focus my Christmas spirit on my laptop, and make it a little festive. I mean, snowflakes aren't REALLY just for Christmas, after all. I wanted to save my name to use it again later so I simply peeled it off and transferred it to some parchment paper. I then used the Christmas Cheer Cricut cartridge
to make my snowflake designs.  To make sure my flakes didn't tear, I carefully lifted each "arm" before trying to remove the whole decal.  This worked a lot better!
It's a little hard to tell in the pictures but the vinyl I used is a silver metallic, which is very festive.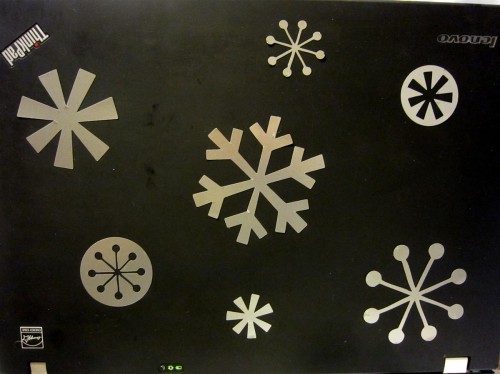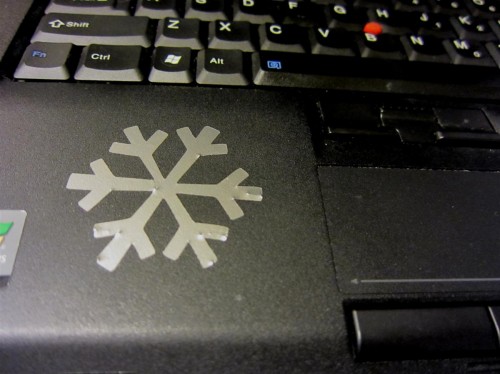 Now that I know how easy this is to do, I think I'll be changing my vinyl designs out with every season!
If you liked this, check out these similar projects: