As you all know, I am a huge Harry Potter fan.  I stood in line for the books and have even made it to the Wizarding World of Harry Potter at Universal.  So it should come as no surprise that I am excited about the Harry Potter and the Deathly Hallows Part 1 movie release coming up.  I thought I should have a few other Harry Potter freak friends over to my house before the movie for a little celebration.  I wanted to share a few of the things I am planning with you guys to maybe inspire you to do your own premiere party.  Let's get started!
INVITATIONS
All parties must start with an invitation.  To make this one, I decided to use my Unibind Photobook Creator so that my guests could keep the invitation as a little Harry Potter souvenir.
For those of you who haven't heard of the Unibind Photobook Creator, it is a great system that lets you create books in minutes, and the pages can be made of almost any material. It's so flexible and customizable! I knew I wanted my book invitation to have lots of fun pages in it, so I started brainstorming for ideas.
First, I went hunting the internet for some neat downloads.  I wanted pictures and maps and spells and such. There are tons of images and ideas out there, and I would like to thank MuggleNet.com for providing me with a lot of the information.  I also found a really neat Diagon Alley map on the Harry Potter Network.  I apologize for not providing all of the images I used here, but I didn't create many of them, and I didn't want to steal that much thunder from the people who did. You will have to visit these two awesome sites and browse around the internet to get what you need.  I assure you, there is A LOT more there for you to choose from so you can really customize this!
I even made a couple of booklets to include in the invitation (a chapter synopsis and a little handbook of spells) and I wanted them to be removable, so rather than bind them into the book, I made little pockets for them out of vellum.  I only had to close up the right side of the pocket because I knew the Unibind would secure the left side for me during the binding. Clever, huh?
Once I had all of my items cut and stacked just how I wanted them (I will show you detailed pictures later of what I used), I made sure they were all stuck down into the binding and then inserted the book into my Unibind.  The red light comes on, the magic happens, and the green light comes on.  It only takes minutes for the book to bind! (You can see my hand in the picture below but that was because I was placing it in the holder.  You do not have to hold the book in place while it is binding and cooling down. Very convenient!)
Now that the insides were bound together, I needed to decorate that outside of the book!  I started with a piece of "invisibility cloak" fabric (more on that later) and glued it along the spine.  I wanted to use an actual book cover on the front of the invitation, so I picked up a copy of Harry Potter and the Deathly Hallows
at my local used bookstore.  I cringed when I tore the cover off, but managed to move beyond the destruction. If the idea of tearing the cover off your book hurts too much, you could always make a color copy of it and use that instead.
Next I ripped out some pages of the book. I got out my handy bottle of Mod Podge and started gluing the pages to the front of the invitation until it was covered.
Once it was covered with the pages, I glued the cover on top.  I think it turned out really neat looking!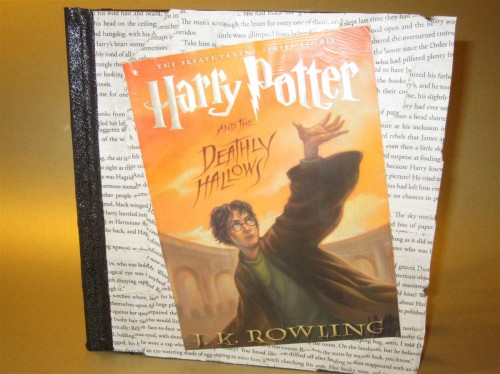 Let's take a closer look now at what I put inside!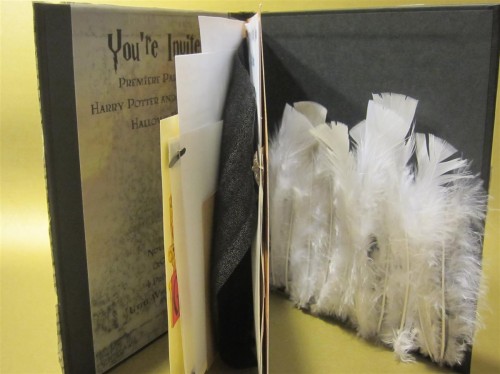 The inside cover has the information for my party on it.  I printed it on velum so the black would show through a bit.  On top of the right side, you can see the Marauder's Map which I printed on printable canvas
to give it a neat texture.  Next, is the really neat map of Diagon Alley printed on cream paper.
I found the crests of the four houses and printed those and stuck them throughout the book.  I felt this wouldn't be complete without a piece of the Daily Prophet inside so I chose the most notorious cover to include.  Next, is a laminated copy of our Butterbeer recipe.
I found some of the spells that I remember the most from the books and included them in a mini spell book that I slid into one of the vellum pockets I made.  The Hogwarts ticket was printed on gold scrapbook paper to make it a bit more ornate.  To make the ticket, I used a frame that came with Microsoft Word and typed the information into a text box on top (You can find all sorts of great Harry Potter fonts over at Mugglenet).
The neat thing about the Unibind is that it can bind all sorts of stuff, not just paper.  Here, I have included part of Harry's Invisibility Cloak!  I found the perfect fabric from an old witch's cape Halloween costume.  I also thought it would be fun to include the Hogwarts school song next and I mounted it on some music-themed scrapbook paper.
The story wouldn't be complete without Harry's glasses, right?  I found an image and printed it, and to add a little oomph to them, I used some Mod Podge Hard Coat
on just the lens area to make them seem more like glass.  Finally, I added some white feathers to represent Hedgwig.
I had a great time putting these invitations together!  I could also see adding pictures from the party to this later and using it as a scrapbook.  Or, I could make one with pictures from our trip to the Wizarding World of Harry Potter!
WIZARD WANDS
I wanted to hand a wand out to everyone who comes to the party and I didn't want to spend a fortune.  You can make simple wands by starting out with plain bamboo. The wands are easy to make and inexpensive — our two favorite qualities here at Chica & Jo.
First, take your piece of bamboo (find it in the garden section at your local home improvement store) and use a saw to cut it into a few smaller pieces. The wands are all different sizes in the books so make sure you have different sizes as well. Now, paint them brown or black. I used my ColorArtz
supplies to paint mine brown.
See, they are so simple and inexpensive!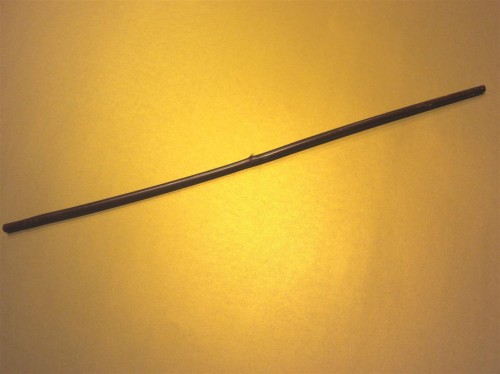 BUTTERBEER
Of course, I will be serving Butterbeer (both hot and cold) at the party as well, and it will be served in the Butterbeer dispenser we made.  (P.S. I am working on a Pumpkin Juice recipe that I hope to share with you all soon!)
DECORATIONS, COSTUMES, and FAVORS
Here are a few additional party decorations and costumes you might want to consider to make your Harry Potter and the Deathly Hallows premiere night even more special! Enjoy the movie — I know McGeeky and I will!
If you liked this, check out these similar projects: