Halloween party game – Witch Pitch
by: Chica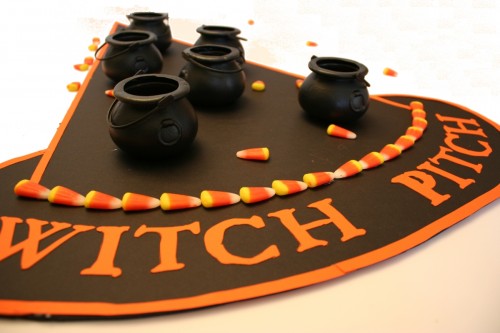 Jo asked me to come up with an easy game the kids could play at her neighborhood Halloween party this weekend, and I was happy to put my thinking cap on and see what I could come up with. As I looked around my craft room, I spotted some very inspirational items. The first was a half bag of candy corn
left over from the candy corn bracelet I made. The second was a pile of little plastic cauldrons that we had left over from — believe it or not — a St. Patrick's Day game that Jo had created. Isn't it funny how they would work just as well for Halloween?
Surely I could come up with a game that used these items, right?
I sure did, and I called the game Witch Pitch. You'll see why in just a few minutes. I started by taking a large piece of black foam core board
and cutting it into the shape of a witch's hat.
Then I used a hot glue gun to add a trim to the hat with candy corn.
To outline the hat and make it really pop, I glued 1/4″ strips of orange cardstock around all the edges. This is pretty simple for the straight parts of the hat, but you might think it's tricky for the curved brim. I have a technique to make it easy, though. Start by tracing the contour onto a piece of cardstock.
Cut along the line with a pair of scissors. Then cut again, 1/4″ in from the first cut, making a strip that's perfectly suited for the curve.
It looks so much better trimmed, I think.
For the game's title of "WITCH PITCH", I cut letters out of more cardstock and glued them in place. (A Cricut would be very helpful here.)
The last step was to hot glue a few of my mini cauldrons in place on the hat. Then, I played for a while and got pretty good at pitching the candy corn into the cauldrons!
You can score the kids based on how many candy corns they get into a cauldron, or you can just let them toss and play with no score. It's fun either way!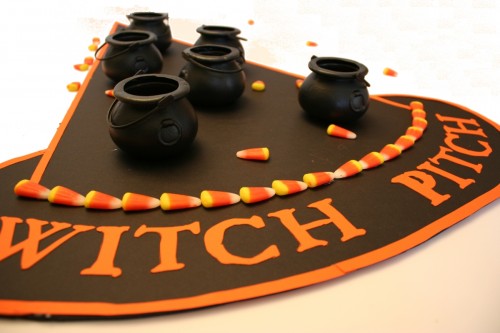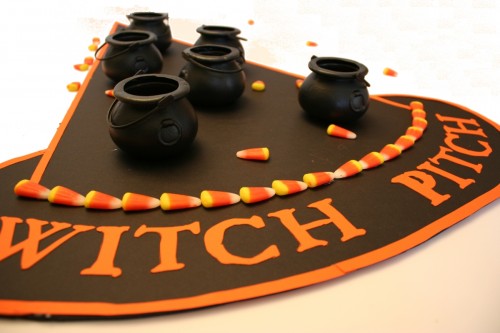 similar projects

leave a comment: