I've been making my famous pumpkin fondue recipe for a long time, and my family always considers it a treat when it shows up on the table.  Baking the cheese in an actual pumpkin makes for a real statement! I found the recipe in its original form in a Junior League cookbook from Jackson, Mississippi that I received as a wedding present.  I've altered it slightly over the years to suit my own tastes and would like to share this simple recipe with you all today so you can use it at any of your upcoming fall festivities.
Pumpkin cheese fondue


1 cooking pumpkin (a.k.a. "pie pumpkin")
2 tbsp vegetable oil
2 cloves garlic, minced
6 oz baby Swiss cheese, shredded
2 oz mozzarella cheese, shredded
4 slices white bread, toasted and cubed or crumbled
1 pint heavy cream or half & half
1 tsp salt
1 tsp pepper
1 tsp freshly grated nutmeg
paprika for color
extra toasted bread for dipping
Preheat oven to 350 degrees F.  With a serrated knife, cut an opening in the top of the pumpkin and set aside the top.  Remove the seeds and fibers from inside.  Blend the oil and garlic and rub on the inside of the pumpkin to coat.  Place your pumpkin in a baking dish.  Alternate layers of bread and cheeses inside the pumpkin until filled.  Combine cream, salt, pepper and nutmeg and pour over the layers.  Replace top and bake pumpkin for 2 hours, gently stir the contents after 1.5 hours.  For a fondue, serve with extra toasted bread for dipping.  To use as a side dish, scrape out the cooked pumpkin to combine with the cheese mixture.
Use a sharp knife to cut a hole in the top of your pumpkin (make sure it is a small, tasty, cooking pumpkin and not one of the giant ones sold to be made into Jack o' lanterns).  Now, you will need to clean out all the pumpkin guts. Here's a little trick I use to easily scrape the insides out — use a grapefruit spoon!
Now, mince up your garlic with whatever method you prefer.  I like to use my food chopper
for this task.  Then, add your oil to the garlic.
Pour the garlic and oil mixture into your cleaned out pumpkin and use your fingers to rub it around the inside of the pumpkin, coating it.  Then cut up some crusty bread and toast it.
While your bread is toasting, go ahead and grate your cheeses.  Mmmm… cheese!  The original recipe called for you to crumble the toast.  I like having the toast a little bit bigger so I cut it into small cubes.  Do whichever you prefer!
Now it is time to layer the ingredients inside the pumpkin.  Add alternating layers of bread and then cheese until you reach the top.  Be sure to leave enough room at the top to replace the pumpkin lid.
Mix your heavy whipping cream (or half & half) with your salt and nutmeg.  I used one of my favorite kitchen gadgets, the microplane grater/zester,
to grate my whole nutmeg.
Pour the mixture over top of your layered cheese and bread.  After I took the picture below, I decided it just looked like it needed more of the cream mixture so I added some more.  Now, you are ready to pop this in the oven for 2 hours. After 1.5 hours, give the cheese a good stir.  While your fondue is baking, you can finish the rest of the dinner preparation or just sit on your couch with a glass of wine.
When it is all good and bubbly inside, take it out of the oven and stir it.  Serve the fondue with more toasted bread as an appetizer, or you can scrape the pumpkin flesh off the sides to mix in with the cheese mixture and use it as a side dish instead.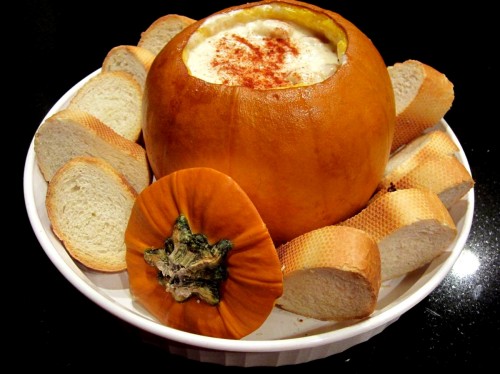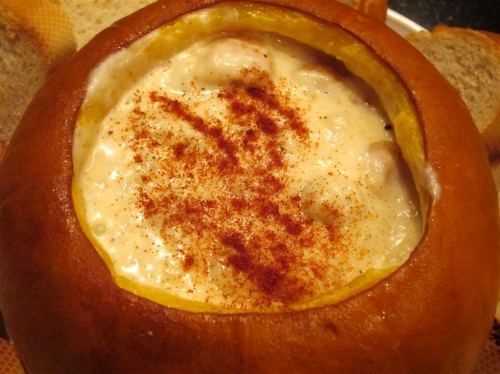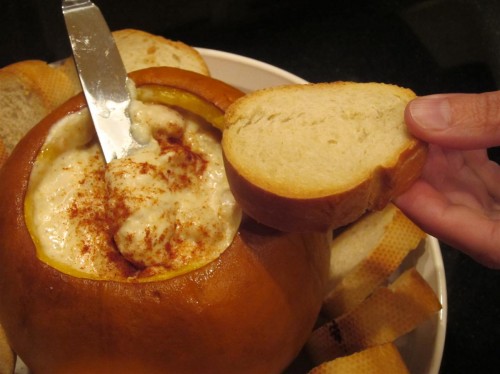 similar projects