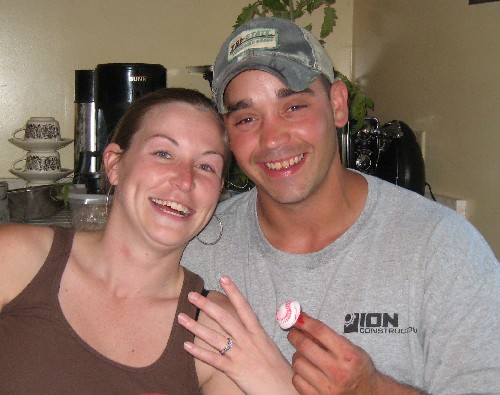 My sister-on-law (the roller derby girl) is recently engaged and getting married next October!  I am so excited!  I have known her for over 20 years now and we have become very close over that time period.  I am happy she found the right guy for her and that she is allowing me to help her plan their wedding.  What this means for you, our lovely readers, is that you will be going on this wedding planning ride with us!
Here's the happy couple on the day of their engagement.  Just so you know, he is showing off his "ring" as well.  He is an avid softball player, so we celebrated with some cupcakes that had these softball/baseball rings in them.  Contrary to my sister-in-law's belief, it IS sometimes about the groom!
First things first when it comes to wedding planning. She needed what I jokingly call a Wedding Binder of Doom!  I threatened to make her one all covered in lace and rose petals similar to the monstrosity in My Big Fat Greek Wedding,
but I was slightly afraid of her because of all the moves she has learned in roller derby!  I decided on a simpler approach that better suited her.
To fill out the pages of her wedding binder, I created a bunch of templates and worksheets. I've created downloadable templates for you so you can make use of them as well! I will probably be adding even more to the list as we go along. All of the downloads are in Microsoft Word format so that you can edit/change them to suit your needs before printing them.  If I've left out something that you found useful while planning your wedding, please let me know.
Downloads for Wedding Planner Book
I printed all of these downloads and combined them with more materials into a big binder for my sister-in-law. A good wedding planning binder needs more than just paper worksheets, though…
Wedding binder supplies: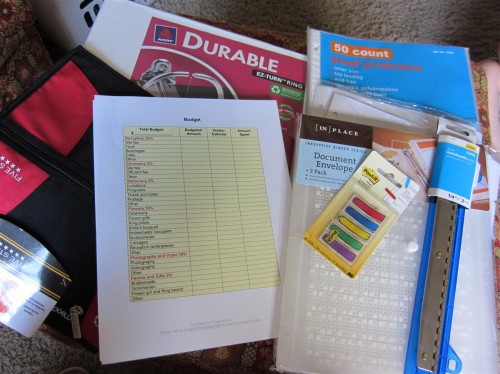 I gathered all my supplies together and then I started constructing the binder for her. I couldn't leave it a plain, boring, white binder, so the first thing I did was scrapbook the cover.  I used their wedding colors since she had already chosen them: black and cream with a hint of deep red.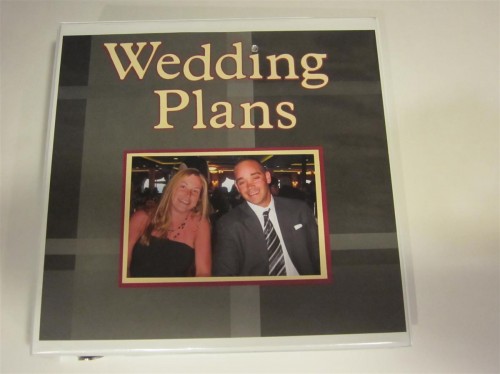 This next part just tickles me pink! I still had a set of pictures from a cruise they took together, and in the pack of pictures, there were two thumbnail proof sheets of the photos included in that pack. I decided to use these tiny pictures to decorate the spine of her binder. It turned out so cute, I will have to figure out other uses for those tiny little pictures!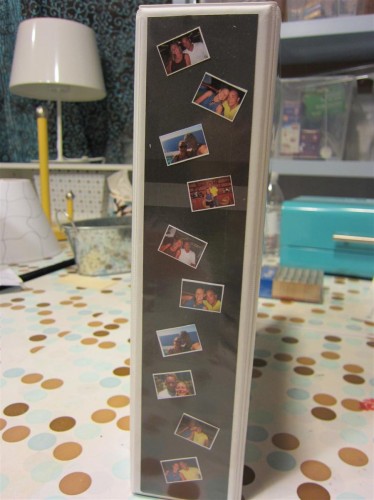 Here are some pictures of the inside of the book put together. When you assemble your planner, make sure you include plenty of blank paper or card stock. The bride may want to attach images she cut out of a magazine or printed from the computer. Notice how I left room beside the pictures to write notes. The clear envelopes can be used to hold receipts, fabric swatches and other small items that can't be slid into a sheet protector.
I gave the completed binder to my sister-in-law she loved it!  I can't wait to help the bride-to-be fill it with all things wedding. When she is finished, it will be a fantastic keepsake from her wedding.
If you liked this, check out these similar projects: