I've got great news — we have found a new craft tool that we are in love with! Okay, I'll admit that happens a lot, especially when Jo and I walk around the craft store, but it's still amazing when we find something new and fun. It's especially great when the tool opens up new craft worlds for us, and we are inspired to create something unique.
So what's the tool? It's the ColorArtz Fabric Airbrush Kit, made by Testors. And why is it so amazing? Well, it's the first easy-to-use airbrush system we've ever seen for fabric and other craft projects. The paint comes in easy, snap-on paint pouches
that you can change in seconds with virtually no clean-up. And because the pouches are so small, it's easy to store dozens of colors in a limited space.

The amazingly easy-to-use airbrush nozzle
has all the great features of spray paint (which Jo loves) but none of the cramped fingertips (which I hate). It also lets you paint in solid coats or broad dustings of paint, with plenty of control. The nozzle is powered by a simple can of propellant,
which is attached with a hose that's long enough to allow plenty of working room. There's also a compressor
available for bigger projects.
Okay, let's get to the good stuff. Let me show you how easy and fun this airbrush system is to use! My first project was a pair of white knee socks. I wanted something simple and easy so I could get a feel for how the tool works. I decided to go for a tie-dyed effect, so I scrunched up part of a sock.
I tied the area with a piece of thin ribbon, then repeated that every couple of inches down the sock. I did the same for the other sock, making sure to line up the ties with the first sock. By the way, I started out using rubber bands, but it is very difficult to put a rubber band in the middle of a long sock, so I used ribbon, which worked much better!
Then I reached for the nozzle and paint. I chose a few paint colors I liked that would make a really crazy pattern. I started with the Gremlin Green and just clipped the pouch onto the nozzle. A couple of test sprays on a piece of paper and I was ready to go.
I started by spraying some green on the ends of the socks. I then continued down the socks, with various colors, until they were covered. Then I flipped them over and did the back, too. Changing colors was so easy — I just removed one paint pouch and clipped on next. No cleaning required, and it takes about 3 seconds to change colors. Wonderful!
After just a few minutes, the paint was dry and I snipped the ribbon off with scissors. I flattened the socks out, revealing the white that didn't get painted, and I laughed at myself for creating such bold and colorful socks!
I love how they came out, though, and I really love the technique I used. The ColorArtz paint is SO EASY to use, and works beautifully on fabric.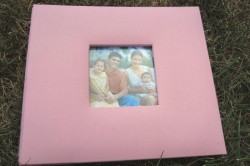 It didn't take Jo long after seeing my results to come up with her own project idea. She had a plain, pink scrapbook that she was planning to use for her daughter's recent cupcake-themed birthday party. "Plain" is not a word Jo accepts in her crafting world, so she wanted to decorate it.
While browsing the available ColorArtz stencils
at the store, she spotted one of a cupcake, which was perfect for her theme!
She started by putting the stencil exactly where she wanted it on the album, and then masking off the surrounding area with tape, to avoid overspray.
Then with several of the paint colors and some careful directional airbrushing, she painted the cutest cupcake ever on the album cover.
Isn't the result adorable? I'm trying to convince her to put more cupcakes all over the album, but she really likes just having one in the corner.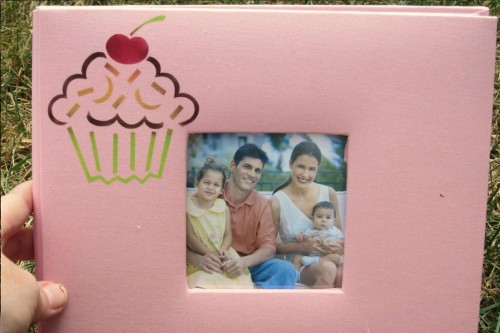 These two projects are just the tip of the iceberg with the ColorArtz
airbrush system. There are lots of ideas from Terri O on the Testors site, and Jo and I have more projects in mind as well. We'll be executing one of our ideas this weekend at a youth festival we're participating in, so stay tuned to see what we airbrush next!
If you liked this, check out these similar projects: