Butterbeer recipe and DIY Butterbeer mugs
by: Jo
I've been a huge Harry Potter
fan since the second book came out and my husband brought it home on the recommendation of a co-worker. I stayed up until the wee hours in the morning with my eyes bugged out so I could finish reading the first and second books. Yes, this was before our kids were in the picture. My husband and I stood in line for all of the rest of the book releases and even named our horses after characters in the book — Dumbledore, Hermione, and Hagrid.
So we were very excited when we had the opportunity this summer to visit the Wizarding World of Harry Potter at Universal Studios. We stood in line forever in the sunscreen-melting heat to get inside. We were not alone, either. See the throngs of fans crowded into the streets of Hogsmeade? We had a great time exploring the Three Broomsticks, Hogwarts, Honeydukes and the train station.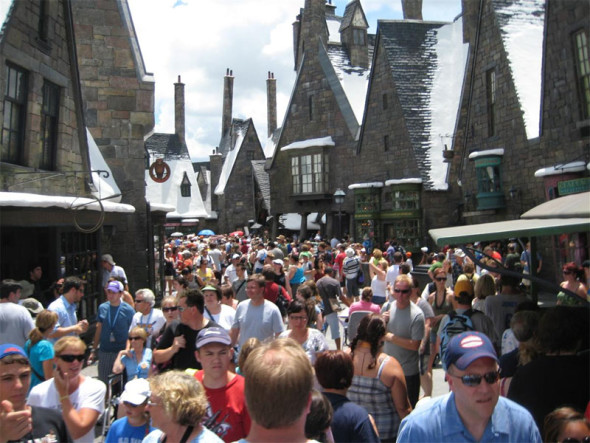 As fun as it was that day, it was also hot. VERY hot. One of our favorite things turned out to be the mugs of cold Butterbeer (a popular drink in the book) that could be had in souvenir mugs for a small fortune. But we paid that fortune, over and over again, just to get more of this delicious and refreshing drink. They did a fantastic job of coming up with a recipe that tastes just like you would imagine it would. Here's a couple of pictures of the Butterbeer truck at the park. They served the drink two ways — frozen or regular — and despite the name, they were not beer at all, but a delicious, non-alcoholic drink with what we thought was a cream soda base.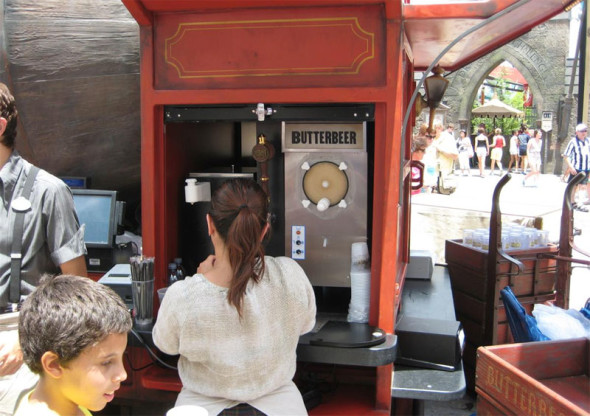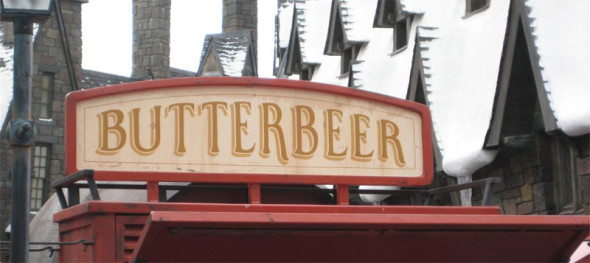 On that hot afternoon, I preferred the frozen version (a slushie consistency) but I liked the regular drink a little bit better overall.
The mugs were really cute as well. We drank so much we had plenty to give away to friends and family and felt a little silly lugging around the giant bag of them. We looked in the shops for a glass version of the Butterbeer mug but couldn't find one. This seems like a huge marketing oversight by Universal. Hmmm… perhaps I could make one to go with the Butterbeer recipe that I knew I just HAD to duplicate at home!
DIY Butterbeer Mugs
I decided to make the mug with a glass etching technique. First, I had Chica design a Butterbeer logo for me, so that I could use it to create a vinyl stencil. This design is available for purchase and instant downloads — see below for info!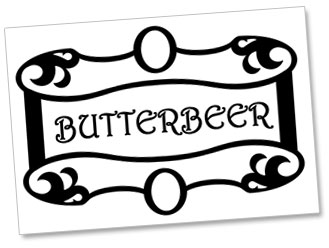 First, I got some pretty glass mugs and cleaned them thoroughly with rubbing alcohol.
Then I used the .studio file version of the Butterbeer logo and my Silhouette electronic cutting tool to create a stencil for the mug. I cut the stencil out of adhesive vinyl and used transfer tape to apply to the mug. I used a sharp knife to carefully remove the parts of the stencil that I wanted to etch.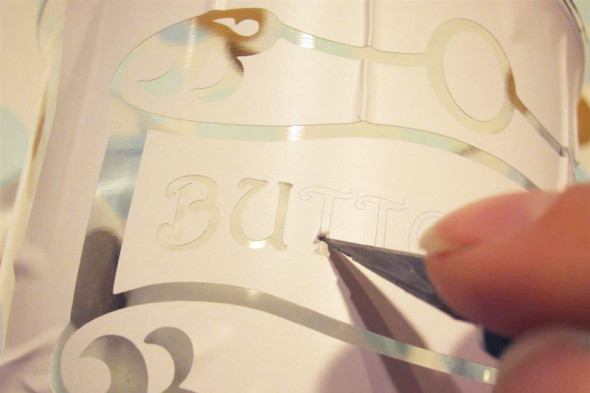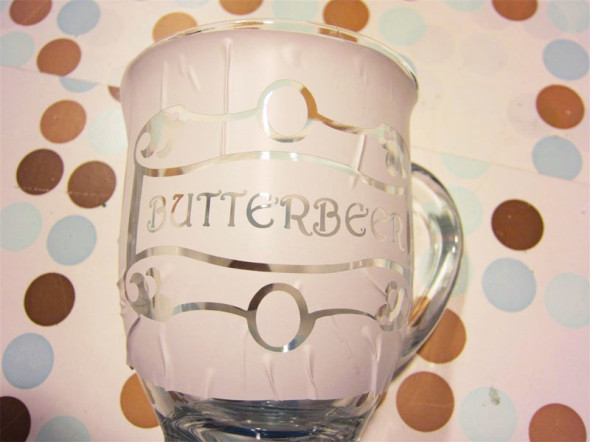 I applied glass etching cream according to package directions, washed it off, then removed the stencil to reveal a beautiful etched logo!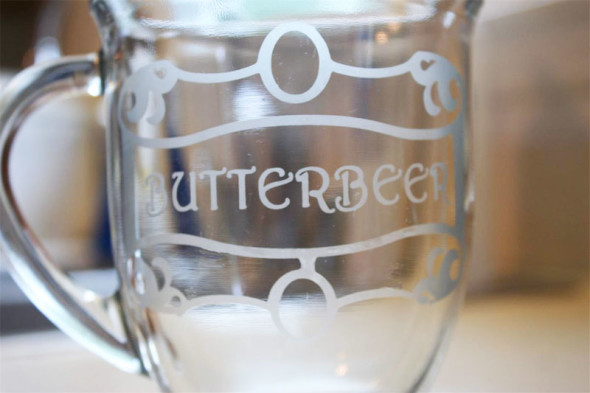 If you want to make your own mugs or decorative items, you can purchase our Butterbeer logo in .studio and .jpg format. We've also got a coordinating Hogwarts Crest to make even more Harry Potter inspired items!
INSTANT DOWNLOAD –
PURCHASE NOW!
We've got two Harry Potter inspired logo sets available.
Each set includes two Silhouette Studio files (.studio and .studio3) ready to open in Silhouette Studio software — just resize the pattern as needed and use your Silhouette electronic cutter to make your stencil. Each set also includes a high-resolution black-and-white JPG version of the image, perfect for printing, tracing, or importing into other graphics programs.
Butterbeer Logo — $3.99
Includes logo in .studio, .studio3, and .jpg (4000x2750px, 200DPI) file formats.
Hogwarts Crest Logo – $3.99
Includes logo in .studio, .studio3, and .jpg (1400x1400px, 200DPI) file formats.

Instant Download! You can download your files
from here immediately after your purchase is complete*.
Have questions? Email us at chicaandjo@chicaandjo.com
* Files must be downloaded within one month, and can be downloaded a maximum of 3 times
For those of you who might like the idea of a Butterbeer mug but don't want to mess around with stencils and etching, we have an alternative for you. We're put our Butterbeer design on mugs (and shirts and more) at Zazzle, where you can purchase your own and save the crafting for another day.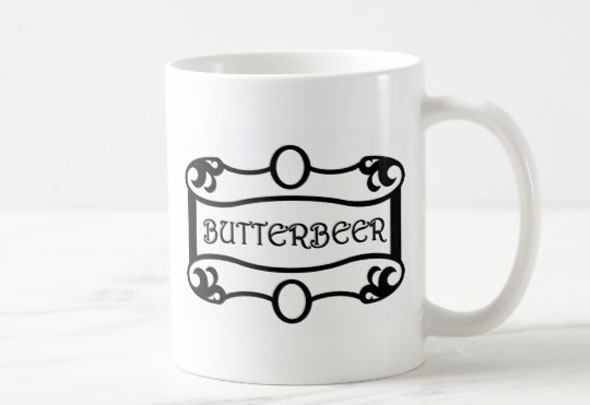 Butterbeer Recipe
Now that you've got the mugs, it's time to move on to the best part… the recipe! The ingredients are simple. You will need the following to make two drinks:
* You won't end up using all of the whipped cream, but if you start with less, you will have a hard time whipping it. If you are making several servings at once, only whip half as much cream.
** You can leave the meringue powder out if you prefer or can't find any, but it gives the cream a slightly fizzy texture that's a close match to the Butterbeer you'll get at the park.
Start by measuring your heavy whipping cream into a bowl.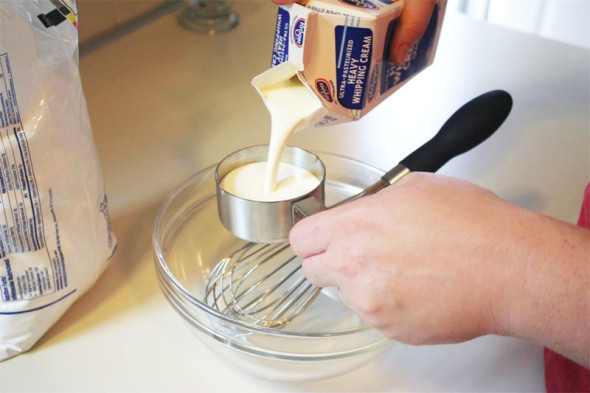 Next, add the powdered sugar, meringue powder, and 1 tsp of the flavoring, and whisk together (or use a stand mixer if you prefer).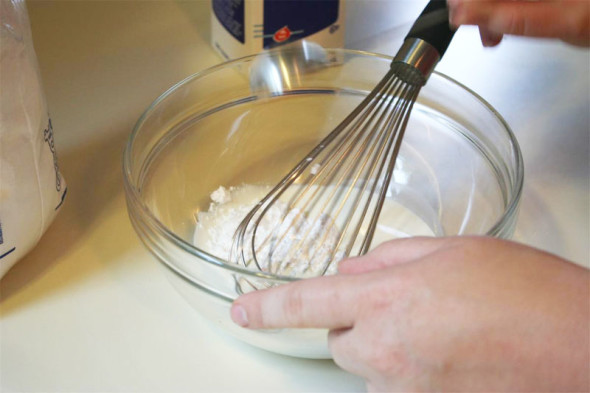 Whisk until the consistency is thickened slightly, but still loose. It should drip slowly from the whisk when you pull it out of the bowl. When it's ready, you may want to pour it into a squeeze bottle for easier dispensing later.
Next, add the remaining 1 tsp of vanilla butter nut flavoring to your cream soda and stir gently so you don't get rid of all the carbonation in the soda.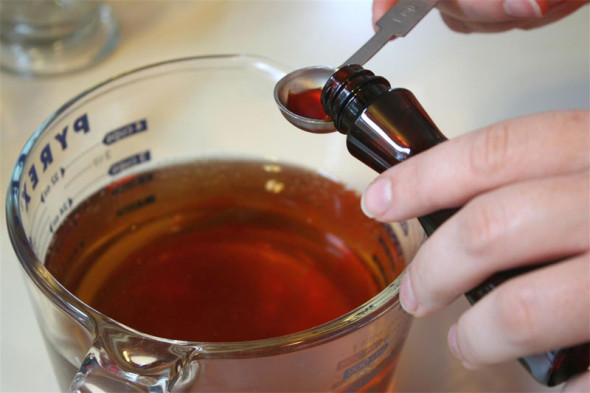 Pour your flavored cream soda into your chilled Butterbeer mugs.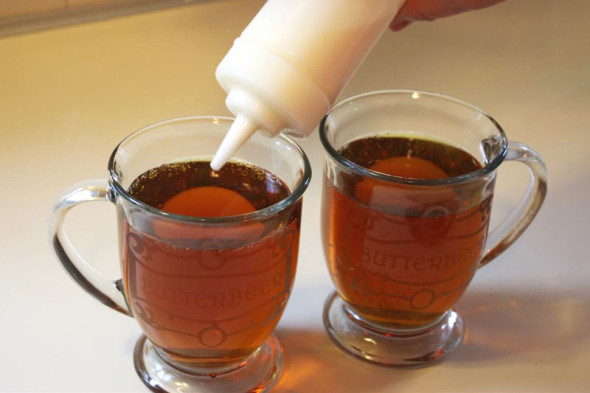 Gently squirt on the whipping cream mixture so that it floats on top (or spoon it on if you don't have a squirt bottle) in a layer about a half inch thick, then serve!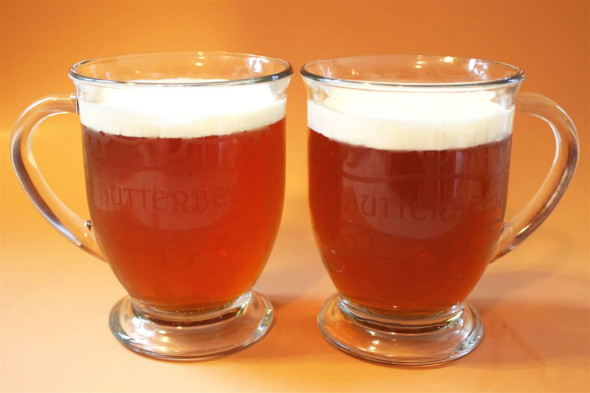 Trust us, it tastes even better than it looks! We would love to hear feedback from others who have tried the original Butterbeer at the Wizarding World of Harry Potter. Try our recipe and see how you think it compares!
Oh, and if you're looking for an alcoholic version of this drink, stir a couple tablespoons (to taste) of Dekuyper Butterscotch (a.k.a. Butterscotch Schnapps) in to the soda before you top it with cream. The result is fantastic!
Hot Butterbeer Recipe
Many Harry Potter fans argue that Butterbeer should be served warm. We like that idea as well, so we developed a hot Butterbeer recipe that's so yummy we can hardly resist it. We've even figured out just the right thing to add to it if you want an alcoholic version.  This is now Jo's favorite winter time drink. 
Butterbeer Dispenser
If you are wanting to throw a party and serve lots of Butterbeer, consider making your own barrel using our tutorial. Oh, what an amazing addition this was to our party!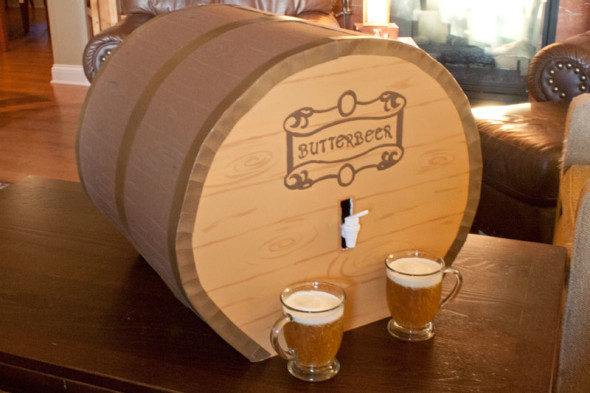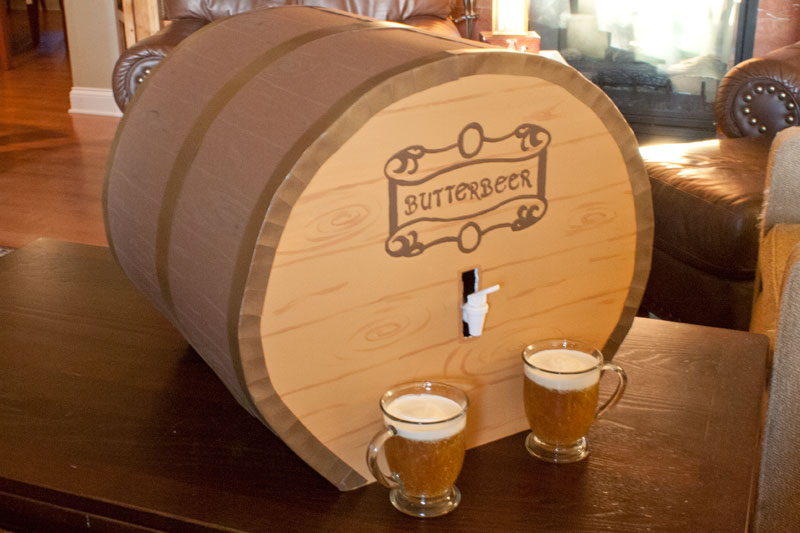 similar projects

leave a comment: