For a long time, I have been wanting  a simple marker board to hang on my front door.  For whatever reason, I never got around to buying or making one.  It was like a mental block for me.  Finally, though, at the CHA 2010 show, there was a make and take at the Clear Scraps booth that just happened to be a simple message board.  I watched Chica make one for her niece and then, instead of doing mine at the show, I asked if I could take the pieces home to assemble so that I could photograph it to share with you guys.  They were happy to oblige! So here it is — the world's simplest dry erase board.  (I say simple but I did manage to make one mistake that I will show you in a bit.)
Start out with any page from a Clear Scraps acrylic album.
  They gave me the scalloped edge
version to use, but you could use any of their fun shapes.  Then select some pretty scrap paper for your background.  I cut the paper to be 5.5″ x 5.5″.  Adhere the paper, face down, to the acrylic with a small glue dot
in each corner.
Next, take a small piece of sticky-back hook and loop fastener
and attach one half to the side of the board and the other piece to a dry erase marker.  This will keep the dry erase marker attached to the board and not lost underneath your door mat or carried off by your dog.  Not that these things would ever happen around our house. Nope, never!
Now you just need to add a little bit of ribbon to hang it on the door.  Know what the nice thing is about using the pages from an acrylic album?  It already has holes!  Just feed the ribbon through and tie a knot in each end.
Now, it is time to write your message.  "At the barn."  See it?  See how clear it is on the new marker board?  What?  It's hard to read on that bold patterned paper?  Uhm, yeah, I have to agree with you.  This was my mistake.  Learn from me, friends!  This is not the place for a pattern.
It was a simple fix though. I cut a sheet of yellow paper out to be 5″ x 5″ and slapped it in the middle, leaving the pattern on just the edges. Much better!
Now Chica and other guests can easily read the messages I leave on the door, such as: "At the barn", "Baby napping", "Playing in the back yard", "In the basement", "Doing homework, can't play right now", etc.  I am also going to make a habit of putting the day/time on the bottom of the note in case I forget to go out and clean it off.  Otherwise, people might wonder if we are making Little Jo do homework for three days straight or that Mini Me is taking the world's longest nap!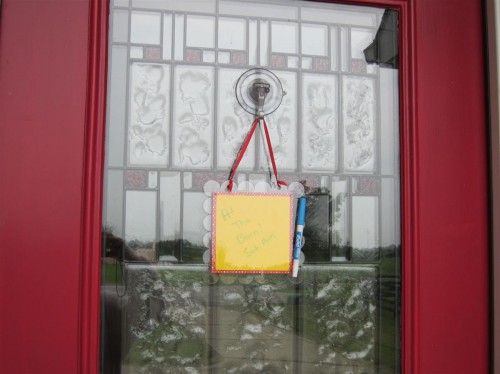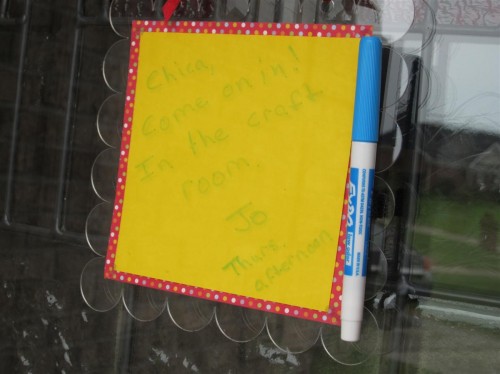 If you liked this, check out these similar projects: