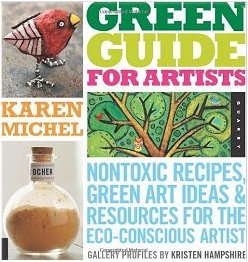 Sometimes a book comes across my desk that surprises me both with its content and its subject matter. Such was the case with Green Guide for Artists: Nontoxic Recipes, Green Art Ideas, & Resources for the Eco-Conscious Artist
(Quarry, 2009). Sure, we've all tried to be green in our arts and crafts, but for most of us, that usually means reusing and recycling, and trying to find new ways to use existing items. This book takes the concept even further, and shows you how to be non-toxic and eco-friendly in the process of creating your art.
Author Karen Michel starts the book off with a chapter on "greening your studio" which helps you identify areas that could be improved. How much of what's on your shelf is toxic and could easily be replaced by greener alternatives? How much are you throwing away that you could re-use for storage, art, or tools? With some careful reading of labels and a little thought beforehand, you can easily use Karen's advice to start making little changes in your studio that put you on the right track to becoming a more Earth-friendly artist.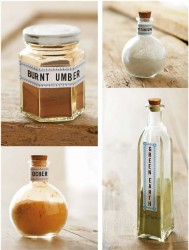 She talks in detail about various types of paints, adhesives, and paper, and gives some great tips for being green — and safe — in the studio.
Then things get really cool as Karen starts talking about green recipes for everyday art materials. This section is the shining star of the book, and there are some great paints and adhesives you can make yourself. Making your own materials not only helps you avoid harsh chemicals, but it can also help you create a closer and more meaningful bond with your art.
By mixing some natural pigments and dyes with the right binders, you can make your own paint using recipes that are hundreds of years old. How cool! You can also make your own adhesives with simple recipes that create eco-friendly, non-toxic glues from ingredients in your pantry. It's so much more than the old flour-and-water paste we used to make as kids… you can make some really strong glues with pretty ordinary stuff.
Here are some of the recipes included in the book:
Gelatin gesso
Acrylic paint

Watercolor paint
Egg tempera paint

Simple collage glue
Waterproof glue

Acrylic glue
Gum arabic glue
If all these amazing homemade materials don't give you the inspiration you need, just keep thumbing through the pages of this book for ideas for green projects. With a heavy emphasis on reusing and recycling, the projects presented here show you how to use techniques like paper mache (recipe included!) to make sculptures and beads. There are also projects using found items, photos, and upcycled items that are really inspiring.
One of my favorites is a little journal made from fused plastic bags. And of course the author includes not only directions on how to fuse the plastic, but also gives diagrams and instructions on how to bind the book together. Another tutorial that I find incredibly helpful is the one showing how to stretch your own canvas. If you've ever priced canvas in the store — particularly custom sizes — you know exactly how expensive it can be, and I love knowing how to stretch my own!
Karen finishes the book off with a collection of photos of projects created by some fellow green artists. These artists use green materials to create works of art that also speak to the community and showcase the principles of green crafting.
If you're trying to make your art more eco-friendly and get back to the basics with your supplies, or if you're just looking for inspiration on how to start moving in that direction, then check out Green Guide for Artists: Nontoxic Recipes, Green Art Ideas, & Resources for the Eco-Conscious Artist (Quarry, 2009). I think it might be just the boost you're looking for!
If you liked this, check out these similar projects: