Little Jo starts Kindergarten next month.  Like most moms, I have no idea how that little bundle of baby I used to cuddle in my arms has turned into a gangly little girl begging me to take her backpack shopping.  Sigh, where has the time gone?  To help her celebrate the start of her school year, I thought we would host an ice cream party for her and a couple of friends.
As usual, I wanted to do something a little bit different for the invitation.  I was inspired by the $1 ice cream scoops I found at my local Michael's craft store.  Wouldn't it be neat if I could make it look like it had a real scoop of ice cream in it?  I wandered the aisles and stumbled across this container of Crayola Air-Dry Clay
. I scooped it out of the bucket just like I would have a gallon of ice cream.
I managed to fill 6 scoops with about half a container of clay.  I would guess you could easily get 12-15 scoop fulls out of one tub.  Doesn't it look just like chocolate ice cream?  You will need to let the clay air dry for about 3 days, since the piece is so thick.
Then I pulled out my Cricut machine and used the Sweet Treats cartridge
to first cut a 4″ shadow ice cream cone shape out of brown, then a 3.5″ ice cream cone shape out of pink.  I would write the party information on the pink.  I could have stopped there but I went one step further.
I had already ordered some ice cream patterned fabric
to use for my table cloth at the party and wanted to work that pattern in here, too. I decided to try the trick Chica featured not too long ago for scanning fabric to create patterned paper.  I was amazed at how well it worked!  I am going to have to do this with more of my fun fabrics.
I cut 4″ ice cream shapes out of the scanned fabric paper and glued it to the back of the brown.  Now, the invite tag is pretty on both sides!
To attach it to the scoop, I punched a hole in the cone end and tied it with ribbon. I love how these invites turned out!
UPDATE: When the clay completely dries, it shrinks.  So, you will need to place a dab of glue inside your scoop to adhere your ice cream ball into the scoop.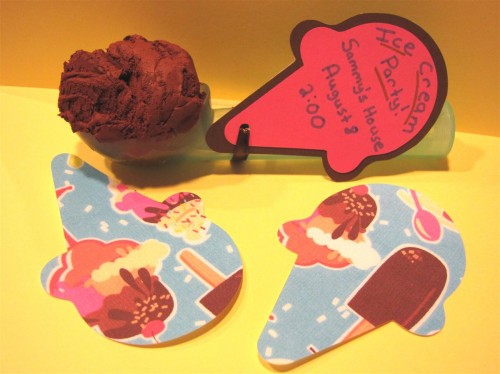 If you liked this, check out these similar projects: