Unique and easy summer cupcakes
by: Chica
Summer is in full swing, and there are tons of occasions to be outside with family and friends, whether at the beach or pool, or at a big cookout in the backyard. All of these events are that much better with sweets, and cupcakes are one of the easiest and most fun sweets to bring to a big gathering. And when we talk about cupcakes around here, you know we always talk about Cupcake Collars! To celebrate summer, we've designed two new sets of collars that you're just gonna love.
First we have some collars perfect for the beach or pool. Nothing screams summertime water play like a beach ball, and if you're anywhere near sand, you'll definitely need our cute little buckets. And of course, summer wouldn't be complete without some bright sunshine!
These designs are really simple to decorate and just need a swirl of solid frosting to make them complete. You can even buy pre-made cupcakes at the store and slip these collars on and be done!
The next best thing to water play in summer is cookouts, so we made a set of collar designs that showcase our favorite parts of cookouts — hamburgers, watermelon, and s'mores! Jo will do just about anything for a s'more, so imagine how crazy she would go for a s'mores-flavored cupcake with a s'more Collar on it.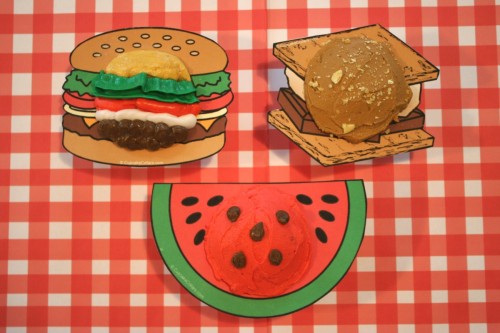 You can decorate these simply or have some fun with them. The hamburger is just stripes of various colors of icing, but you could just use a solid color if you want. The watermelon seeds are just dabs of brown frosting, but chocolate chips would be a great alternative. For the s'more, I frosted it with brown frosting and sprinkled on some crushed graham crackers. Yum!
All of these awesome designs are available over at Cupcake Collars so if you want to really add some pizazz to your summer outing, why not give these a try?
To tempt your taste buds, we're giving away one of these designs here, because we love ya. Summer isn't summer without sunshine, so here's our sun design, ready for you to download.
We hope you enjoy these, and remember to visit CupcakeCollars.com for the remaining summer and cookout designs, as well as many more!

similar projects