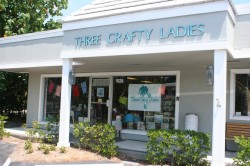 As promised, we visited the Three Crafty Ladies craft store while we're on vacation in Sanibel this week. Jo had been there last year but this was my first visit to the store, which has recently been purchased by a new owner and moved to a bigger and brighter space. We loved it!
We met the store's new owner, Johanna, who was very enthusiastic about all of the wonderful craft supplies they carry. She is also super sweet and has a real passion for crafts. Johanna had been shopping in this store for years, and it was a big part of her Sanibel vacation experience while growing up, so it was an easy decision for her to buy the store when it went up for sale last year.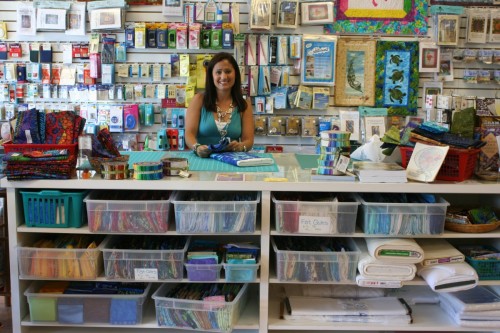 This store has just about everything a crafter needs. From a seemingly endless supply of beads and jewelry-making supplies to a wide assortment of scrapbooking items, there's something for everyone. Jo was especially drawn to one of their newer item, a canvas scrapbook with the inside pages also made entirely of canvas. The canvas pages bring a whole new array of decorating possibilities that go beyond traditional techniques. You can use paint, iron-ons and sewing to embellish the pages! I can't wait to see what she comes up with.
The shining star of the store is its wide collection of fabrics. They have plenty of stock and specialty fabrics, and the largest assortment of beach and sea life fabrics I've ever seen. If you're looking for something special like dolphins, waves, or shells, they probably have it! They also sell a lot of their fabrics and patterns in their online store, so even if you aren't in Sanibel, you can still shop with them.
If you're looking for ideas on what to do with all that gorgeous fabric, you're in luck. The store is decorated with lots of beautiful quilts and fun sewing project samples, and there are tons of patterns available for them throughout the store. Little Jo fell in love with a cute little purse and Jo got the pattern so that she can make her one when we get back home. We also really loved the coloring book tote bag with pockets for individual crayons. Isn't that the neatest thing?
Jo fell head-over-heels in love with a Sanibel quilt pattern they had on display in the store. The piece can be used as a table runner, bed runner, or wall hanging, and is a perfect way to bring the island home with you. I was really impressed with the fine arts section in the store, with sketch books, brushes, and paints. How I wish I had the time (and talent) to sit on the beach for hours and paint landscapes with an easel and canvas. I'll bet a lot of budding artists could find their wings here.
We want to thank Johanna for being so gracious and showing us around the store, and we really enjoyed meeting her and the rest of the ladies in the store. If you're ever in the area, we definitely recommend stopping by Three Crafty Ladies, especially if you can catch them on one of their popular make-and-take days, where you can come in and make a project like a beaded bracelet. And don't forget that they have a web site, online store, and blog!
If you liked this, check out these similar projects: