I always love the depth that some people are able to achieve in their scrapbooking or journaling.  I try to do it myself, and sometimes I manage to get it, but more often than not it looks like a big ol' mess on paper!  So, I was delighted to thumb through the book, Vintage Collage Journals: Journaling with Antique Ephemera
by Maryjo Koch (Quarry Books).  The author effortlessly does exactly what I want to do every time I scrapbook.  The good thing about this book though, is that she TELLS you how to do the techniques.  That's right, she lets you in on some of her journaling secrets.  Let's take a look at some of my favorite things she did.
I am still working on a scrapbook from a trip to Europe we took over 2 years ago!  Yes, it's sad, I know.  One day, before I go to Europe again, I WILL finish it!  I was immediately drawn to her travel journal.  Look at those pages!  To me, this is just a visual feast.  I love all the layers and the color and the writing.  Hmmm… that's another problem I have, my penmanship borders on atrocious!  Maybe I should take a few calligraphy lessons.  She doesn't teach you how to write, but she does give you step-by-step instructions on how this end product came together.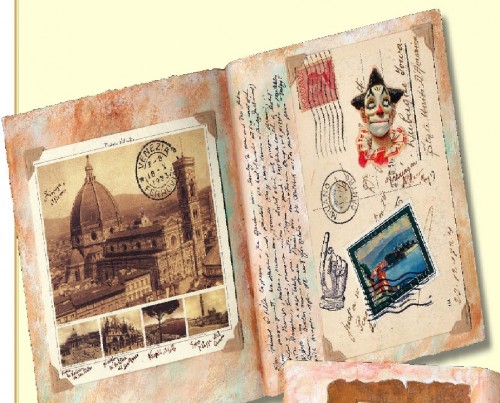 The pictures above and below illustrate a technique called scumbling.  Scumbling it the technique of applying a thin, uneven coat of paint with an almost-dry brush; used on collages and journal pages, it adds a layer of color that allows the paper underneath it to show through giving the aged look of an antique fresco or a fading painted plaster wall.  Now, doesn't that sound so very academic?  Never fear, Koch shows you how to do the technique so that it ends up looking like this! So pretty! I think this might be one of the key ingredients I am missing in my scrapbooking to give it the depth that I really want it to have.
My other favorite technique involves paper napkins. She shows you how to layer images from regular napkins to create a slightly transparent image. The pineapple and flowers below started life as dinner napkins.  Very neat, don't you think? I could use this technique on all sorts of projects.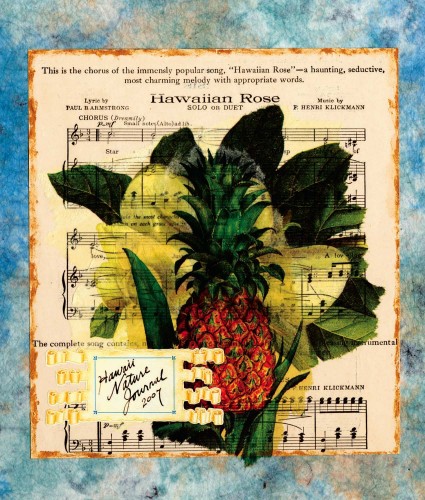 The book shows a lot of other examples of different types of journals and techniques. These just happened to be my favorite. The back of the book also includes some clip art for you to copy and use. If you think you might like to learn some techniques like this, get yourself a copy of Vintage Collage Journals: Journaling with Antique Ephemera and I'll bet you love it!
If you liked this, check out these similar projects: