Little Jo loves flip flops.  Heck, Big Jo loves flip flops just as much.  If I could get away with wearing them to the office, I most certainly would.  So, when I saw some cute flip flops for a couple of dollars the other day, I couldn't really pass them up, now could I?  However, they were a little bit on the plain side.  We can't have plain, boring flip flops!
My inspiration for how to decorate them came from Chica using colored duct tape
when she made an Easter basket.  Remember that?  I wanted to do a project with duct tape!  Here's what I did…
First, you need some parchment paper
. As you know, this is like my favorite kitchen supply.  It has uses beyond the kitchen, too!  By the way, I tried this technique first with wax paper and it didn't work nearly as well, because it stuck too much to the duct tape, so you should definitely use parchment paper.
I took three strips of pink duct tape and overlapped them slightly on my parchment paper.  I decided on the width and length based on how big my cookie cutter was.  Cookie cutter?  You're probably wondering what in the heck I'm thinking.
Well, the cookie cutter was just a great tool to use to make the shape I wanted for the top of the flip flop — a butterfly!  Cookie cutters are great when you need a really basic shape, and you probably already have tons at home to choose from. Just trace the shape with a permanent marker or pen.
Next, I peeled the tape off and flipped it over. This is where the parchment paper was so important, because the tape doesn't stick to it, and it's super easy to remove. Much easier than trying to peel it off your table! The reason I flipped the tape over was to apply another layer of tape to the back.  This accomplishes a couple of things.  First, it covers the sticky side of the tape so that it won't stick to the top of your foot when you put the shoe on.  Secondly, it makes the piece sturdier so the wings will stay up and not flop over!
Now, you just need to cut the shape out.  See how cute the pink looks with the blue shoe?
Now, it is time to affix the butterfly to the shoe.  This is an exact science, let me tell you.  Get out your ruler, level and protractor for this part.  Okay, not really. You just need to carefully cut thin strips of another color of duct tape out and use them to wrap down the middle of your butterfly and around to the straps of the flip flop underneath.  I used three strips of tape to create the body of my butterfly.
Fold the edges under to cover the exposed sticky part and then cut the edges to make both ends of the body a bit pointy.  To me, butterflies have pointy-ended bodies.  Don't ask me why.  Next, lets decorate our butterfly.  I used some yellow duct tape that I again placed onto some parchment paper.
I used a circle punch to cut out some small yellow circles, but if you don't have one, you could cut freehand shapes.  I cut four circles for each butterfly, putting one on each of the "corners" of the butterfly wings.
This next part is necessary but a little difficult to photograph.  You will need to take small strips of duct tape and use them to attach the butterfly to the flip flop from underneath.  It doesn't matter how it looks, just make sure you put enough on to hold it securely.  We found out that the duct tape actually makes the flip flop more comfortable to wear, too.  Imagine that!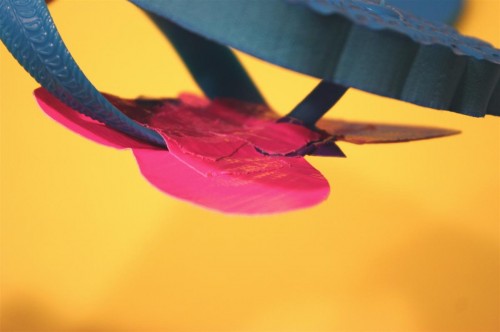 Look at how cute they are!  Little Jo just loves them and wants me to do another pair for her for the Fourth of July.
If you liked this, check out these similar projects: