Super Mario birthday party featuring Princess Peach
by: Jo
Little Jo had a great time at her Princess Peach Super Mario Brothers birthday party this year. We did so many fun projects that made this 5th birthday one I am certain she won't soon forget! I started with the princess castle downloadable invitations that Chica designed based on the Princess Peach character from the Super Mario Brothers world. Then, I moved on to my favorite part of the party planning process — making the decorations!
My favorite part was making the giant wall display behind the cake table. I started it out by using a 30′ sky backdrop
to cover the wall. Essentially, this was just a giant piece of blue plastic. Then, I used yellow poster board below that to make the ground that is in the Super Mario Brothers games. To bridge the gap between the two, I used a strip of green bulletin board border (that you see teachers use on bulletin boards all the time).
Then it was time for the fun part. We used 12×12 scrapbook papers to make the brick boxes (which we just drew on with marker) and the yellow question mark boxes. I used my Cricut machine to cut out the question marks in white paper and just glued them to the yellow.  If you don't have a Cricut, simply print a large question mark from your computer and use it as a template. The green pipes are made from green poster board, and we used a marker to draw a few lines on the sides to make them look shaded. The clouds were cut from white poster board. I made sure to have a black outline around the clouds to make them look more like video game clouds. To make the coins, we just cut ovals out of yellow poster board.
The hardest items to make are the characters but you know we wouldn't leave you hanging on those!  We showed you how to make the Goomba and Koopa in a previous post where we provided free templates for them. For the "5 UP" mushroom, you can either freehand him or you can enlarge the template from the Super Mario Brothers invitations. Arrange all the pieces on the wall to your liking, and stand back and enjoy the video game that has come to life on your living room wall!
If making the images yourself sounds like too much work, you can take a big shortcut and just buy some vinyl wall clings instead.  We found two sources online for clings, as shown in the pictures below. The ones on the on the left are quite large so they are great for the main wall decoration.  The ones on the right are quite a bit smaller, so they are ideal for additional decorations to be used throughout the party space. (I also used the Goomba cling for a party game that I will explain later.)
Let's take a closer look at the table where the Princess Peach cake that Chica made was featured.  I covered the table with a simple pink plastic table cloth and used a pink plastic skirt on the sides. I bought some inexpensive pink shiny fabric to swag around the top of the table, and at the top of each swag, I put a large teal jewel that we made out of candy. Yep, candy.  We showed you how to make candy jewels in a previous post and we used the same recipe to make the larger jewels for the swag. I sprinkled more candy jewels around the table and used some mushroom napkins with pink colored cups for the cake and punch.
Remember when Chica showed you how to make the cute drawstring bags? Don't they look great sitting on the cake table? I filled them with chocolate coins, bead necklaces, and temporary tattoos.  If you don't feel crafty enough to make your own goodie bags, these tins with coin-shaped candies would make a great alternative. Or, if you have little boys coming to your party but still want to make the pink pouches, do like I did and get some Super Mario Brothers favor boxes instead for the boys.  To go along with the fantastic cake that Chica made, I used an egg cookie cutter that I had from Easter to make Yoshi egg cookies. I cheated and just rolled out some sugar cookie dough!
When it came to wrapping Little Jo's gifts, I couldn't find any Princess Peach wrapping paper, so I improvised. I simply found some images from the game and printed them on 8.5″ x 11″ sheets of sticker paper, cut them out, and placed them onto the boxes I had wrapped in plain pink paper.
Little Jo just loved all of the party decorations!  Of course, she had to dress like Princess Peach! A good friend of ours who loves to make jewelry made Little Jo a Princess Peach necklace. Isn't it perfect? The birthday girl couldn't have been happier!
One of Little Jo's favorite decorations was the Princess Peach stand-up that we set up in the party space. We took every guest's picture next to Peach so that I could make a fun spread in her scrapbook, if I ever get caught up! Little Jo currently has Princess Peach hanging out in her bedroom! The number balloon, I make my girls pose with a silver mylar number balloon at every birthday. Yep, all the way up until they turn 21! I can't wait to see them scowling at me when they are holding that 15 balloon!
You can also buy Mario, Toad, and Luigi stand-ups to add even more fun to the party.
To round out the sweets table, what better than Super Mario cupcakes made with our Mario-themed collars from CupcakeCollars.com? With these collars, it only takes minutes to transform simple cupcakes into something completely adorable that matches the theme perfectly!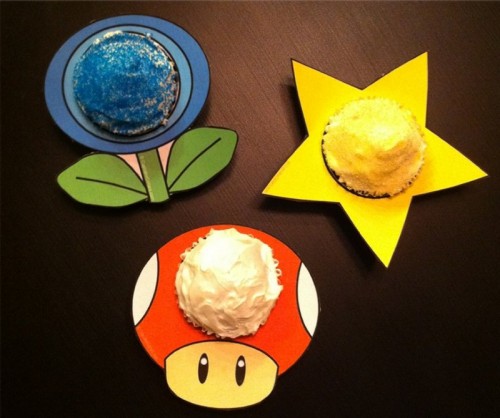 For entertainment, we played two simple games at the party:
Rescue Princess Peach: I bought a stuffed Princess Peach doll that you can see sitting on the cake table in the pictures above. During the party, I hid her in a cabinet with all of the treat pouches and boxes. I used the Goomba vinyl cling on the outside of the cabinet door. I told the kids that Goomba had come and kidnapped Princess Peach during the party and they had to find him and rescue her.  The kids had a great time searching the house for the Goomba, and they got rewarded with the goodie bags when they had saved Peach!
Yoshi Egg Hunt: I used white circle stickers on plastic eggs to make them look like Yoshi eggs.  I hid the eggs throughout the party space and the kids had a Yoshi egg hunt. Of course, the eggs were filled with small prizes for them.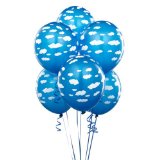 During the party planning, I learned a few lessons I'd like to share:
It isn't any cheaper to fill helium balloons yourself at home and it takes longer. Just get them from a party store.
I would have decorated the plain pink cups with some Princess Peach stickers.
Make sure you securely fasten the blue plastic to your wall, or else it will start to sag when you hang things on it.
Don't put the Princess Peach stand-up near an open window when it is windy outside. She will fall and scare small children.
Make sure you take a picture of the cute cloud balloons that you used in the party space.

similar projects

leave a comment: