Princess Peach birthday cake
by: Chica
It's time for me to show you the most important (or at least the tastiest) part of Little Jo's recent Princess Peach birthday party, and that's the cake!
One look at a picture of Princess Peach herself was all the inspiration I needed to know how to make the cake. In true princess style, the cake would have to have several tiers, and it would have to be pink, pink, pink. I loved the sashes on Peach's dress, so I knew I wanted to have those on the cake, too.
And what about that lovely jewelry that Princess Peach wears? Those teal earrings, her teal brooch, and the jewels in her crown needed to be somewhere on the cake. Hmm, we needed teal edible jewels… Aha! Now you know what I made all those hard candy jewels for!
The cake was pretty easy to put together, using a few simple techniques and massive amounts of fondant.
For the crown, I tinted some fondant with lemon yellow icing color, rolled it out, and put draped it over an upside-down bowl with straight sides. I cut the points of the crown and then let the whole thing dry for a few days. Then I just slid it off and put it on top of the cake. I put small balls of fondant on the peaks of the crown and around the bottom to cover the seam. To attach the jewels to the crown, I used white icing as "glue", then put a small rope of yellow fondant around each one to frame them.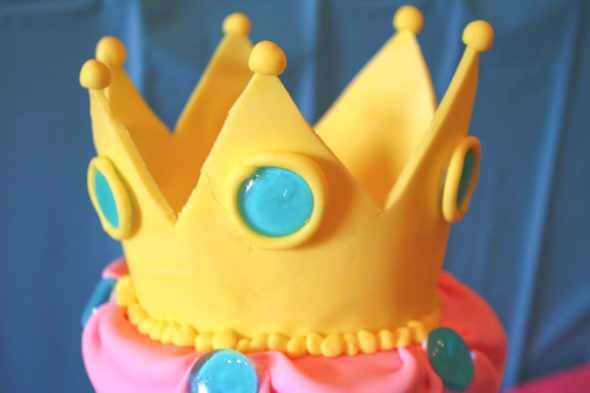 I covered each tier of the cake with fondant tinted with pink icing color. Then I made some darker pink fondant and rolled it out into rectangles about 2″ x 5″. I pinched each end of the rectangle to create a sash, and attached it to the cake with a touch of water. After putting the sashes all the way around each tier, I put a candy jewel between each one. As a final touch, I put little balls of pink fondant around the bottom of each tier.
The white icing I used to glue all of the jewels in place turned out to be not only a great adhesive, but a great way to brighten the color of the jewels. Since they are sort of clear, their color would've been a little "off" if they were up against the pink or yellow, but the white icing made a great background that let the teal color really pop.
Here's the finished cake. Little Jo was so excited when she saw it, and everyone had a great time eating it. The extra candy jewels were scattered around the cake and the table, making a great decoration and a great snack during the party.
Stay tuned for even more Princess Peach party details, coming soon!
leave a comment: