If you've got a garden consisting of more than a couple of crops, you might find yourself wanting to mark each area with the name of the seeds you planted. There are tons of plant markers
that you can buy that are cute, simple, elegant, or elaborate. My problem is that they all cost money, and plant markers are just not something I want to spend money on.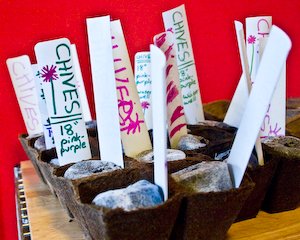 That's why I was so excited to see this great reuse idea posted by Julie over on Crafting a Green World. She took broken vinyl mini-blinds that were destined for the trash and used them to create virtually indestructible markers for her garden. I absolutely love this idea because it is the perfect example of upcycling something that seems worthless into something that is helpful and saves you money.
If you have a huge garden and want to try this idea, but don't happen to have any broken mini-blinds on hand, call a few friends. I'll bet at least one of them has a set in the closet or attic that they don't need but couldn't bear to throw out (I know I do). Or take a drive around the neighborhood this weekend and look for yard sales. I wouldn't be surprised if you found a set for less than a dollar!
NOTE – As stated in the original article, please do not use this idea on mini-blinds produced before 1996, as they may contain lead.
If you liked this, check out these similar projects: