First, let me congratulate Diane Baum, Rebekah, and Mary G, the three lucky winners of our most recent giveaway. They will each be receiving a nylon flower-making kit and instructional book. I'll bet they create some wonderful blooms for their homes or for Mother's Day gifts.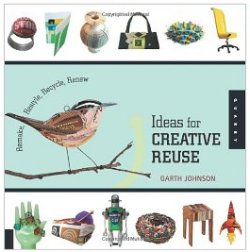 Now I'd like to announce our next giveaway!
We love finding unique new craft books, especially those that give a lot of inspiration and ideas (like ribbon crafts, paper crafts, and greeting cards). What better way to get out of a creative block than to thumb through a book filled with photos, ideas, and examples?
Our favorite inspirational book of late is one called 1000 Ideas for Creative Reuse: Remake, Restyle, Recycle, Renew
(Quarry Books, 2009). This book has 1000 photos in it of some of the most amazing re-use ideas we've ever seen. One thousand! Ideas! Can you believe it?
Before I get to the details of the giveaway, let me tell you about the book. First, I'll say that it's not a tutorial book and it doesn't have instructions for the projects shown. I mean, there are a thousand in here, and you can only fit so much in one book, right? What it does have is a glorious color photo of each idea. And in the back, there's one index with a brief description of each idea and another index listing contact information for everyone who contributed to the book.
And speaking of contributors, I'm happy to tell you that Jo and I contributed two ideas to the author and we were included in the book!
Our recycled leotard tote bag is in the book as idea #273 and our recycled phone book organizer is #687!
We're so honored to have our projects included in this book, especially among such a great collection of ideas. Here are some of my favorites from the book. I chose these because when you look at them, it is obvious that they were made from other reused materials, but it was done in such a beautiful way that it looks intentional.
For example, this lampshade made from writing pens (#621, by Lucan Munoz and David Tamame) is unexpectedly elegant, and this wreath covered in buttons (#724, by Sarah Hayes Owings) is a charming splash of color.
Then there are photos of ordinary items turned into the extraordinary, such as these two featuring zippers. The one on the left (#443 by Maria Castrillo) shows how a few bits of zipper can make a chic flower pin and the one on the right (#147 by Elizabeth Lundberg Morisette) is a bag made entirely of zippers, with a color explosion that I just adore.
I can't tell you how much I love this idea for using postcards as wallpaper (#970 and #971 by Patti Haskins). It reminds me a lot of my Far Side comic bathroom wallpaper and I just love the idea of using postcards to decorate an entryway like this. Especially if each postcard represents somewhere special!
Finally, check out these two ideas. First there's a book made from a game board (#32 by Becky Hawley) which reminds me a lot of the awesome book binding we told you about in our review of Re-bound. Then there is this set of drinking glasses made from beer bottles (#526 by Nicholas Martin Paul). I wonder how he got the tops of the bottles shaped that way!
As you can see, this collection is a great handbook for inspiration, and every time I look through it I see something new. We want you guys to experience it too, so we're giving a copy away to one lucky reader!
So how do you win this awesome prize?
Just leave any comment on this post to enter. We're so happy that we our ideas were published in this book that we're not going to put any rules on this one. Your comment can be to congratulate us, to talk about the weather, or to just say hi!
The deadline for entries is Wednesday, April 28, 2010, at 11:59 PM, EST.
RULES: One entry per person (determined by e-mail address). One winner will be chosen at random from all valid entries received by the deadline. Winner will be contacted via e-mail within 48 hours of giveaway end date. Winner must reply within one week with a shipping address or prize will be forfeited and new winner will be chosen. If a winner's shipping address is outside of the USA, that winner will be responsible for shipping costs.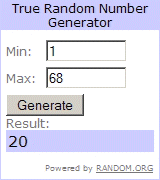 WINNER: Congratulations to our winner, Angela! Her comment was:
20. Angela: How fabulous that your ideas got published!
Angela, we think you're going to really love this book, and we hope you find lots of inspiration in it. Please let us know what some of your favorite ideas are from the book!
Thanks to everyone else who entered. Your comments congratulating us on appearing in the book were wonderful and sweet. We are also so happy that our review of 1000 Ideas for Creative Reuse has already inspired some of you to make your own creative reuse projects.
For those of you who didn't win, please keep an eye on our giveaways page for our next giveaway!
If you liked this, check out these similar projects: