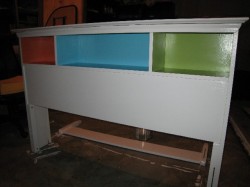 Remember when I refurbished an old headboard to go in Little Jo's room? I had started with a headboard that had been around since I was her age, and I added some brightly colored paint to match her room. Well, this past Christmas, Little Jo upgraded to bunk beds in her room, so the headboard went into storage for a bit. I knew I would need it again, I just didn't know when or where.
The opportunity to use it again finally came when a friend of mine was re-doing her guest room and needed a full-size headboard. I happily volunteered mine, but I knew she wouldn't want it to be the current color. Her room's color palette was dusty purple, gray and silver. I went to the hardware store to look for some inspiration in the paint aisle and came across the faux finishes. I'd never done a faux finish with sponges. I still have horrible visions of 1990s sponged walls in hunter green! Aack!  Could I do it? Would it look cheesy? I decided to take a chance and go with a hammered metal look.  I bought my base paint and my two glazes and headed home!
First, I painted my base coat.  I like the base color, actually.  It's a nice, soothing blue.  I could have stopped here, but it wouldn't have matched my friend's room.  I applied on the dark pewter glaze with a sponge.  Hmm… not good.  Not good at all.  I once again had the bad visions of those hunter green walls.  It certainly didn't look like the sample in the store.  But I had come this far, so I decided to go ahead and finish it and see how it came out.
Sometimes you just need to press on and see what happens. I am glad I did. I liked the part on the left a whole lot better than the part on the right! Maybe I wouldn't end up with a catastrophe after all. And I have to admit, sponge painting is a lot of fun! I could just dab that sponge all day long. I finished the rails, headboard, and footboard and helped my friend move it into her space.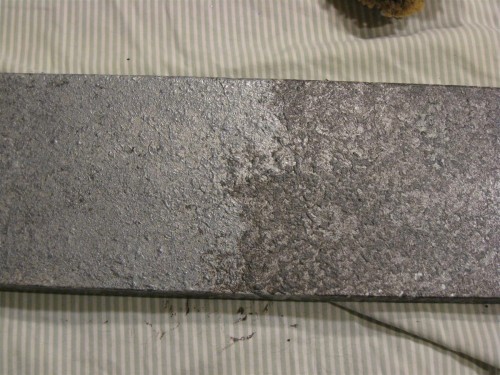 I think the finished headboard looks fantastic in the space. My friend was thrilled with it as well. It was an easy technique and I am glad I was willing to try something different. This headboard certainly looks a lot different than it did in Little Jo's room!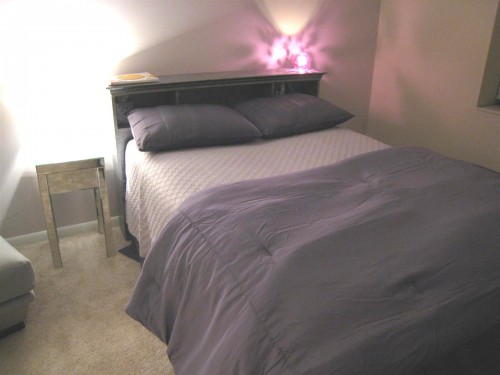 If you liked this, check out these similar projects: