Printable Gin Rummy score sheet
by: Chica
After a lovely Easter dinner this weekend, my grandmother did just as I expected and asked me to join her in playing her favorite card game, Gin Rummy. Just as she was about to start looking for paper to keep score on, I presented her with a small gift that I had worked on last week. I made her a pad of Gin Rummy score sheets!
We've shown you before how easy it is to make your own custom notepads, and this project used the same, easy technique. Just start with our free download for a Printable Gin Rummy Scoresheet.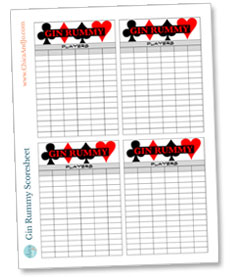 Each page you print will create four sheets for the score sheet pad, so print as many sheets as you want, cut them apart, then stack them up.
Then follow the directions in our tutorial for gluing the edges into a pad, using the padding compound that we sell in our Amazon store.
In just a few minutes' time, you'll have some really cute score sheets that will make any Gin Rummy lover happy. I'm pretty sure when all my dear Grandma's friends see these, I'm going to need to make some for them too!

similar projects