I enjoy making wreaths to hang on my front door, as long as they aren't too complicated to make.  Easy and inexpensive are the key words for me!  Chica suggested I might make a wreath out of jelly beans
for Easter.  That sounded like a great idea to me, so I marched to the store and bought a couple of bags of jelly beans and a rounded Styrofoam wreath form.  I went into my craft room to happily work on this jelly bean wreath.  I started hot-gluing on the jelly beans.  One by one by one by one — wait, actually, I think I stopped after three jelly beans.  This was going to take FOREVER!  And with one of my children being quite young, I only had her nap time to complete this project.  Beans were rolling all over the place, I had already burnt myself three times and I was nowhere near getting that wreath form covered by this Easter.  I needed a Plan B.
Moving on to a flat wooden circle seemed a step in the right direction.  Yes, I had one of these in my house already and I have no idea why.  I must have bought it at some point for some other project and forgotten all about it.  Anyway, I started gluing my jelly beans to this form.  It was a lot easier but I noticed you would be able to see the ugly brown form underneath.  I went to find a can of spray paint (spray paint will fix anything, in my book) and noticed a basket of Easter grass
from last year.  Hmmm… this just might work!
I took out a can of spray adhesive
and sprayed the entire wooden form.  Then, I very carefully squashed Easter grass
all over it.  I really had no idea where this was going.  "In the trash" was where I thought it would end up at this point.
Once the grass was all around, it looked like some weird Muppet wreath gone bad.  Not really the effect I was looking, for but I decided to keep working at it.  I took my spray glue again and started spraying the top of the grass.  I carefully placed each jelly bean just so around my wreath to produce a beautiful mosaic of colorful beans. Okay, who am I kidding… you know me too well to believe that! I actually just grabbed a handful of jelly beans and smashed it right on top.
Five minutes later, it was covered in jelly beans. Wow, that was so much faster than gluing each one on individually! Just for good measure, I sprayed the entire thing with clear acrylic.  It just seemed like the thing to do at this point.  I left my masterpiece to dry until it was time for my daughter's afternoon nap (and thus, another break time for me!).
I held the wreath up and half expected it to all fall apart. However, only about ten jelly beans fall to the table. Not so bad!  Then, I played hairstylist and trimmed up some of the grass poking out everywhere.  I wanted it to still have that fuzzy look but didn't want it to look too crazy.  I tied some coordinating ribbon to the top to be the hanger and hung it on my door!  This wreath took a fraction of the time my original design would have taken, and I just love the colorful result!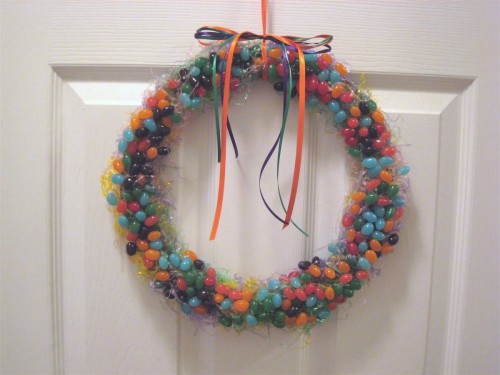 If you liked this, check out these similar projects: