Easter and Graduation cupcakes with our new Cupcake Collars
by: Jo
I'm here to talk about Easter and Graduation. Yeah, I know, they don't really go together.  I mean, really, are you ever going to have a graduation party on Easter?  Probably not.  However, the two events are quickly approaching so we wanted to make sure you had plenty of time to download our new Cupcake Collars designs.
First, I'll show you the Easter designs.  We have Peter Cottontail with his cute little jelly bean nose and pink bow, an Easter egg decorated with our swirled icing technique and a baby chick that I let Little Jo frost to show you how easy they can be!  These designs are all available at Cupcake Collars, but as usual we're offering one of them free to you guys here. You'll see which one at the end of the post!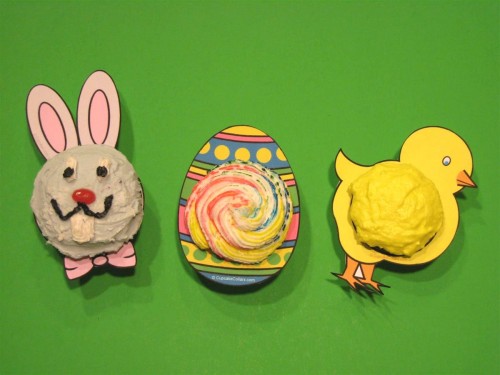 Next, we have some Collars for the graduate in your life.  It is fast becoming the time when all the students who have worked so hard for years get to be rewarded for their achievement. These cupcakes are great for every type of graduation, from Kindergarten to high school to college!
First, we have a fun "Class of 2010" design that's great for personalizing with the names of the graduates. Even though I am most definitely NOT in the class of 2010, I put my name on this cupcake to show you how cute it looks. Then we have a rolled up diploma that I frosted with yellow icing, which is a great way to match your graduate's school colors.  These would be really cute with a big red bow on them, too. Finally we have the classic graduation cap.  I used part of a Twizzler
to make the tassel.  Just like our Easter designs above, these graduation designs are all available at Cupcake Collars and one of them is available free at the end of this post.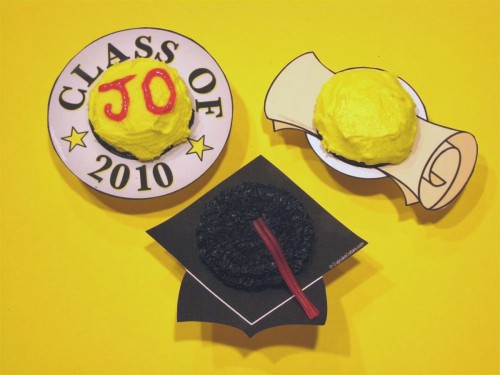 And now for the two free designs we promised. The Easter chick and the Class of 2010 circle!
We hope you enjoy these, and remember to visit CupcakeCollars.com for the remaining Easter and Graduation designs, as well as many more!

similar projects