Looking for a fun and easy way to make St. Patrick's Day cupcakes with minimal effort? Are you in a rush and looking for a quick way to jazz up store-bought cupcakes for your kid's school class or for a party? If you're a regular reader, you probably already know what I'm going to suggest as a solution — Cupcake Collars! We've got a brand new set just over on CupcakeCollars.com for celebrating the fun holiday of St. Patrick's Day with as much green as possible.
First there's the traditional shamrock. These are really great because the icing is so easy — just a swirl of green and you're ready to go. You can even buy a dozen green cupcakes already made at the store and dress them up with these simple collars! Next we've got a charming little leprechaun with a face you can decorate however you like. I love that guy! Finally there's a rainbow landing in a pot of gold. We totally love decorating these with chocolate gold coins.
Can you believe how cute that is?
These new designs are available for purchase on CupcakeCollars.com, but we're offering one design from this new collection for you here, free! Loyal readers like you are like the pot of gold at the end of our rainbow, so here's the pot of gold template for you to download. Enjoy!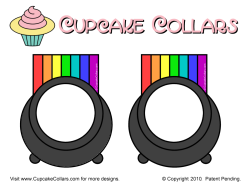 Download our Pot of Gold template
To get the rest of these fun designs (and many more!) please visit CupcakeCollars.com
If you liked this, check out these similar projects: