It's almost wedding season, and if you're a bride-to-be, I'm sure you're busy planning all the important details of your big day. You'll soon realize that photos are one of the most important elements of your wedding day, and that might lead you to consider buying disposable cameras to place on your tables. You know, so your guests can take candid photos of each other for you? Here's the thing, though… your guests already have cameras!
These days almost everyone has a cell phone with them, and most of them have cameras on them. And digital cameras are so inexpensive and tiny now that I'll bet at least half of your guests will bring one with them to the event. So if they already have cameras, why waste your money buying more? And then you'll have to pay to have them developed, too? No no, you just need to get copies of the pictures your guests are already taking. But how?
The solution is The Wedding Lens. This is an incredibly easy way to collect all your guests' photos. Everyone uploads their photos into one online album, then you can all view, download, and print them, regardless of who uploaded them!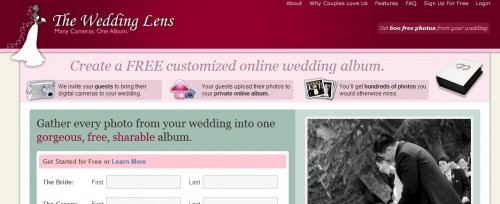 There are several different plans available at The Wedding Lens, and all are very affordable. You can even register for a free 2-week trial of their premium album, so that you can see how great it is before you pay anything. All of the plans offer unlimited photos, a custom URL, full album control, and photo printing, and you can invite as many people to add to your album as you want. Seriously… unlimited photos and a custom URL just for your wedding? You won't find that on Flickr or Facebook!
You can make it even better by upgrading to one of their premium plans, which can give you full-resolution photos, photo downloading, video support, a private album, and a free photo DVD.
So once you're signed up with The Wedding Lens, how do you tell your guests about it? Well, you can e-mail them before (and after) the wedding, or you can use our favorite trick and print up little reminder cards to put on the tables at the reception. That way everyone can take a card with them and will have no excuse for not sharing their photos with you. And to display the cards, of course you'll want to use our very own PicShare Boxes!
Jo and I developed these cute camera-shaped boxes specifically for this purpose. What a charming way to tell your guests how to share their pictures with you! You can buy our PicShare Box kits on our dedicated site, PicShareBoxes.com. Each kit includes printed templates for you to cut out and fold into the camera shape, a CD with assembly instructions in written and video form, and a sample template for printing your own reminder cards on regular injket business card stock.
So go ahead and embrace technology and get more photos than you can imagine with online sharing at The Wedding Lens. We just love them and we know you will, too!
If you liked this, check out these similar projects: