Fused plastic sandwich wraps
by: Chica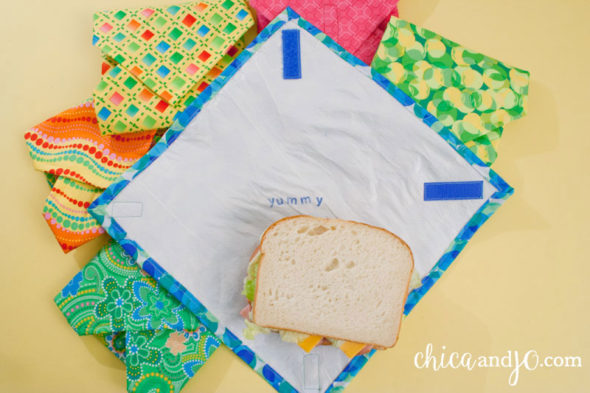 As brilliant an invention as disposable zip-top baggies are, they are potentially very wasteful as well. How many of them do you think we've thrown away this year just from lunch sandwiches alone? Ugh, I don't even want to think about it! Instead, I want to show you how to make a reusable sandwich wrap that not only replaces zip-top bags, but it even recycles some of those pesky plastic shopping bags. And if being "green" by recycling and reusing isn't reason enough to make these, how about this — we're going to make them crazy cute with personalized sayings!
The first step is to make some sheets of fused plastic. Fusing plastic is an easy idea — you basically layer some plastic shopping bags together, put the stack between pieces of parchment paper, and iron them together so that they meld into one thicker sheet. However, in practice, I've found that it's quite a variable operation, and here are some tips to help.
The temperature of your iron makes a huge difference. My iron seemed to work best on the Wool setting, but yours may be different.
You've got to keep the iron moving, but too slow or too fast and it won't work. Too hot or too cool and it won't work.
The thickness of your bags makes a huge difference too. While you can use any type you want, I've found that thicker ones (like Target) work better than thinner ones (like Walmart).
I can't emphasize this enough… you've got to PRACTICE on scraps to get a feel for it before you can get good results. Once you've got your iron and your bags figured out, making bigger sheets of fused plastic will be much easier.
Okay, have you practiced enough to be confident with the process? Ready to do this for real now? If so, go ahead and cut the bottoms and handles off of some plastic shopping bags. Cut away any parts of the bag that are printed and make a stack of 3 or 4 layers that are at least 16″ x 16″.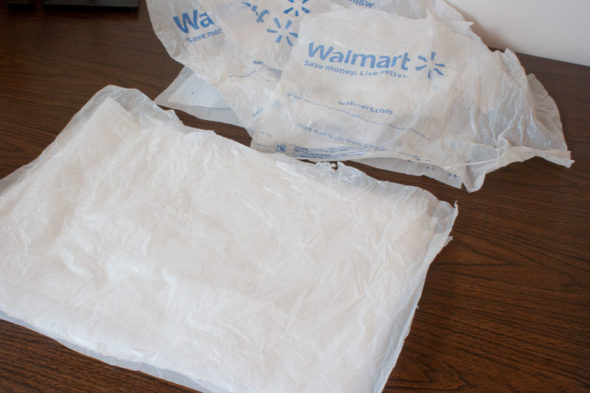 Now sandwich the layers between two large pieces of parchment paper.
If you don't have parchment paper, you can use regular white paper (make sure there's no ink on it) or blank newsprint paper, but parchment paper really works a million times better. (Oh and don't try to use wax paper. The wax melts and sticks and is hard to work with.) Put the entire stack on an ironing board and iron using the technique that worked best for you during practice. Make sure you are working in a well-ventilated area, because melted plastic can give off some nasty fumes!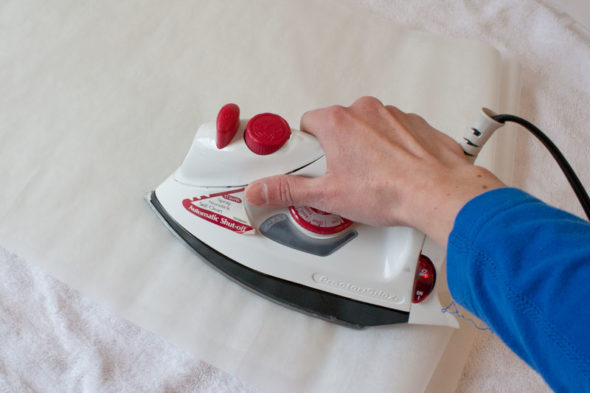 Iron just until the plastic is fused together into one large sheet.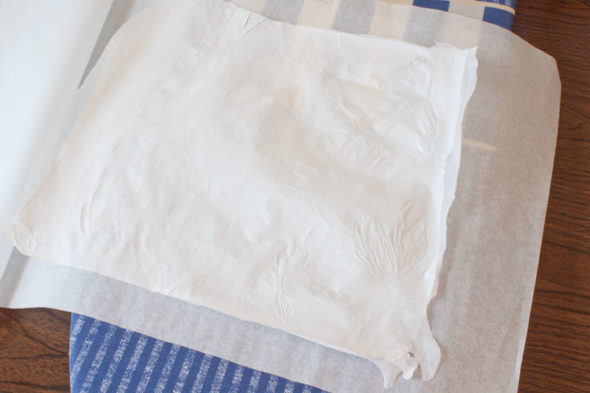 Here's where things are gonna get fun. Take a look at that stack of bag scraps you cut away. In particular, the printed parts of the bags. Odds are you've got a Walmart bag in there with the famous "Save money. Live better." saying on it. It just so happens that those are exactly the letters you need to spell "I love you". Well, okay, you've got to turn the "n" upside down to make a "u", but it still works!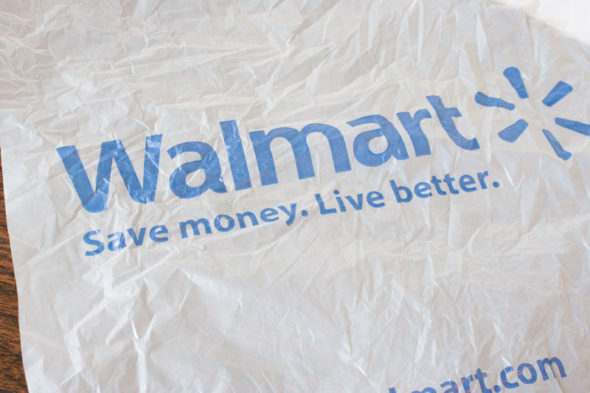 Go ahead and cut the letters out with scissors.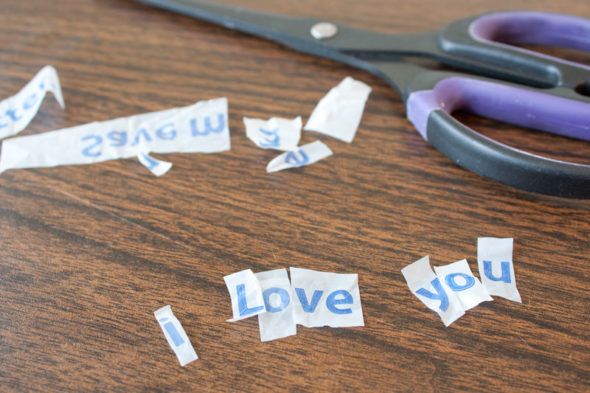 Arrange your letters in the middle of your fused plastic sheet. You can try to line them up perfectly, but I personally like them a little crooked. It's cuter that way.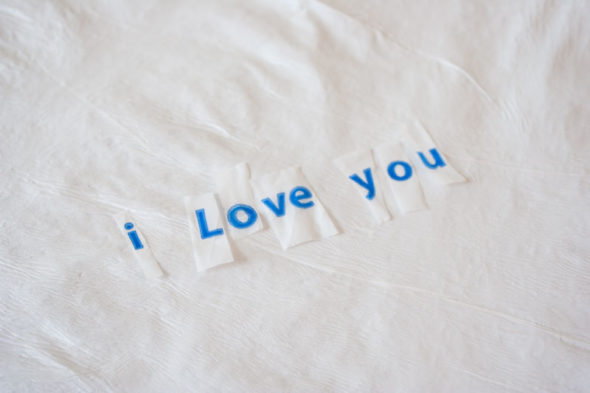 Then take one more large sheet of plastic bag and lay it carefully on top.
Put the parchment paper back on top and run the iron over the entire piece again, just for a few seconds, to fuse the new top layer down. This will hold the letters in place, and you should be able to see them easily through the top layer. I had fun with my messages, and besides "i love you", I also wrote "eat" and "yummy". You can use letters from whatever bags you like to spell whatever message you want. So many possibilities!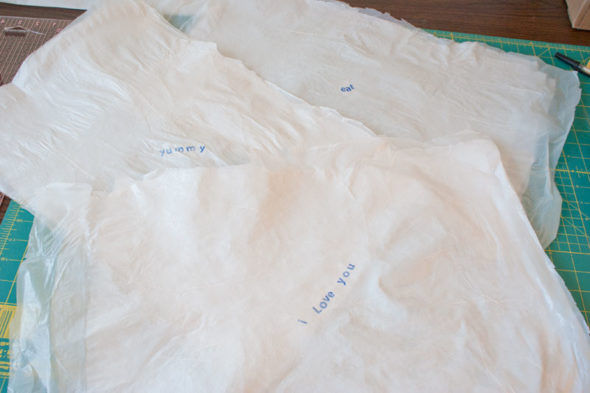 Food Safety Warning: There is some debate over whether or not plastic grocery bags are food-safe for wrapping around sandwiches. If you are concerned about the possible dangers from the plastic bags, we recommend that you cut open a gallon-size, clear, plastic food storage bag (like a Ziploc) and fuse that over top of the final layer of grocery bag. This will ensure a food-safe surface for your sandwich. We have experimented with this process and it works very well, but just be sure to only iron for a few seconds.
Now it's time to do some sewing. Plastic is boring, so we need to jazz these up with pretty fabrics! With your plastic totally fused and your crazy cute messages in place, use a paper trimmer to cut the sheet of plastic down to a 12″ x 12″ square. Then cut a piece of fabric to 14″ x 14″. (Go ahead and grab some sew-on Velcro and coordinating thread, too.) Place the fabric face down on the table and place the plastic face up in the center.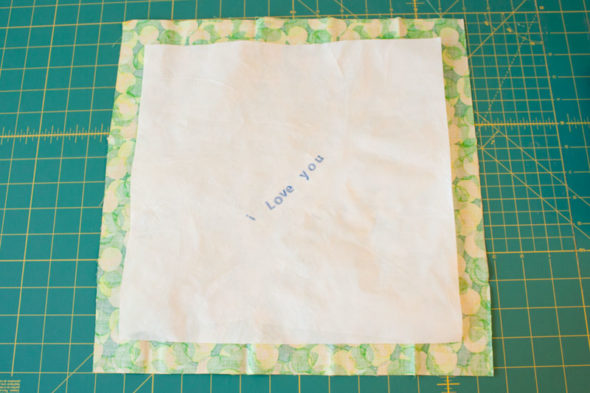 The pinning process that comes next is a little hard to explain, so I'm going to take my time and use lots of pictures. Hopefully you get the idea.
You should have one inch of fabric sticking out on each side of the plastic. Starting with one side, fold the fabric in on itself, so that the end comes just up to the edge of the plastic.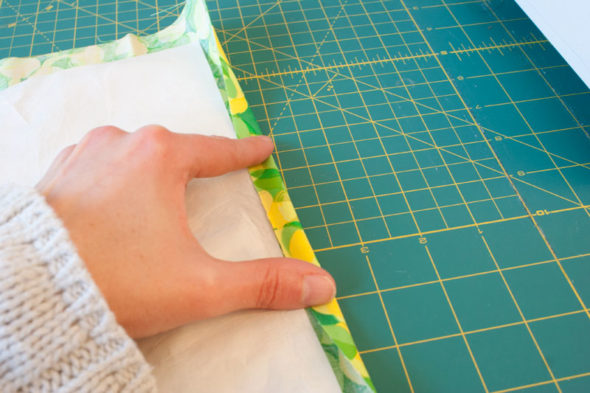 Now fold that fold over again, so that the cut edge of fabric is hidden away, and the fabric comes down over the plastic by a half an inch.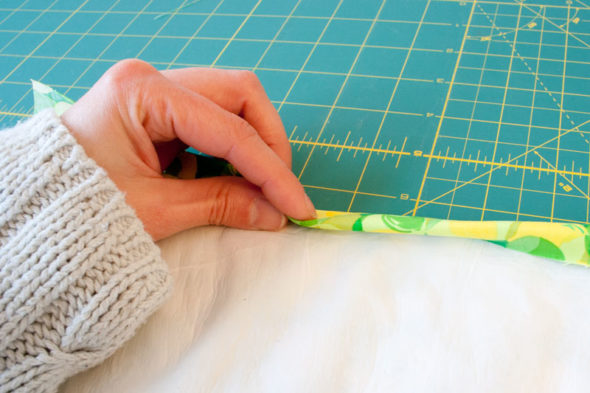 Pin it in place a few times along the side.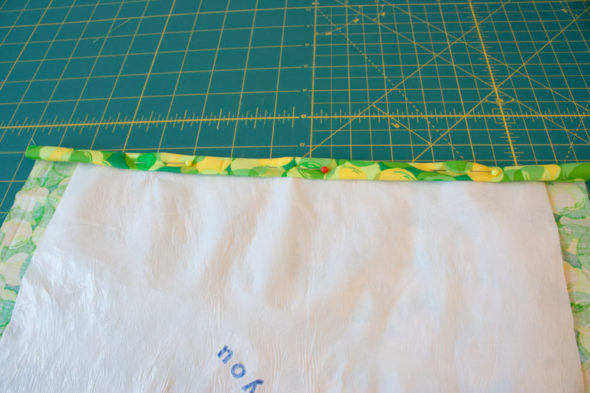 The corner is a bit tricky. Grab the end of the part you just folded twice, and fold it in, forming a triangle.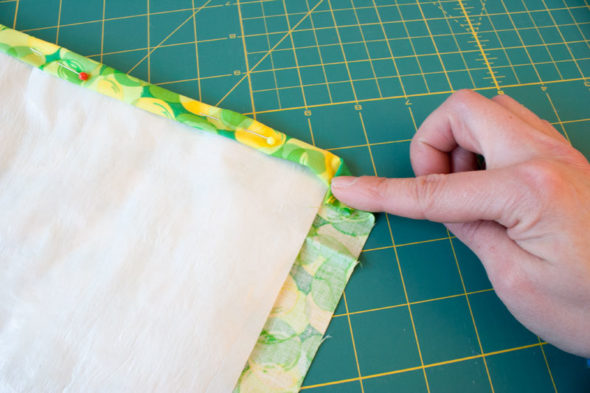 Now make the same fold you did when starting the first side — bring the edge of the fabric up to the edge of the plastic.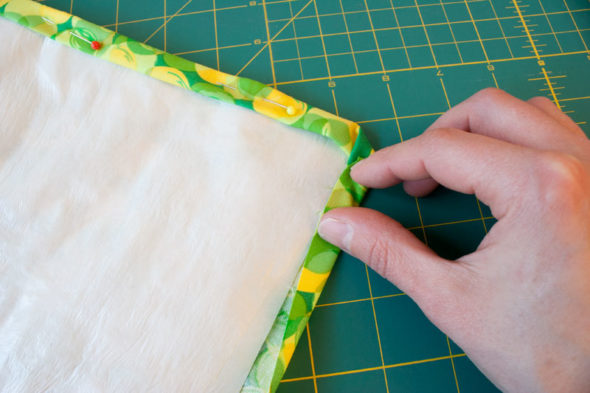 Then make the second fold from before, this time bringing the fabric over the plastic, covering it by a half an inch. You should have a nice mitered corner!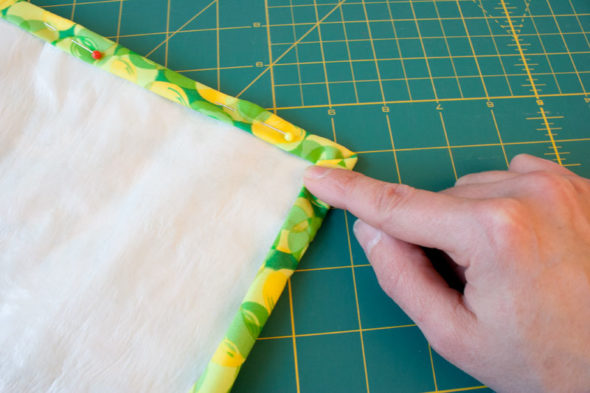 Pin it in place, then continue like this around the other sides, until your piece is all pinned and ready to sew.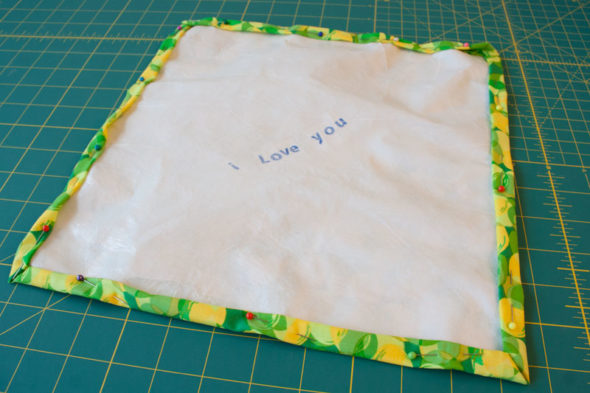 Use your sewing machine to sew the fabric down where pinned, as close to the inside edge as possible.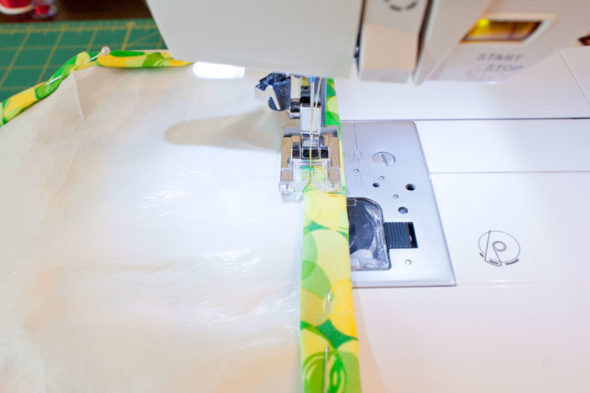 Go all the way around the piece, securing the fabric and plastic together on all edges.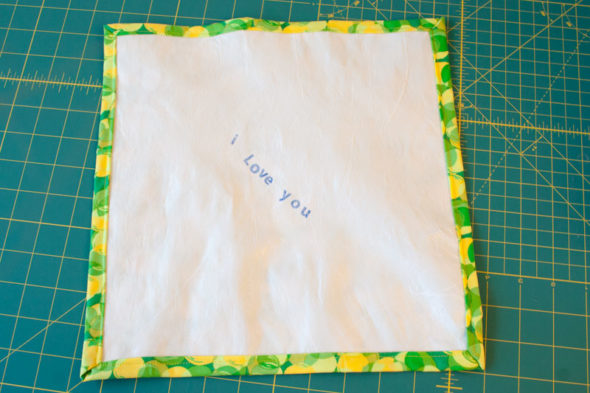 Now grab the hook/rough side of your sew-on Velcro and cut a 1″ piece and a 2″ piece. Then grab the loop/fuzzy side and cut a 1″ and a 2″ piece of that. You should have four individual pieces altogether. (I got lucky and found sew-on Velcro in lots of different colors at my local Hobby Lobby store. How awesome!)
With your sandwich wrap plastic-side-up on the table in a diamond shape, put the 2″ piece of loop/fuzzy Velcro at the top corner (12 o'clock) and pin it in place. Put the 2″ piece of hook/rough Velcro on the right corner (3 o'clock) and pin it in place.
Then flip the bottom corner (6 o'clock) up and put the 1″ piece of hook/rough on the fabric side and pin it in place. Finally, flip the left corner (9 o'clock) up and put the 1″ piece of loop/fuzzy Velcro on the fabric side and pin it in place.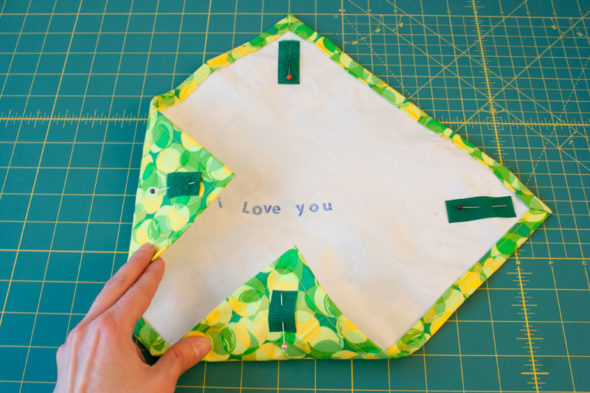 You got that? Let's go over it again to be sure. If you don't get this right, the wrap won't work! The 2″ pieces are on the plastic side, and the 1″ pieces are on the fabric side. Opposite corners have opposite rough or fuzzy pieces so that they will connect. Go ahead and try it out with the pieces pinned in place and make sure they match up before continuing. I would hate for you to have to take them apart and re-sew!
Okay, are we good? Good. Now secure the Velcro in place with the sewing machine by sewing around the edges of it in a rectangle.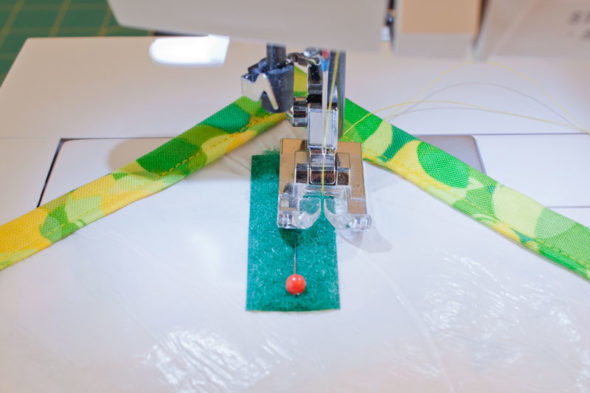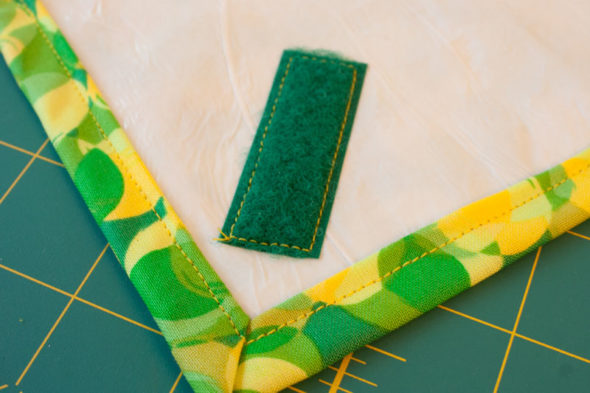 Hey look. You're done!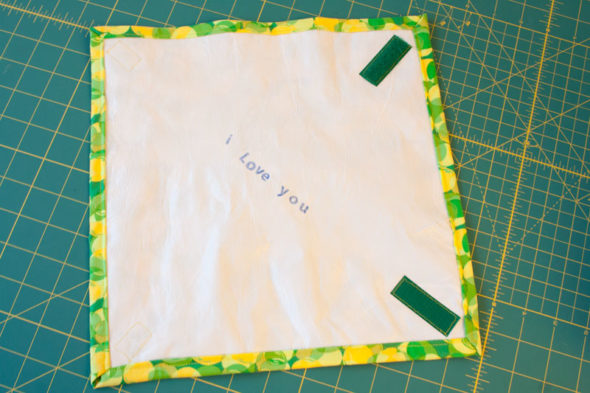 To use the wrap, just place your sandwich in the center, and fold it up as follows: Fold the left corner in. Fold the right corner in, pulling tight, and secure with the Velcro. Fold the bottom corner up. Fold the top corner down, tightly, and secure with the Velcro. Ta-da!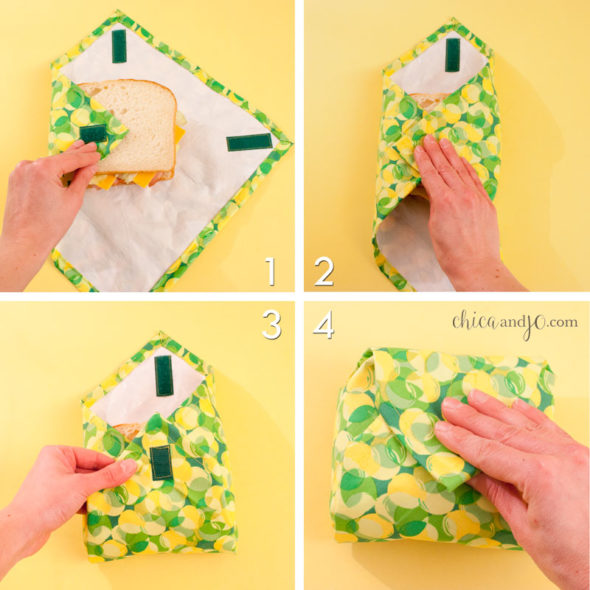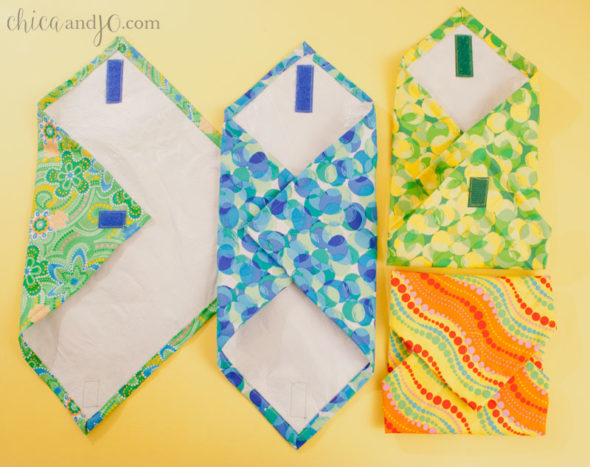 These wraps even make a great placemat for your lunch when you open them.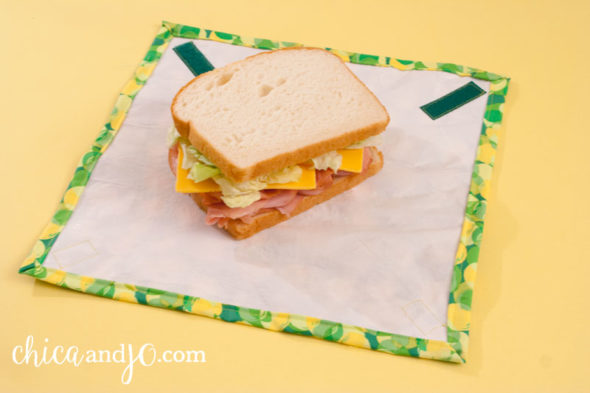 But my favorite part is the words printed inside. What brightens up a day better than a special message from the loved one who packed your lunch?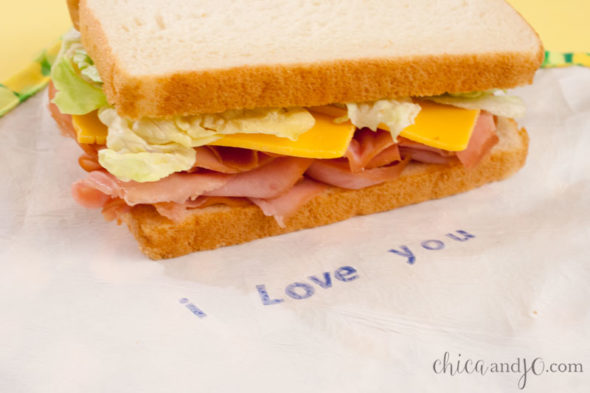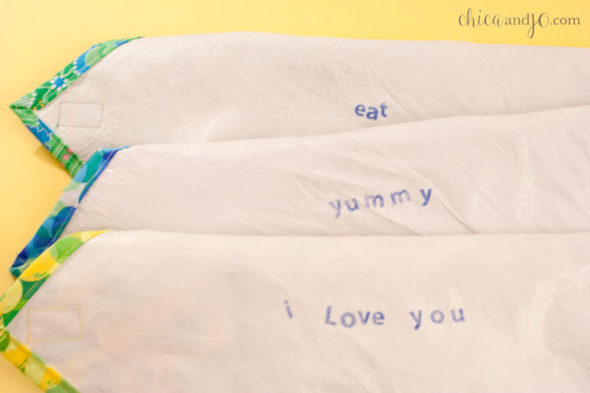 I made a bunch of these in different colors, so that I've got enough for a week's worth of lunches. These wrappers can be wiped clean and re-used, or you can toss them in the washing machine. Just do NOT put them in the dryer, or they might melt!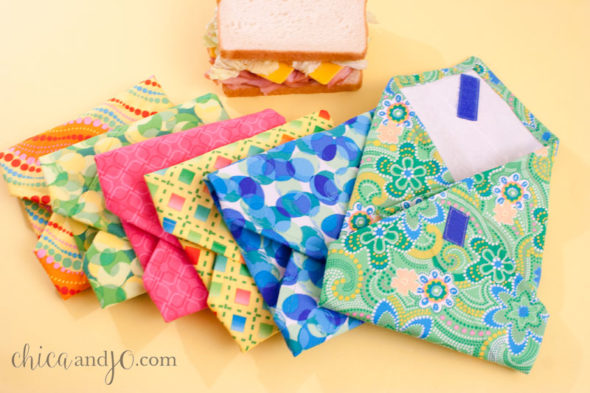 They're so cute and easy that I'm totally hooked and want to make more. Jo has already asked me to make some for her, and I know my niece will want some. Maybe I'll even use the letters to personalize the wraps with their names.
These reusable fused plastic sandwich wraps are fun and cheerful, but also a economical adn green way to reduce waste. A bunch of these homemade sandwich wraps would be a great gift idea for a teacher, busy mom, or someone starting a new job.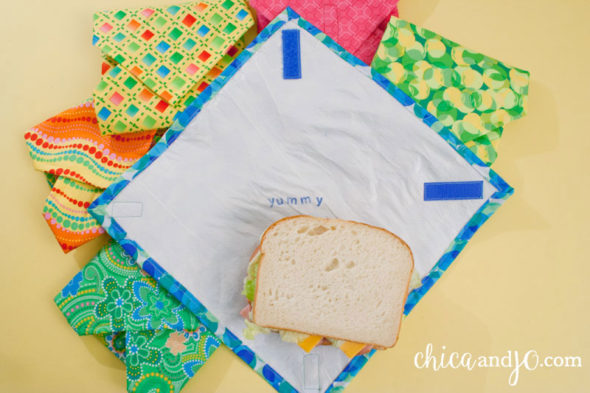 leave a comment: