Beef bites with three dipping sauces
by: Chica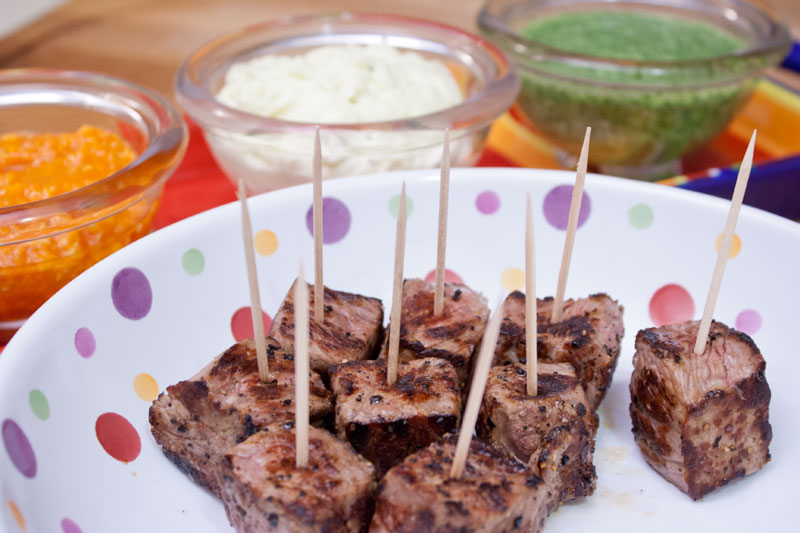 I'm gonna let you guys in on a secret. In case you haven't noticed, people love to dip their foods in sauces. Okay, maybe it's not a secret. You've seen it a million times, haven't you? From simple ketchup to elaborate fondue, sauces and dips almost always makes food better, and certainly make it more fun! So whenever I'm serving a buffet at a party or looking for appetizers before dinner, I try to pick something with a sauce to go with it, so that my guests are happy.
One of my favorite such appetizers are simple, little beef bites, which I serve with three amazing sauces. These sauces are actually good on chicken, too, but I prefer beef. There's just something so decadent about a little cube of steak!
Let's start with the sauces. First on tap is one of my husband's favorites — the spicy garlic sauce. This is a very strong and powerful sauce with a huge garlic punch, and it is SO good!
Start with an entire head of garlic, and peel all the cloves.
Mince the garlic finely. You don't want people to eat big chunks of raw garlic, so smaller is better. However, don't grate or press it, because that will make it too hot.
Then put 2 tablespoons of butter in a bowl and microwave it just until melted (don't let it get too hot). Add the garlic to the bowl and stir in 1/4 cup of Frank's Red Hot Sauce.
Stir it well and it's ready to serve.
Next we have a wonderful and creamy blue cheese sauce. This one not only tastes great on beef, but it's pretty awesome on pasta, too!
Put 2 ounces (1/4 of a standard 8-ounce package) of cream cheese in a pan with 2 tablespoons of butter and 1/2 cup of cream.
Heat over LOW heat, stirring constantly, until melted and smooth. Season with salt and pepper to taste.
Remove from heat and add 1/4 cup of crumbled blue cheese.
Stir and it's ready to serve either warm or at room temperature. Note that it will thicken as it cools, so if you serve it at room temperature, you may need to add a little more cream to thin it out.
Last but certainly not least is my favorite of all — cilantro pesto. I make this almost every time we have steak at home, and My Honey lovingly calls it "green sauce". This stuff was just destined to go with beef and the taste is out-of-this-world awesome. Assuming you like cilantro, that is. And I LOVE cilantro!
Add 1 clove of garlic and 2 tablespoons of oil (vegetable or olive, your choice) to a food processor (I can't live without my Cuisinart mini food processor). Pulse it a few times so that the garlic is chopped and mixed with the oil.
Then shove in a giant bunch of cilantro (stems removed). Squeeze in the juice of half a lime.
Sprinkle in 3 tablespoons of grated Parmesan cheese and 1/4 teaspoon of salt. Let the food processor do its thing until the sauce is fully blended. Depending on how big your bunch of cilantro is and how big your lime is, you may need to add the juice from the other half of lime to get it the consistency you want.
Pour into a dish and serve.
These three sauces make quite a set. They not only taste fantastic, but they look so pretty lined up in little bowls! Each recipe above will make about 1/2 cup of sauce. The blue cheese sauce will keep in the fridge for about a week and can be reheated as needed, but the other two sauces taste best when fresh, so don't make them more than a couple hours ahead of time.
Okay, the sauces are ready. Now we need the beef! Start with any cut of steak you like and cut it into 1-inch cubes.
Pat the cubes dry with a paper towel.
Season the beef cubes with salt and pepper and put them into a hot, dry, skillet.
Cook on medium-high heat, and when that side of the cube is seared, turn it to another side.
Continue cooking and turning the cubes until all sides are seared and yummy.
If you will be serving them right away, cook until desired doneness. If you are cooking them ahead of time, leave them on the rare side and reheat in the oven when ready to serve. This reheating will cook them a little more, so be careful not to reheat them for too long!
If you've got a lot of beef to cook and not a lot of time, you could also skewer the beef and cook it on the grill. And as I said before, chicken works well with these sauces too, but if you use chicken, be sure to cook it all the way.
Arrange the beef bites on a platter, add a toothpick to each one, and serve with the sauces. Oh man, these are so yummy!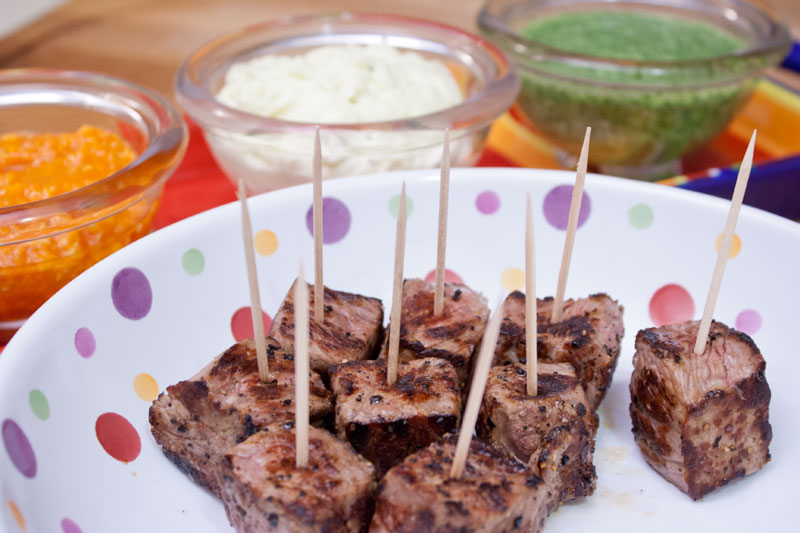 similar projects

leave a comment: