It's finally my turn to share my craft room re-do with you all!  I have been so excited to share what I have done.  I swear, every time someone comes to my front door I drag him down to see it.  The poor UPS man really thought I had gone crazy but he appreciated my working space all the same.  Let's take a quick look back at the overall "before" picture.  Chica has a few more close-up images in her post on our "before" rooms if you want to take a look as well: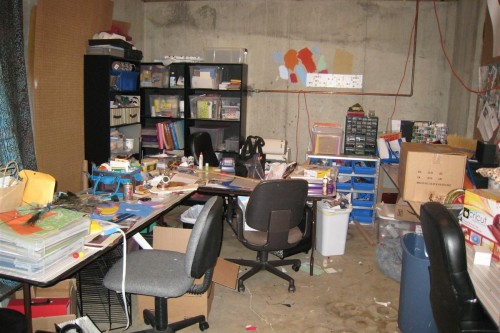 I cringe every time I see that picture. I worked in that dungeon? I had creative thoughts in that mess? Exactly how, I have no idea! But just look, look at the after! The dungeon is no more!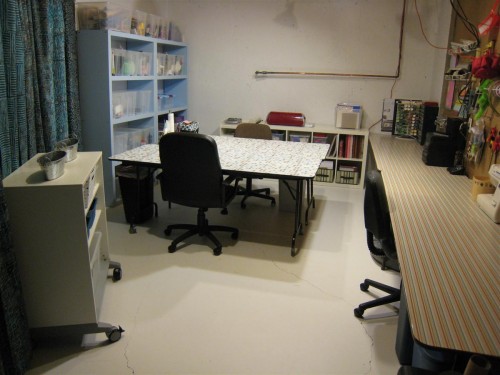 Let me take you through my process a bit now.  I cleared the room out.  I didn't take a picture of my adjoining family room after I did this because it was just too scary.  As I cleaned out the room, I went through all of my stuff and purged things that I didn't need, want, or were last seen in my college dorm.  Once everything was clean, I started painting the floor and the walls with white porch floor paint
.  This is specially formulated to go over concrete and not scuff  easily.  It was exactly what I needed!  I used three gallons on the room!  This was the easiest room painting I have ever done though because it didn't require me taping off anything!
Once the paint thoroughly dried, it was time to put together the shelves I bought at IKEA.  This was easy for me, I just made Little Jo do it.  Boy is she ever handy.  Maybe she didn't do all the work but she did learn to use the drill all by herself and told daddy once to stand aside so she could go about her drilling.  That's our Australian Blue Heeler in the picture with her.  She is perhaps the best dog ever unless you ask Chica who is partial to her gigantic German Shephed, Jack.  But I digress…
Now, you can see things coming together.  Originally, I bought three of the blue shelves.  I had planned to put one against the back wall.  When I measured, I forgot that shelves have depth to them.  Hmmm… not so bright, huh?  It's okay though, it still worked out great.  The long, white shelf is also from IKEA.  It's one of those that can either go horizontally or vertically.  The perfect height for that space.
I took this opportunity to change out the contact paper on the tables since it had been on there since last July.  I used a different pattern for the two middle tables than before.  I really love the cheerful little spots.  I also changed the layout of the two middle tables in the room.  Before, they were in an L shape.  I put them back-to-back to make a large work surface.  I can also make faces at Chica a little easier if she is right across from me.
Now, it was time to load everything back into the room!  Oh the fun I had!  I purchased a small truck load of storage bins while I was at IKEA.  I already had some of the clear bins and really liked how they worked for me so I got some more.  The top of the white shelving unit is where I am storing my Cricut
 machine. The blue shelves are so much bigger than the black ones before that I actually have extra room on there now!  My husband says just because I have room doesn't mean I need to go out and buy things to fill it.  What a meanie!
I contemplated painting the peg board.  I decided against it, as you can see.  I didn't want that much white in there and I really do like the natural color with the scheme I have going in there.  Look at how much room I have around my sewing machine now!  I can actually sew on that table without having to dig the machine out first!  This will make it much easier to practice my sewing lessons.
Finally, I purchased a cart to add a little more work space and storage space in front of my curtains.  I can easily roll it out of the way when I need to get to the storage area.
I am so much happier in my craft room now. Sometimes, I just go in there and sit. I look around and I smile.  Please come with me on a video tour now of my space.  I hope you enjoy your visit to my craft room!
If you can't see the video above, you can view it directly here.
If you liked this, check out these similar projects: