Little Jo asked Santa to bring her a hair dryer for Christmas. Maybe she is going to be a hairstylist when she grows up because she loves using that thing. To go with it, I decided to put a mirror in her room. On a recent shopping trip to IKEA, I bought a plain mirror that would fit in the space and decided to decorate it. While Santa was visiting our house, he left me a Cricut Expression
machine. I hadn't had a chance to really use it since Christmas so I thought this would be the perfect project. Oh what fun!
I ordered some pink vinyl
to use. First, I selected the shapes I wanted. The Cricut Paisley cartridge
had just what I needed: a purse, a hair dryer and a cute saying. Since I am really fairly new at using the Cricut and tend to mess up the size thing sometimes, I cute my shapes out of scrap paper first and placed them on the mirror how I liked them before going to the vinyl.
Cutting the vinyl and using it was just as easy.  I kept reading about this transfer tape
to go with the vinyl.  For the life of me, I couldn't figure out why on Earth I would need to buy that as well.  I now know and will share that knowledge with you right here.  You need it to transfer images.  Yes, just like the name implies.  If you are cutting fairly small images like I did then you can do without it.  However, if you are going to try and cut a large image to affix to your wall, I would highly suggest having it.  I had a little bit of trouble getting my "just be you" phrase on the mirror without it sticking to itself.
I think my first vinyl cutting project turned out really cute and as you can see, Little Jo loves it as well!  I would love to hear any vinyl cutting tips you might have or, even better, seeing some project pictures!  Please add them to our Flikr group!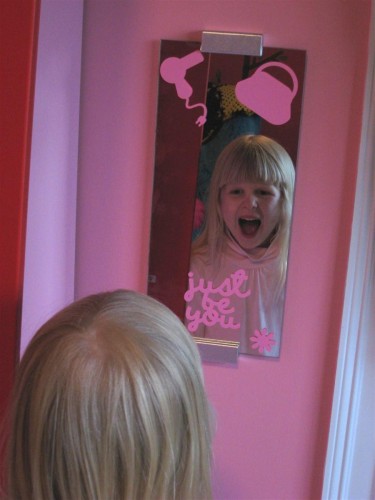 If you liked this, check out these similar projects: