Last week, I told you guys that Jo and I were embarking on a mission to reorganize our craft rooms. They were in sad shape and desperately needed some help. I'm happy to report that my room is done, and it came out better than I ever thought it could.
Here's the finished room: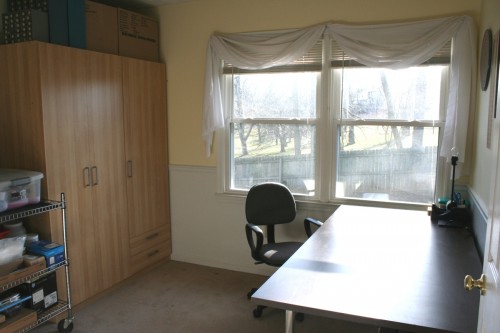 You're probably thinking, "Wait a minute. What? Is that really the same room?" That's what I'm saying to myself, too! Just look at the BEFORE and AFTER side by side.
Amazing difference, huh? It was not easy. It took two solid days of work, and I was exhausted by the time it was over, but it was SO worth it. Here's how I tackled it:
First I cleaned EVERYTHING out of the room except the card catalog cabinet (too heavy!) and one of the two tables. The rest was GONE. OUT! I had to start with a clean slate. As I moved things out, I weeded through it all. I got rid of all the trash as I went. I recycled the dozens of cardboard boxes that I was saving for no good reason. "I might need this one day!" wasn't good enough to make me keep JUNK. I only kept stuff if I KNEW I would use it one day.
I had several piles that I added to throughout the process. One for trash, one for recycling, one for things that actually belonged elsewhere in the house, and one for things to sell (yay craigslist!) or give away.
Then I put together my awesome new KULLEN wardrobe/cabinet that I got from IKEA. This thing was a steal at only $149, considering how much I knew I would be able to pack into it. The doors sealed the deal for me, because I really loved the idea of being able to hide everything when not in use, and make the room look clean and neat all the time.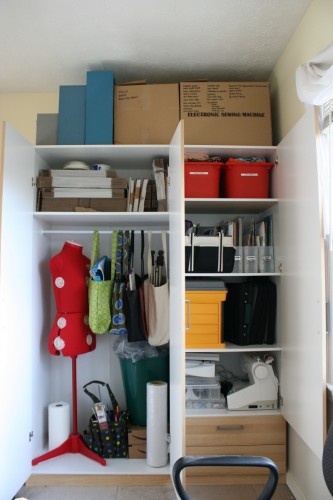 With the KULLEN assembled and in place (and attached to the wall for safety — that thing is crazy heavy), I started moving things back in to the room. I took the opportunity to weed through everything a second time, and be sure that I really needed something before moving it back in.
With the doors open, the KULLEN is a veritable treasure trove of space for organizing things. In the tall "closet" area on the left, I tucked my dress form, tall scrapbook tote, and can of packing peanuts. I hung some tote bags (which I had tons of) from the rail, and I use them to store and organize supplies like my paper trimmers, camera tripod, and my binder packs for scrapbooks that I'm currently working on. Then on the right side of the cabinet, on the shelves, I organized my sewing machine, scrapbook paper, fabric, and tools. Everything is easy to grab when I need it, and easy to stow away when I'm done. In the two drawers at the bottom, I put all the random, miscellaneous craft supplies that didn't have anywhere else to go. They are perfectly accessible and perfectly hidden.
There were a few things left that didn't really fit inside, and that I don't use often, but still needed to keep. After thoughtfully getting rid of anything I could bear to, I carefully and neatly organized the rest of it in a couple of boxes that I put on top of the KULLEN. The name of every single thing that's in those boxes is written on the box, so that I can glance up and see exactly what's in them. Much better than dragging them down and rifling through to find something later!
Then I cleaned up the card catalog and neatly stacked a few boxes of shipping supplies on top of it. Then the most brilliant stroke of good luck came in when I realized that my beloved steel rolling cart (the one that used to be shoved UNDER my work table) actually fit perfectly between the card catalog and the KULLEN. I dedicated that cart to all of my in-progress projects and "Chica and Jo" stuff. I can easily pull the cart out when I'm working, then roll it back into its spot when I'm done. Love, love, love it!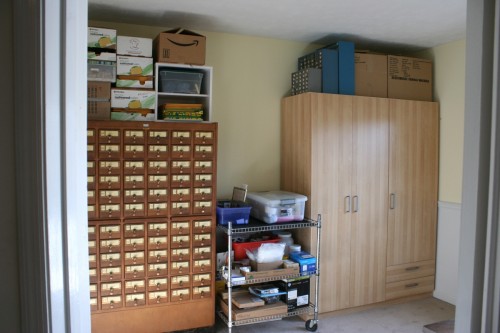 Now for the other side of the room. I got rid of one of my work tables because I really didn't need it. I put the other one all by itself on the opposite wall, and vowed to keep it clear at all times. The only things I left on it are everyday tools like tape, scissors, a notepad, and baby wipes. Oh, and a lamp (which desperately needs a shade, but I've got a fun idea for that coming soon). Under the table, I tucked a few "Store in Style" modular cubes that I got from Oriental Trading Company.
Behind their neat and clean door- and drawer-fronts are things like paints, sewing tools, and ribbon. And I've got still got plenty of leg room!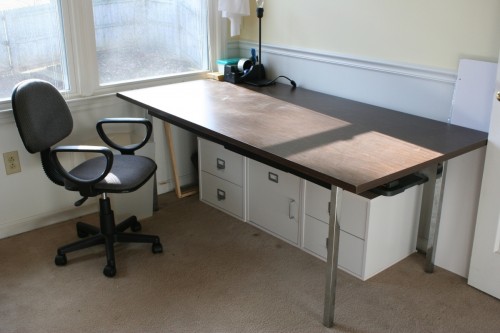 My favorite part about this table arrangement is that I'm now able to open the blinds and enjoy the sunlight and the view of the gorgeous park that's behind our home. It raises the cheeriness factor of the room by about a thousand percent!
Then I had a few large items like my cutting mat and some posterboards that needed a place to go. I hung a removable 3M Command hook
(I love the Command line!) on the back of the door and clipped the boards and mat into a couple of pants hangers, which I then hung on the hook. What an easy way to keep those flat items neat, straight, and out of the way! Oh, and have I mentioned that the door actually opens all the way now? I can't tell you how happy that makes me.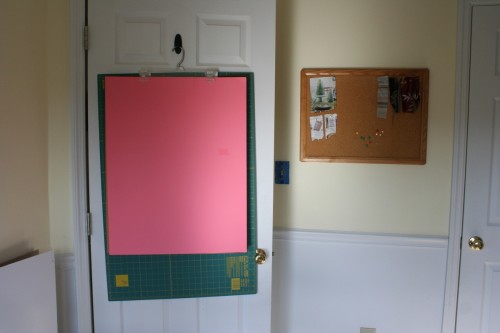 Want to see more? The pictures just weren't doing it justice, so I made a video tour to really show you how well the room came out.
If you can't see the video above, you can view it directly here.
So what do you guys think? Do you love it as much as I do? I have done a couple of quick projects in the newly-organized room so far and it has been great. My first project was to make a cute little sign to hang on the door that says "Chica's craft room", which was just the crowning touch that the room needed.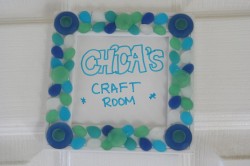 The sunlight and clean space make it a real joy to work in there. And you can even fit more than one person at a time in there now, too! Just yesterday I had three people in there, and we sat around and talked and had plenty of room. It's so wonderful, I can hardly stand it.
The trick now, of course, is going to be keeping it clean and neat. I have a great idea that I think is really going to help me there. I have a special tub on top of my rolling cart that I'm calling my "dump box". It's that little blue square tub. Do you see it? Whenever I have some little item that I want to put in my craft room and I'm in a hurry, I'll put it in that box. If something isn't going to be put in its proper place, the dump box is the ONLY other place it can go. When the dump box is full, I must empty it. I really think this will keep my room neat and clean.
If you liked this, check out these similar projects: