I love it when I get new craft books, and the latest one might just be one of my favorites ever. It's called The Complete Photo Guide to Ribbon Crafts
(Quarry Books, 2010) and the second I opened it up, I knew I had to have it!
The author, Elaine Schmidt, provides over 200 pages with over 100 projects and more than 700 full-color photos of ribbon crafts! Seriously, this has everything you need to know about crafting with ribbon, and is an essential reference for novices and experts alike. This book is amazing and you will love just flipping through it over and over.
It starts with a brief history of ribbon and then gets current by showing the dozens of different colors used for "awareness ribbons" these days. I'm sure you know red is used for AIDS awareness and pink for breast cancer, but did you know green symbolizes organ donation and purple is for animal abuse? Elaine even shows you how to make awareness ribbons for the cause near to your heart.
Then there's a whole section about types of ribbon. With things like grosgrain, twill, sheer, satin, and eco-friendly ribbons, this section is a great resource. Lovely photos accompany each ribbon category, and the descriptions helped me finally learn how to tell the difference between a few of them that had always confused me.
She goes on to talk about popular ribbon widths, tools and supplies you'll use, and how to finish the ends of the ribbon so they won't fray. Such useful tips!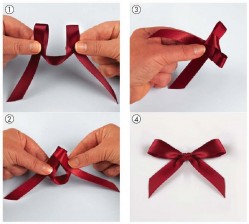 Then we start to have some real fun. The next section of the book is all about making bows. Ah, bows! They are the best thing to do with ribbon, right? Elaine shows you how to make tiered bows, two-loop bows, four-loop bows, tailored bows, figure 8 bows, and so much more! Even a simple shoestring bow, the most basic type of bow that still eludes some of us sometimes, is easy and clear with the great illustrations in this book.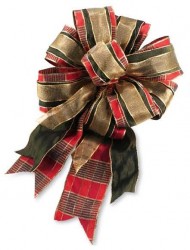 The book shows you bows on cards, bows on baskets, and bows on wreaths. There are bows on gift packages, made of curling ribbon or wide wired ribbon. Picture hanging bows, church pew bows, and even the classic star bow. And have you ever wanted to know how to make the ever-popular florist bow, often used to decorate flower arrangements? It's in here. Step by step!
When you've had your fill of this smorgasbord of bows, the next stop is ribbon flowers. There are some truly beautiful specimens in here, and they range from delicate to bold. I didn't even know it was possible to make such sweet little daisies and other petaled flowers out of ribbon. Even the well-known ribbon roses are finally made easy to understand with the detailed photos in this book.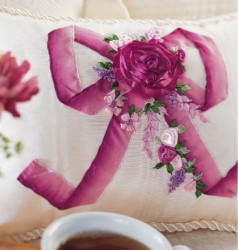 Then Elaine takes a look at ribbon embroidery. I'll be honest with you – the thought of embroidering with ribbon had never even crossed my mind, but I see now that there are some really wonderful possibilities out there. Thin ribbon and a needle, guided by the helpful and demonstrative photos in this book, will easily turn a simple piece of cloth into something fantastic and custom. My grandmother would love a pillow for her sofa that's adorned with embroidered flowers!
The next section of the book talks about trims, rosettes, and tassels. The braiding, twisting, and weaving that Elaine performs here is magical. I am completely in love with the multi-color braids, box-pleated ribbons, smocking, and gathering techniques. The rosette projects really spark my imagination when I think of all the ways they can be used to decorate simple objects.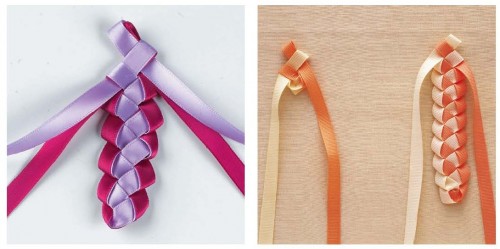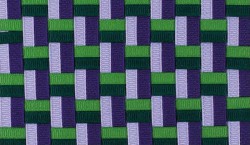 Ribbon weaving and patchwork come next, and this section was another big surprise to me. I never thought about weaving ribbons, but I absolutely love the basket weave effect that can be made with simple (or elaborate) ribbons. The resulting geometric patterns really appeal to me. The techniques presented here can be used to decorate towels, placements, jewelry, or pillows. Gorgeous stuff.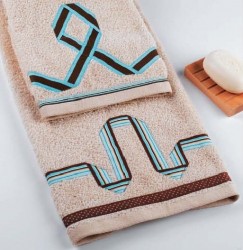 A section on sewing with ribbon follows, and my favorite idea here involves sewing ribbons onto hand towels as decorate trim. With a few folds and outlines, you can make something really spectacular that looks expensive but isn't. I just know that when Jo sees this, she is going to want to sew ribbon on to all of the towels in her house!
Little girls will go crazy for the next section of the book, where Elaine talks about ribbon accessories like hair bands, hair clips, and barrettes. I am sure I will be making lots of the "loopy barrettes" for my niece, as well as a few braided hairbands. And have you ever wondered how to make those sweet, tight coils of curly fabric ribbon that make little pompoms in your hair? It's actually really easy, and this book will tell you how to do it.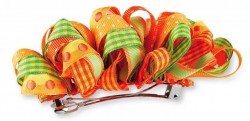 Things get quirky next, as Elaine dips into such projects as ribbon-trimmed socks, embellished dog collars and leashes, and flip flops. She finishes the book off with a great little section on paper crafting with ribbon.
I am just so amazed by the wonderful images, projects, and inspiration in this book. If you've ever wanted to know how to work with ribbon, this is a great reference book to have in your library. Be sure to check out The Complete Photo Guide to Ribbon Crafts by Elaine Schmidt and get ready to be inspired.
Now I'm going to go look through the book again. I see something new every time!
If you liked this, check out these similar projects: