Reindeer cork ornaments
by: Chica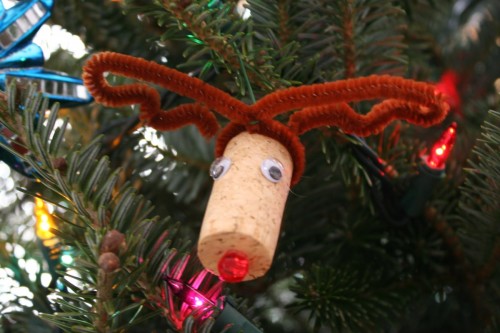 As Jo mentioned on our Facebook page (what, you're not following us yet?), we recently hosted a craft table at a Christmas-themed community event for kids. We came up with a really fun craft project, using old corks as a base to make a reindeer Christmas ornament. Over 250 kids stopped by, and we had so much fun! We knew the rest of you would love this idea too, so here's how we did it.
Start by taking an ordinary wine cork and use a hot glue gun
to attach a red bead to the end of it. (This is the part you'll want to do for the kids.) We used bright red, faceted, round beads.
They gave a really nice sparkle and reflected the light well, which is exactly what you want in a reindeer nose!
Now take a 12″ brown chenille stem
(a.k.a. pipe cleaner) and wrap it around the other end of the cork. Twist the ends tightly a couple times so it's snug.
Those pointy antlers you've got don't look very reindeer-like, so bend and twist them into a nice antler shape. The kids we worked with had lots of fun ideas for how the antlers should look, and they all used their imaginations!
Now take a couple of wiggle eyes
and secure them to either side of the reindeer face, using glue dots.
Attach a regular ornament hook to the base of the antlers, and it's ready for the tree!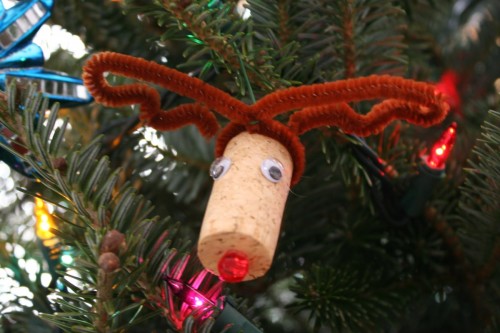 So easy a three-year-old could do it! Here are some pictures of the kids at our table. They loved every bit of it.
We loved this craft because not only was it easy and inexpensive, but it taught the kids about recycling. What a great lesson, and the parents were just as excited about it as the kids were.
A lot of the kids had their own ideas about where the eyes went on their reindeer, and we even had one with six eyes. Hey, it's your reindeer. Make it how you want!
Rudolph himself was at the event and stopped by to give our ornaments a big "hooves up". Awesome!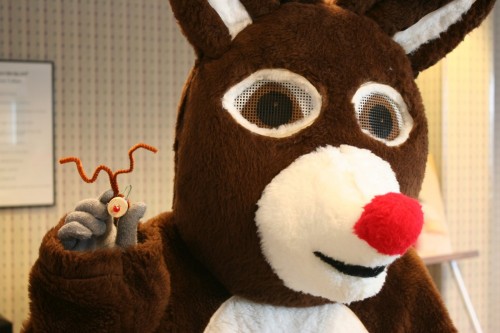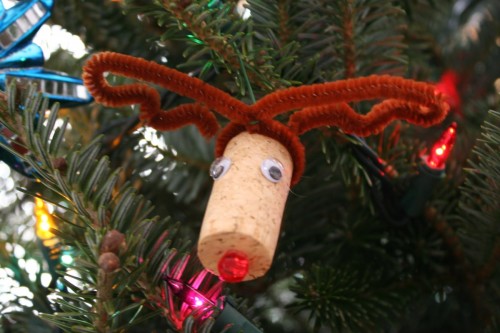 similar projects

leave a comment: