Felt snowman wall hanging
by: Jo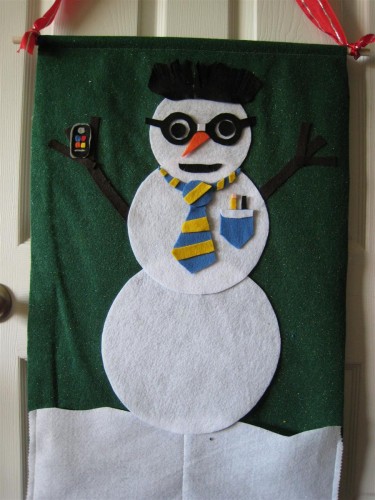 When Chica made her pumpkin with changeable faces for Halloween, I was inspired to do something similar for Christmas.  I decided to make a felt wall hanging that was a snowman, with pieces you could change to make different kinds of snow people.  This project even involved sewing and I did it all on my own!  Thanks to the sewing tutorials we have been doing, I wasn't too afraid of my sewing machine to actually use it all on my own.  Chica wasn't even in the house when I did it!  So, let's get started!
First, you will need to choose your background felt
.  I found some sparkly green felt that I thought was perfect.  I cut a piece that was 32 inches by 19 inches.  This will allow us to pin for 1 inch pockets on either end.  The pockets will be how we insert the dowels in order to hang the felt.
Once you have it cut to size and you have pinned it, it's time to go to the machine!  I took a picture of me actually sewing just to prove it to you.  And yes, that is my hand and not Chica's!  I was so proud of myself.  Two fairly straight seams later and I had pockets to slide my dowels into!  You will want to cut your dowel rod to be between 21 and 22 inches long.
After we make all the pieces to attach to the snowperson, we will need some place to store them.  I thought it would be perfect to make a couple of pockets at the bottom of the hanging that looked like snow.  To do this, cut a piece of white felt 19 inches wide by about 6.5 inches tall.  I made the top a bit wavy to mimic snow drifts.  Now, it's time to pin again.  Pin along your edges and also down the middle.  If we put a seam down the middle, it will form two pockets and keep the whole thing from sagging too much, which it would have done if we had just left it as one big pocket.
Go back to your machine and sew along the edges and straight down the middle.  Don't get carried away and sew across the top though!  See what a nice pocket we have?
Our background is complete and ready for the actual snowperson!  I made a pattern for 6, 8, and 10 inch circles.  They seem to fit well on the size banner I made.  Of course, you can make this be any size you like.  Use fabric glue
to attach your circles.  The bottom circle will partially overlap your snow pockets.  That's okay.  If you don't glue that part down, you can still easily access the pockets.  I went ahead and glued arms for my snowperson to the background as well.  However, you could make the arms an interchangeable as well.
Now, comes the really fun part, making the pieces!  Here are some pictures of my finished snowpeople to give you some ideas.  I apologize for not providing a template for all of these pieces but I am afraid that would take me close to forever and my family would not see me until Christmas morning.  If you really like a certain piece, just print the picture out large scale and use it as a template.  I really just took a pile of felt and kept cutting and gluing until I had designs I liked.
Little Jo loves having this hang on her bedroom door and she likes to make goofy snowmen by combining different pieces from the different sets.  In case you didn't know, felt sticks to felt without glue or anything, so you can stick the pieces wherever you want at any time.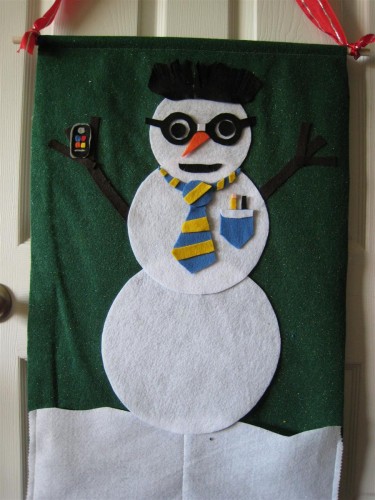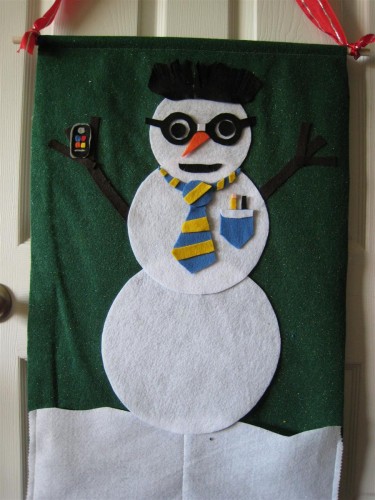 similar projects