We hope you had a great Thanksgiving!  Now that we are munching on the leftovers from our family meals, we are starting to think more about Christmas.  I told you last week that I finally finished my Advent calendar house!  Today, we would like to share a much more simple Advent calendar idea based on our popular Thanksgiving clothespin wreath. 
You'll have to visit our friend Crafty Chica's site for the project details, though. She asked us to be guest bloggers on her site and we of course jumped at the opportunity to share a project with her and her readers.  So go check out our tutorial on her site, and spend some time browsing around the rest of Kathy's site if you haven't been there before.  We promise, you will be inspired!
Kathy has her own Advent Calendar project to share on her site, inspired by an idea we had to use a bunch of envelopes. She decorated the envelopes and is going to put a daily affirmation in each one. She's storing them all in a wooden cigar box. What a joyous and heartwarming way to celebrate the coming holidays!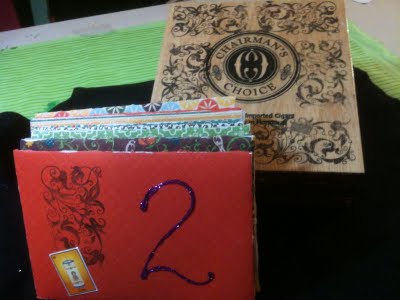 If you liked this, check out these similar projects: