I'll be hosting Thanksgiving for my extended family this year, so I've got a lot of planning to do. And then there's Christmas shopping that I haven't even started yet, and all sorts of things I need to do during December. Usually I make myself a list to get organized, and I was planning to start one this weekend, but then last night I found the coolest alternative, and I just had to share it with you guys!
Amberlee, over at Giver's Log, has made a printable holiday checklist that is equally adorable and useful. She has a version with all of her tasks filled in, and another version that's blank so you can create your own list. And just look how pretty it is!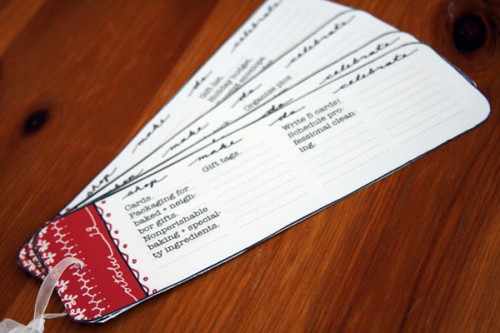 She jokes that her list is too thorough, but you know me — I love lists, so I think it's perfect! Head on over to her site to download your copy and get organized. While you're there, be sure to check out all the lovely gift-related projects and ideas on the Giver's Log, which has categories for gift etiquette, gift ideas, and thoughtful gestures.
If you liked this, check out these similar projects: