Usually, when I go to my mailbox I am greeted by 15 pieces of mail asking me to apply for a credit card, 8 bills and anywhere from 1 to 38 catalogs depending on the time of the year.  I could go days without getting my mail and be perfectly happy in my life.  However, there is the rare occasion when I receive something different in the mail.  I feel like a happy kid when I find a pretty envelope addressed to me.  It is so exciting to receive an unexpected card from a friend or relative amidst all the junk.  Well, Carolee Gilligan Wheeler and Jennie Henchcliff apparently agree with me because they are the authors of Good Mail Day: A Primer for Making Eye-Popping Postal Art
.  I have an interview with the authors to share with you below, but you can also get more information about the book and mail art in general at the web site, www.Good-Mail-Day.com and be sure and check out their Flickr pool for loads of inspirational images!  Doing a version of this would be an interesting alternative to the traditional Christmas card this year. I've flipped through my copy numerous times and each time I do, I find something new that inspires me and I have even used some of the techniques on my travel scrapbook.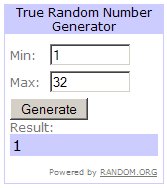 GIVEAWAY: To win a copy of this book, simply leave a comment on this post.  The deadline is November 27th, 2009 at 11:59 PM, EST and one winner will be chosen at random from all comments submitted.
WINNER: Congratulations to our winner, Edwina! You will be having a very good mail day when we send you your book! Thanks to everyone else for entering.
Now please enjoy this interview with Carolee and Jennie, about their amazing book!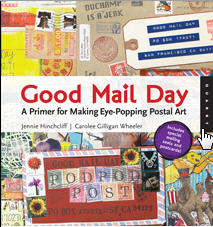 What is your book about?
Good Mail Day is about all of the wonderful ways to utilize the postal service (a medium that many have thought fallen out of favor) to send creative, unique mail and mail art to friends and strangers all over the world. We take new users through simple ways to create more individual and interesting pieces of mail, from the humble postcard to mail-able sculptures, and then we introduce them to the finer points of working within the Mail Art network.
How long have you been doing this type of craft or art?
I would honestly say that I have been making mail art since high school, when I had a variety of pen-pals that I discovered through the pen-pal section of my favorite band's Fan Club. Those people introduced me to the idea of friend books (essentially an add-and-pass in the fine mail art tradition) and the idea of making one's mail as distinctive and artistic as possible. Within were letters, yes, but also drawings, mix tapes, and even things like 100 plastic ants. People prided themselves on how unusual they could make their mailings, which were essentially to complete strangers. The only comparable level of dedication I've seen since has been with mail artists. I became more interested in mail art as its own medium (separate from mere letter-writing, in which I was still engaged) when I met Jennie in 2004 and we started sending things to one another.
What inspired you to write this book?
Jennie and I have been engaged in our project, Pod Post, since we met, and Pod Post is, purely and simply, correspondence-obsessed. We have sold stationery sets and mail art kits, as well as mail art bentos filled with tags, labels, stickers, and postal rubber stamps that we bought on a trip to Japan and assembled in little bento boxes (complete with fake sushi grass!). Our Pod Post logo incorporates the international symbol for Post. Pretty much everything Pod Post does has to do with mail and mail art. So it was a natural fit, and since we continually meet people who say, "Oh my gosh, people still SEND MAIL?" we jumped at the chance to show them all of the wonderful ways they can incorporate their love of collage, or typography, or illustration—you name it—into making and sending exciting mail art. Doesn't everyone love to get REAL mail? Most people I know do. And the first rule of the Mail Art Network is that if you want to get great mail, you have to send great mail. We thought maybe people just needed a little nudge, and the book could serve that purpose.
What makes your book different?
Most of the mail art books I'm familiar with have been out-of-print for a long time, and other correspondence-related books seem to focus on either card-making or penmanship or something of a more specific nature. With mail art I think you get the entire package. At its best, it's 100% handmade, completely unique to the sender, and definitely the kind of thing you want to keep. And unlike more traditional fine arts, mail art is still really affordable, especially in the United States, where you can send off a gorgeous piece of mail art for as little as a postcard stamp. I also hope people will notice the incredible variety of the mail art we received for submission, all of it received through a traditional mail art call-for-entries. There are so many styles in there that it's my hope that everyone who sees it will understand that anyone can make mail art, it can take as little as ten minutes, and there's room for everyone's personal vision.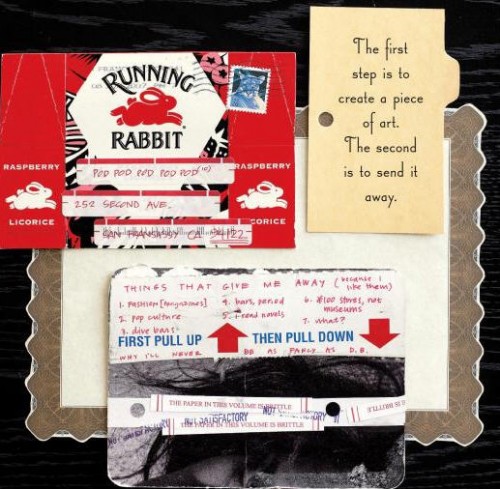 Who would enjoy or benefit most from this book?
Everyone! Seriously. Well, anyone who likes making things. A wood-whittler could make really exciting mail art!
The most natural extensions of their crafts will be for calligraphers, illustrators, collage and scrapbook artists, printmakers, photographers, painters, typography and design nerds, philatelists, junk-hoarders, origami enthusiasts…. Honestly. Name a craft, and I could probably think of a way that it could be applied to mail art. Beyond that, we're just looking for the people who say, "I remember when I used to get the best mail…".
Were there contributors to this book? If so, who were they?
We received a very large number of contributions through a call-for-entries and included nearly every one in this book. They run the gamut—from friends and acquaintances who said "What's mail art, again? Well, I guess I could do that…" to seasoned mail art network-ers and paper crafters. There are far, far too many to list here.
If you liked this, check out these similar projects: