Peanut butter and jelly "gem" sandwiches
by: Chica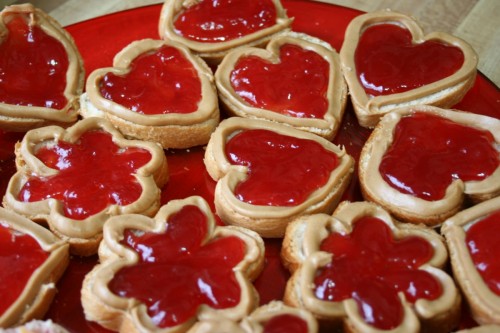 My niece loves to throw tea parties, and when I'm lucky enough to be invited, I like to make cute little sandwiches for us to eat. The best tea party snacks are tiny, pretty, and yummy, and I met all of those requirements recently with my open-face, peanut-butter-and-jelly "gem" sandwiches. You can't get much more ordinary than good old PB&J, but trust me — these sandwiches are anything but ordinary!
The cutest part about these sandwiches is the bread, which needs to be in pretty shapes. To accomplish this, you can use regular sandwich bread and cut it into shapes like hearts and flowers with large cookie cutters. Or, you can use one of my favorite oddball pieces of kitchen equipment — bread mold pans that create loaves shaped like hearts, flowers, and stars. Originally made by Pampered Chef, but no longer part of their product line, these tube pans can now be found by searching on Amazon or eBay. You just plop a can of refrigerated bread dough into the tube, bake it, and slice the loaf into adorable little shapes. I prefer these loaves to cookie cutter shapes because each little piece of bread will have a crust all the way around, which makes the sandwich much easier to pick up.
Once you've got your bread ready, take a plastic bag and put a half cup or so of peanut butter in it. Snip the corner of the bag and squeeze the peanut butter out along the edges of the bread, making a nice peanut butter border. (If you want to get even fancier, you can use an icing bag and star-shaped decorating tip).
When all of the sandwiches are outlined, put about a cup of jam (jam works better than jelly) into another bag. Place the bag in the microwave for 10-20 seconds, or until the jam (I used strawberry) is slightly melted and thinned. Snip the corner of the bag and squeeze the jam onto the bread, filling in the peanut butter outline.
Place the finished sandwiches on a pretty platter and serve. The strawberry jam makes them look like sparkling gems, and they taste as good as they look!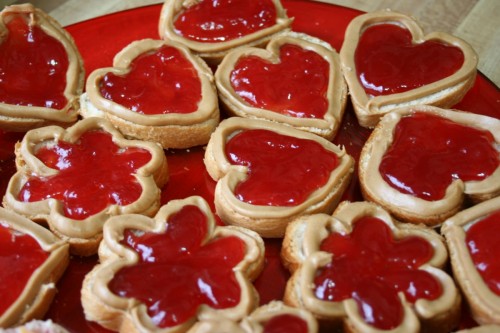 These sandwiches are great for parties, or for any occasion when your kids need a little something special. A rainy afternoon or a bad day at school is sure to melt away with some fun PB&J gem sandwiches!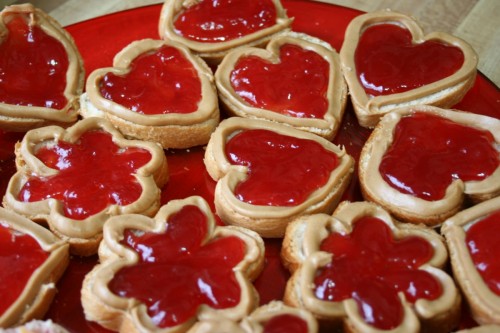 similar projects

leave a comment: