Toolbox
balloons
newspaper
paper mache
paint
other decorations
My daughter is so excited about her upcoming Halloween party.  She already wants to put up the candy table and decorate the barn.  To hold her off for awhile longer, I told her she could have her friend over to make some papier-mache
monsters to hang at the party.  She looked at me blankly, having no idea what paper mache is!  I explained to her it would be messy and that convinced her to give it a try.
I hadn't done papier mache myself since grade school but quickly realized that all of those papier macheing talents you develop in the elementary school years never leave!  We gathered our supplies and made our paste based on the following very complicated recipe.
Papier mache recipe: 1 part flour to two parts water.  1 tsp of salt to prevent mold.
I made two bowls, one for each kid so that there wouldn't be any fighting and everyone would have plenty of room.  I blew up a balloon for each kid and one for myself!  Then, I tore the newspaper into strips and we were ready to start making a mess.  At first, the kids glommed on the paste a little too much but after showing them how to remove the excess with their two fingers, they did a great job.  My daughter did a heart-shaped balloon that just happened to come in the variety pack I bought at the dollar store.  The other two ballons were your basic rounded shape.  To make the noses you see, we blew up a smaller balloon and affixed it with lots of strips of papier mache.
After we covered the balloons completely with the papier mache, we set them aside to dry for a couple of days until we could have another play date to finish the monsters.
To finish the monsters, I let the kids use paint, foam sheets and pipe cleaners.  We ended up with three very different monsters/aliens.  The kids kept changing which they were.  One thing was certain though, my daughter's is a girl, not a boy!
I will share pictures after the party of these hanging in the party space.  My daughter is really enjoying helping with all of the party preparations!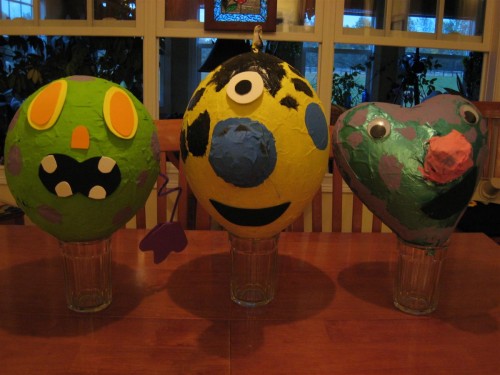 If you liked this, check out these similar projects: