Chili cook-off organization for entries
by: Jo
Funny thing about hosting a chili cook-off party… you invariably end up with a lot of crock pots full of chili!  In the past, we have tried a couple of different methods for labeling the chili pots so that everyone can easily vote on them.  We ran into problems with the numbers got moved, the ladles getting mixed up, and the chili getting dripped all over the tables.  So this year, we brainstormed until we came up with a solution to our chili disorganization — foil oven liners!  If you are like me, you had no idea these things existed.  I won't go into the long and twisted story as to how I came across them, but suffice it to say, there they were and they were just what I needed. They were inexpensive and just the right size.
I couldn't leave them that sorry shade of boring foil silver.  Oh no, I had to whip out one of my favorite tools, spray paint.  I love that stuff!  I especially love glossy spray paint.  First, I had Little Jo lay out all of the foil liners on a big sheet of plastic I put on the floor of our garage.  I let her do this because she loves to "help", and because she's a lot closer to the ground, so bending over to straighten them out wasn't nearly as taxing on her back as it would've been on mine.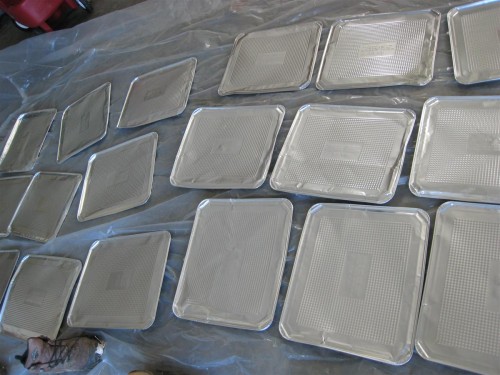 Then I spray painted them solid red with two coats of paint. Okay, maybe I shouldn't take all the credit for this part — I got through the first coat and by the end of doing twenty of these, my hand had cramped up into a claw-like shape from pushing the spray paint nozzle.  This is when McGeeky took pity on me and did the second coat.  He's going to be upset that I told the world he was "crafting".
While he was finishing up, I made a stencil by drawing a spoon shape onto a piece of cardboard, then using a utility knife to cut it out. I used this stencil and some yellow spray paint to add a spoon onto each tray after the red paint had dried.
Sure, all this painting wasn't necessary, and the foil liners would work fine plain, but I think the paint made them turn out a whole lot cuter.  And without that spoon outline there, how on earth would guests know where to put that ladle?
So, this leads us to the numbering.  Numbers are extremely important in these high-stake voting situations.  To match our super-cute chili cookoff invitations, Chica added some numbers to the basic crock pot shape to make chili pot labels.  She also made some labels that said "vegetarian" and "spicy", and some with names of various meats that each chili might contain. We have some friends with allergies or who don't eat meat, so it is nice for them to know if a chili is safe for them to eat or not.
I printed out enough labels for the cookoff, cut them out, and then used my laminator to laminate them.  I am so glad I took the extra step, because they did get chili on them, but it wiped off the plastic easily. This means I can re-use them again next year! 
To make sure the numbers didn't blow away or get mixed up, I used a little bit of sticky tack to hold them in place. Love it!
These labels also coordinate perfectly with our voting ballots, and the clear numbering makes it so much easier to vote.
If you like these chili pot labels, you can purchase our template to print your own. It's part of our Chili Cookoff Printables collection that's available on Etsy. This collection lets you make:
If you're hosting a chili cook-off this fall, we'd love to hear all about it! And if you're looking for some ideas for decorating, we love these festive chili pepper dishes for condiments like cheese and sour cream, and decoration is easy with chili pepper garland and chili pepper confetti. And who doesn't love a pinata?

similar projects

leave a comment: